"Rochefort en Accords 2006"
24, 25 & 26 August
chapeau !!!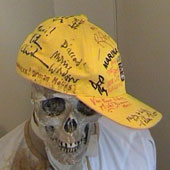 the unofficial poster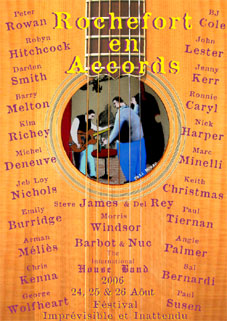 check out the footwear and faces that towed the line in 2006
just click on the the feet below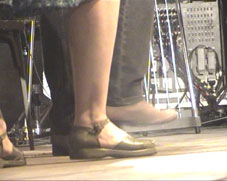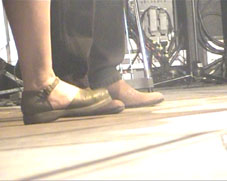 Concert Timetable & Programme
Thursday 24 august
14h-30 : Concert Eglise
Michel Deneuve
18h : Concert Apero – Jardin du Théâtre
Darden Smith + Paul Tiernan + Nick Harper
guesting John Lester
22h-30 : Cinema Concert Jardin du Théâtre
Projection of Tod Browning's "l'Inconnu" a silent move
with musical accompaniment from
BJ Cole, Michel Deneuve, Emily Burridge & Nick Harper

*************************
Friday 25 august
14h : Concert Ecole Colbert (rain threatened to stop play so it moved to the Temple)
John Lester + Philippe Barbot & Olivier Nuc
guesting Johan Asherton
16h-30 : Concert Eglise
BJ Cole & Michel Deneuve + Emily Burridge



18h : Concert Apero – Jardin du Théâtre
Keith Christmas + Steve James & Del Rey

21h : Longitudes Main Stage
Chris Kenna & Sal Bernardi
guesting George Wolfheart, Paul Tiernan & Morris Windsor



John Lester
guesting Paul Tiernan & Darden Smith



Darden Smith
guesting Kim Richey


John Lester, Paul Tiernan,
Peter Rowan & Jeb Loy Nichols
Jeb Loy Nichols
guesting John Lester, Sal Bernardi , Morris Windsor & BJ Cole



Marc Minelli & Vincente Lanza

Peter Rowan
guesting John Lester, Emily Burridge, Michel Deneuve, BJ Cole & Morris Windsor



Barry Melton
guesting Paul Tiiernan, PhilBillie, George Wolfheart, Paul Susen,
Morris Windsor, Robyn Hitchcock & Jenny Kerr
Jenny Kerr & Philbilly
guesting George Wolfheart, Paul Susen, Barry Melton, Morris Windsor & Peter Rowan
*************************
Samedi 26 août

10h : Concert Place Colbert
Les RockSchoolers
followed by rain &
Chris Kenna, Sal Bernardi & George Wolfheart
14h-30 : Concert Musée de la Marine Jardin
Jeb Loy Nichols & Angie Palmer
guesting John Lester, Paul Tiernan & Johan Asherton

15h-15 : Concert Eglise
BJ Cole & Emily Burridge



16h 30 : Concert Rue Lafayette
Jenny Kerr & Barry Melton
guesting PhilBillie, George Wolfheart, Chris Kenna & Paul Susen + Stephan Missri
18h : Concert Apero Jardin du Théâtre
Kim Richey & Ronnie Caryl
guesting John Lester & Yannick Bernard
21h : Longitudes Main Stage
Steve James & Del Rey
Keith Christmas

Paul Tiernan
guesting John Lester, Emily Burridge & Paul Susen



Arman Méliès
guesting Olivier Nuc & Philippe Barbot

Ronnie Caryl
guesting BJ Cole, John Lester & Morris Windsor



Kim Richey
guesting John Lester & BJ Cole

Robyn Hitchcock
guesting Morris Windsor, BJ Cole, John Lester, Barry Melton



Paul Tiernan, Ronnie Caryl, Kim Richey, Angie Palmer, Paul Susen, Jeb Loy Nichols & Sal Bernardi
Jenny Kerr & Philbilly et Chris Kenna (lurking around)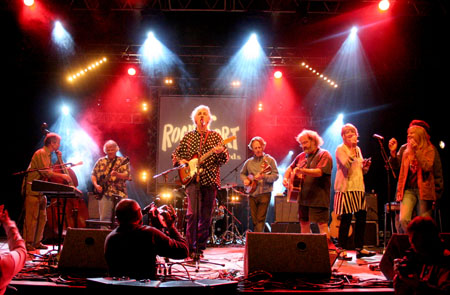 photo Simon David
Peter
Rowan

Arman
Melies

Paul
Tiernan

BJ
Cole

John
Lester


Kim
Richey


Nick
Harper


Michel
Deneuve


Jenny
Kerr

Ronnie
Caryl

Barry
Melton

Robyn
Hitchcock

Darden
Smith


Marc
Minelli


Angie
Palmer

Keith
Christmas


Jeb Loy
Nichols


Steve James
& Del Rey

Chris
Kenna


Sal
Bernardi
&
Emily
Burridge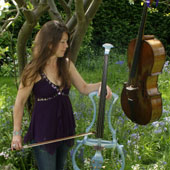 Philippe Barbot
& Olivier Nuc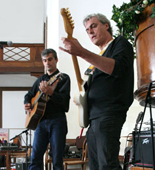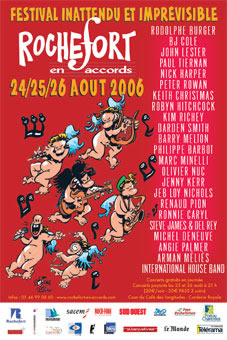 For an idea of what was going on, up and down in 2005 click here
LE MONDE
Rochefort revisite et actualise le folk-rock

C'est un festival unique en France, en Europe et pourquoi pas au monde, celui de Rochefort en accords, dont la deuxième édition (24-26 août) affiche une trentaine de musiciens.
Première idée : mettre en avant le folk-rock, son histoire et son présent,
dans son rapport avec le blues comme dans ses échappées psychédéliques.
Le folk-rock ? Ce truc étiqueté ringard... raté : il a ici, passant par de jeunes musiciens
radieux et rageurs, ou des anciens aux doigts agiles et aux textes vifs (et vice versa),
un sens du présent musical qui vaut toutes les modernités autoproclamées.

Deuxième idée : demander aux musiciens de jouer, en plus de leurs
compositions, celles d'autres artistes, superstars ou méconnus, titres
universels ou oubliés. Les Anglo-Saxons, peu préoccupés par l'ego de
l'auteur-compositeur-interprète, pratiquent la reprise depuis la nuit des
temps du blues, de la country ou du rock. Avec allégresse et respect.
Troisième idée : proposer aux musiciens de s'écouter les uns et les autres,
de se trouver des envies de travailler ensemble. Truc casse-gueule avec
ambiance feu de camp. Pas ici. La proposition est prise avec sérieux.
Le tout donne un "festival inattendu et imprévisible" porté par des lieux de
taille humaine. Un jardin secret en arrière du théâtre, accessible par un
corridor, le temple protestant et ses bancs en arc de cercle, ou encore un
bel espace à la Corderie royale, fermé d'un côté par un rempart, ouvert de
l'autre sur la Charente. Le public est curieux, veut découvrir.
Les 24 et 25 août, une sorte d'inventaire reflète tous les possibles du
festival. Le contrebassiste et chanteur américain John Lester, outre sa
prestation en duo avec l'Irlandais Paul Tiernan (guitare, mandoline et
chant) - ils se sont rencontrés lors de l'édition 2005 - joue avec tout le
monde ou presque. Nick Harper, fils de Roy Harper, référence du folk
britannique, passe d'une de ses compositions à frémir à une reprise
acoustique, secouante, de Whole Lotta Love de Led Zeppelin.
DÉPAYSEMENT SONORE
Philippe Barbot et Olivier Nuc, journalistes très musiciens, font revivre de
manière convaincante la poésie du Sud de Nino Ferrer, avant de convier Johan
Asherton sur Hey Hey, My My, de Neil Young. Lequel Asherton met sa voix
pleine, son élégance guitaristique au service d'une chanson de Tim Hardin.
Steve James et Del Rey, le premier venu d'Austin, la seconde de Seattle,
jouent l'infini répertoire du blues sur leurs guitares de métal. Entrain,
dépaysement sonore. Peter Rowan emballe tout le monde sur une version
country de No Woman, No Cry de Bob Marley.
De la pedal steel guitar sur du reggae, ce ne peut-être qu'à Rochefort. Avec
un maître de l'instrument, BJ Cole. Et, pour montrer que le folk rock a les
oreilles ouvertes, la prestation de Marc Minelli avec ordinateur est du
meilleur effet, par sa grâce et son expressivité.
Tard dans la nuit, Barry Melton, ancien de Country Joe and the Fish (l'une
des sensations de Woodstock), réhabilite la notion de l'improvisation psyché
avec un orchestre où tout le monde prend son solo en même temps. Dans le
contexte, le moment est plaisant.

Sylvain Siclier
Article paru dans l'édition du 27.08.06
LIBERATION

Il n'aura donc fallu que deux éditions à Rochefort en accords pour
démantibuler définitivement le traditionnel concept festivalier. Le postulat
est simple pourtant, résumé par Philippe Thieyre ( Rock & Folk, France
Inter), organisateur de la fête avec Karel Beer (l'homme de la Java) :
«Inviter des musiciens issus d'horizons divers (folk, blues, rock...) qui ne
se connaissent pas, sinon de réputation, à se rencontrer autour de
répertoires qui ne sont pas forcément les leurs.»
Phénomène. Une initiative séduisante, mais quelque peu risquée. D'autant
que, si les musiciens présents ne se connaissent pas, que dire alors de
l'ignorance d'un public convié à assister aux (quatre à six) spectacles
gratuits de l'après-midi dont il sait seulement qu'ils sont soit
«imprévisibles» soit «inattendus». Personne n'a en effet la moindre idée de
qui va se produire parmi la vingtaine de noms figurant sur l'affiche.
Pourtant chaque concert affiche complet. Chacun apprenant à se familiariser
à sa façon avec les invités : «l'harmoniciste à musette» (Sal Bernardi), «le
gugusse à la mandoline» (Paul Tiernan, sideman de Donovan), «le grand
bassiste qu'on voit tout le temps» (le Californien John Lester), etc.
Mais le phénomène le plus étonnant est que les intervenants adorent ce
système. «En quarante ans de carrière, je n'avais encore jamais vu ça,
affirme ainsi Barry Melton, c'est génial, ça me fait penser à un trajet en
bus durant lequel on parlerait à tous les voyageurs.» L'ancien guitariste de
Country Joe & The Fish saura d'ailleurs se montrer particulièrement disert,
croisant le manche chaque soir avec tout ce qui se présente et improvisant
même un formidable raout urbain (au coin de l'avenue Lafayette et de la rue
Lesson) comme à la grande époque du flower power de San Francisco. Combien
de badauds sauront alors que ce petit bonhomme rondouillard, aux boucles
blanchies sous la casquette, réactualisant le Superbird qui fustigeait jadis
Lyndon B. Johnson en pamphlet anti-Bush, fut le meilleur guitariste de rock
psychédélique et l'inventeur du célèbre «ooooh ohoho ooooh-oh» woodstockien
repris depuis à la fin de chaque concert ? «Woodstock, ça n'était pas si
formidable qu'on le prétend, démystifiera-t-il plus tard, Monterey était un
bien meilleur festival. Et Rochefort aussi est mieux.»
Serrer des pinces. Rochefort, le festival atypique qui renverse les valeurs.
Où l'on croise Michael Zwerin, l'unique tromboniste à avoir joué avec Miles
Davis, Eric Dolphy et Téléphone, muni de son seul stylo de journaliste, et
les rock critics Philippe Barbot et Olivier Nuc venus avec leurs guitares
(ils se produiront avec Johan Asherton puis Arman Méliès, fils spirituel de
Murat et de H.G. Wells) ; où Ségolène Royal, en brève visite électorale et
attentive à serrer un maximum de pinces, se fera claquer la bise par
l'Australien bourru Chris Kenna ; où B.J. Cole, flanqué de la violoncelliste
Emily Burridge, interprétera Debussy et Satie à la pedal steel guitar ; où
Keith Christmas, le plus fin médiator du folk anglais (c'est lui qui tient
les parties de guitare sur le Space Oddity de Bowie) renouera avec une
carrière musicale prématurément interrompue ; où Peter Rowan et ses invités
reprendront No Woman No Cry de Bob Marley ; où Steve James & Del Rey (les
nouveaux Lulu Belle & Scotty) convertiront country le Nadine de Chuck Berry
; où Robyn Hitchcock, l'ex-échalas dandy des Soft Boys, rendra hommage aux
Beatles, à Arthur Lee et à son idole Syd Barrett. «L'esprit est là, se
félicite-t-on donc du côté de l'organisation. Tous les participants sont
rémunérés de la même façon, et, si le budget reste modeste [65 000 euros,
ndlr], le lieu, lui, reste magique. Et sur le plan strictement artistique
c'est une totale réussite.»

Serge Loupien Libération Mardi 29/08/2006
Who are the musicians who will be "en accords" 2006 ?
We have two great bass players John Lester & George Wolfheart. John has already worked with Jeb Loy, Darden & BJ - George who also plays mandolin and guitar has worked with Ronnie Caryl, Jeb Loy, Chris Kenna & Sal Bernardi.
Paul Susen is an incredible fiddle player he's from Wyoming or New Jersey depending on his mood. He'll certainly be sitting in with Jenny Kerr with whom he's done numerous gigs. Jenny is from San Francisco and a few years back turned up at my Gallery to do an acoustic concert with her whole band ! She's got a big heart and can belt out the blues or caress the country.
Country with smooth soul or maybe soul with a hint of country is Jeb Loy Nichols' forté. He was a surpise guest at last year's event who simply blew everyone away with a rendition of "Cryin" Time".When he sings it solo it'll bring tears to my eyes but when he was backed by John Lester, Sal Bernardi, Paul Tiernan & BJ Cole it's time to reach for the man sized kleenex.
BJ Cole pedal steel - he's back! - say no more ! He'll be performing with a fantastic cellist Emily Burridge as well as Michel Deneuve who plays the Cristal de Baschet an extraordinary instrument capable of making sounds similar to the whine of wine glasses - 3 or 4 octaves of them ! That's a lot of whine. Michel is the master of this instrument and I met him through Rex Foster who I met through Peter Rowan. Rex may not be with us but Peter will - somewhat of a legend in bluegrass and country fields he's picked with Bill Monroe, Jerry Garcia and even had Bob Dylan 'round for tea and a few licks.
Barry Melton who was at Woodstock with Country Joe can almost certainly tell a few festival stories - he'll be packing both an acoustic and an electric guitar - he's one flying fish.
Another extraordinary picker (and vocalist) is Ronnie Caryl - who turned up at last year's festival to say hi to his mates BJ Cole & Geraint Watkins. He didn't have to travel far 'cause he lives down the road from Rochefort (when he's not playing with Phil Collins who he knew before Genesis ) Ronnie sat in last year with the boys and played some riveting telecaster the likes of which I've not heard since James Burton or Albert Lee. Also from the neighborhood is Angie Palmer who sent me a CD & informed me that she'll only be down the road-a-piece come festival time. Her CD was a delight and I'm really looking forward to hearing her in person.
Steve James & Del Rey - one's from Austin and the other from Seattle he plays a resophonic guitar and she a metal mandolin (amongst other stringed things) Steve learned his chops hanging on to Bukka White's cotton tails and Del Rey returns books that she's borrowed and can play the piano too which might come in useful.
Nick Harper who will only be with us for one night, like almost all of the musicians at this year's festival, came to Paris to perform at la Java - he's an extraordinary guitarist and an amazing performer which is hardly surprising given his background - (son of Roy ! weaned on Led Zep) which brings us to Robyn Hitchcock, who when I spoke to him a couple of days ago had just finished recording an album in his house with John Paul Jones, Nick Lowe & Peter Buck ! His most recent release "Spooked" was recorded with Gillian Welch and David Rawlings so he can cover quite a lot of ground. I've heard Robyn play a mind boggling repertoire veering from traditional folk (Silver Dagger) to disco (Rock Me Baby) - he's even been known to perform a David Bowie medley which might well intrigue Keith Christmas who soon after his first solo album in 1969 found himself strumming a 12 string ? on Space Oddity. This year's festival will be a rare opportunity to see one of the UK 's folk music's missing milestones.
Both Darden Smith and Kim Richey are from the Sates and have ridden my scooter in a most satisfactory fashion - they were in fact the first performers I invited to the festival. They couldn't make it last year but now they are here simultaneously. I don't even know if they have ever met but one thing they have in common is the ability to write great songs. Connection wise Darden has worked with Boo (who was at last year's festival) Hewerdine and Kim had Robyn Hitchcock's mate Tim Keegan sit in during one of her Paris concerts. (It's just one big musical family tree.)
Also saddled on the scooter have been Chris Kenna from Australia and New Jersey 's seventh son Sal Bernardi a true pair of stalwarts who helped hold last year's festival together.
Late arrival Arman Méliès has just released an acclaimed and intricate album "Les Tortures Volontaires" which one review described as "dada-istic" and that's probably as good a description as any. Marc Minelli may also well be a bit dada-istic he's from Le Havre and was a key figure in the early french punk scene. He's recorded in Boston & Bamako . Philippe Barbot and Olivier Nuc are journalists who not only write about music but play it.
It's going to be a great and unique festival,
Karel