Testimonials from the class of 2006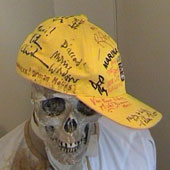 You look mahvelous, baby.
Darden Smith
wow. That last oyster took its toll. Speedy recovery.
Thanks again to you.
Playing on all those stages with so many musicians was great...
Special moments with Peter Rowan, Kim Richey, and Robyn Hitchcock
for me. Paul's set with three string players was very cool too!
Paul thinks I played with more people than BJ Cole...
is that possible? I think I learned 3,754 new tunes!
I think the festival was even better than last year
cheers,
John Lester

Dear Karel,
just a wee note to say thankyou for inviting me to your festival,
I was so impressed with everything..,the concept, the idea
of putting these wayward souls together!!,the stage, the sound,the
posters, the wine, the food,the way you responded to E-mails!!!...
I was there by chance last year with Geraint and knew nothing!!
now hopefully I know something!!...
.If I am invited next year I will do whatever for all three days
and try my best with everything!!...
so I remain your fan
and I hope your pal,bisous
Ronnie Caryl

greetings karel!
thankyou a million times for the fantastic festival weekend. it's one of my most favorite times ever - right up there w/ riding on the back of your scooter through paris. you are a superstar w/ amazing stamina and grace. i thank you so much for inviting me. it was truely wonderful!
lots and lots of love
x kim richey

Merci a toi pour la confiance que tu as dans les forces vives de la ville
( sous toutes ses formes )
Avoir l'espoir que l'édition 2007 soit encore plus belle
en rencontrer et moments conviviaux
Grâce à toi j'ai rencontré michel deneuve et c'est vraiment fabuleux
il est vraiment riche de talent et de gentillesse
CHRISTOPHE
PINEAU
Merci surtout à toi Karel. Nous avons partagé cette année encore tant de merveilleux moments musicaux et de rencontres magiques. Je pense notamment à un jeune qui a fait 800 km pour voir Hitchcock, je les ai vu samedi soir en pleine discution, ce jeune garçon avait plein de lumières dans les yeux c'était très émouvant.
Dear Karel
First I want to say a big 'thank you' for booking me. It was a wonderful gig and Sian and I thoroughly enjoyed ourselves. For me, the high spot was playing with Johan on that Tim Hardin song in Philippe's garden,
hair-raising stuff indeed!
Once again, many thanks Karel, it was great and please don't forget, I'm now looking to play anywhere live again so if there is a spot anywhere of any sport, I would be more than happy to do it as long as I know you're promoting it!
Best wishes
Keith Christmas

Hi Karel
My travelog including our delightful visit to Rochefort is at
Thank you for a vibrant weekend, you orchestrated it so well and everybody was happy !
All the best
Robyn Hitchcock
Hi Karel,
Thanks very much for another great Festival! I hope it all turned out as well as planned for you. I look forward to hearing the news and reviews.
Incredibly sincere regards
BJ Cole
bonjour Karel,
Encore un grand merci pour ces moments uniques
on t'embrasse.
Marc Minelli & Vincente.Lanza
Thank you
Rochefort was truly the most wonderful time I've had
in many, many years. I hope you do it again.
Barry Melton
merci encore karel,
big thanks from my extended family for hospitality shown!
One thing though.....'.le gugusse à la mandoline' ....clown of the
mandolin.......what are the feckers trying to say?
ciao
paul tiernan
Thanks again for the hard work, passion and dedication.
Johan Asherton & Lisa XX
Barry Melton, co-founder of and
guitarist with Country Joe and the Fish, said that Rochefort en
Accords (Rochefort in Harmony) in France was a better music
festival than Woodstock or Monterey (both of which he played).
Mike Zwerin

Hi Karel.
It was a pleasure to meet you, and everyone else, at Rochefort.
It was a pleasure to play with John and Paul,
they are lovely guys and fab musicians.
le festival a été "magique"
les retours sont unanimes....
et Chapeau.....
Jean-Luc Parouty
It all seemed to work out alright and we all appear to have survived.

Some of you maybe got to play too much and others not enough but in the end I guess the balance was probably perfect… but whether you were playing on or offstage you all excelled yourselves and gave each other and the audience more than the calls of duty demand. Thank you.
Only in Rochefort could you tumble into the unexpected combinations of peter rowan sharing the stage with michel deneuve, bj cole and emily burridge… barry, robyn and morris + bj the "2006 rochefort jamming disaster" talking up some jive friday and saturday night fever along with anyone who could handle an instrument and themselves with care..
Little sleep, lots of laughs a babette's feast of great music, excellent press reflections it was as ever a pleasure working with you.
Hugs and love - merci tous
Karel
Comme en 2005 je voudrais remercier tout le monde qui ont autant donné pour assurer que Rochefort en Accords, édition 2006,
soit encore plus réussi que celui d'il y a un an.

Si cette année les diverses logistiques ont été plus compliquées qu'en 2005 avec des changements d'horaires des arrivés, le jonglage des chambres dans les hôtels et les intempéries prévisibles mais heureusement mises en attente les organisateurs, les bénévoles et les techniciens ont tous été d'une efficacité et gentillesse hors pair.

Les musiciens, sans exception, ont été emballés par l'accueil qu'ils ont reçu. Cet accueil a largement contribué à faciliter et encourager les rencontres et échanges musicales.

R

emerciements aux Pasteur Kronert et le responsable du Musée de la Marine qui ont permis les musiciens et public d'investir deux nouveaux cadres qui ont donné un autre dimension au festival.
Remerciements aussi au Studio Alhambra où le « rencontretion » d'un étonnant beauté entre BJ Cole et Michel Deneuve a été enregistré et « last but no means least » le Maire et la municipalité qui veillent sur une ville qui se prête si bien à ce genre d'événement.

Et salue les rockschoolers. Qu'ils persistent et signent tout en faisant attention à leurs baskets...

comme les disquaires volantes qui ont couru de scène en scène
avec leurs marchandise et sourires.

Quel génial festival nous avons crée en seulement deux ans !

Bye

Karel
vivement l'année prochaine !
Philippe Barbot
Thanks for all the entertaining snippets of Rochefort!
That weekend certainly was a gas! Robyn & I dropped in on Barry's gig in Oxford & did Not Dark Yet with him, which was cool. Barry is an inspiration - such a positive guy!
Hi Karel
Wwhat a wonderful time we had – looking forward to next year..
Cheers
Nick Harper