Rochefort en Accords en Images
a photo diary with pictures taken by
Alice Brennen, KJB, Olive, Lisa Child, Catherine & Simon David.

Thursday 11-30 am
TGV Paris Rochefort Rene Miller chips in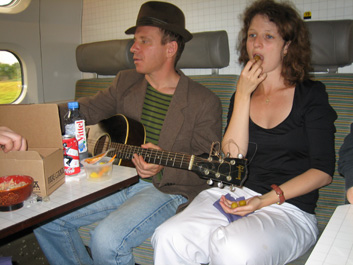 Also on board but outa-site were
Olive & Johan Asherton
7 pm Suite talking
KjB who'se given up his room in the Corderien Royale to the early arrival Jacques Higelin
negotiates with Curtis over who gets the deluxe junior suite on friday and where he'll sleep tonight.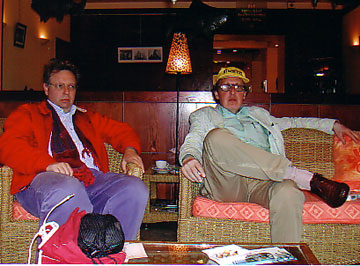 Thursday 9 pm
Marina restaurant between courses Johan Asherton, Paul Tiernan and Jacques Higelin serve up a celtic boeuf. Karel on the RTLephone describes the scene.
David Thomas wonders whether there is an all-night supermarket in Rochefort.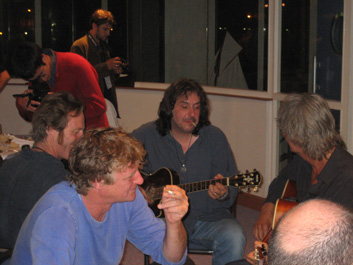 Happy Jacques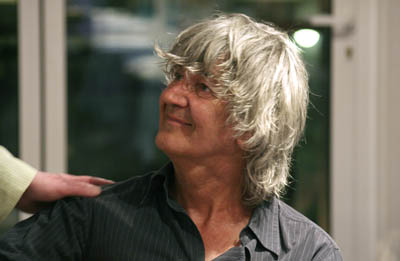 Panama Red who can play guitar left handed or right gives us the Duchess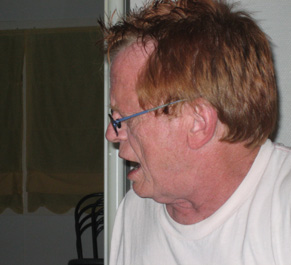 Friday 2-30 pm
Ecole Colbert
Paul Tiernan & John Lester rehearse Jeb Loy & Panama get back to the wall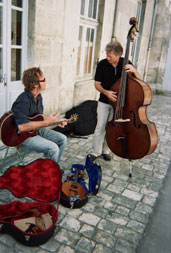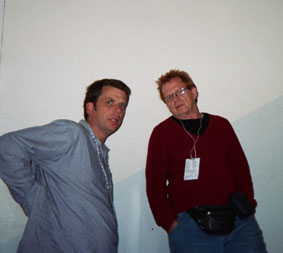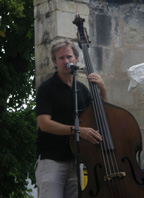 Paul, John and the indispensible team from Dann Music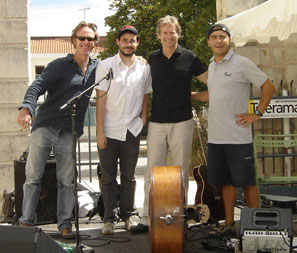 4-30 pm– Jardin du théâtre
George Wolfheart, Sal Bernardi & Paul Susen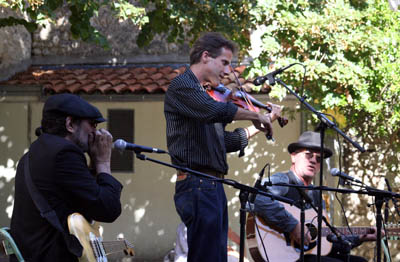 Clare Muldaur Manchon, Olivier Manchon, Cedric Piromalli,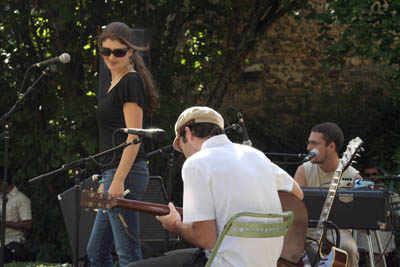 5-30 pm
Panama & Chris Kenna wonder how inebriated they ought to be to attend the press conference.
Quite !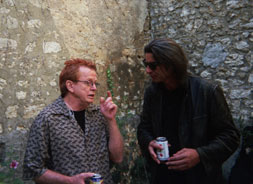 6-30 pm Port de Plaisance
Bassless Rene Miller goes it alone whilst George, Panama & Curtis face the music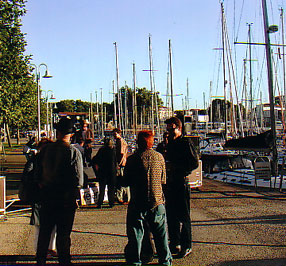 Tina Provenzano who dropped by to sit in with The Rene Miller Band
gets a long overdue hug.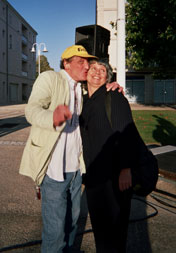 7 pm
Ségolene gets a royal lesson in speech making from Stephane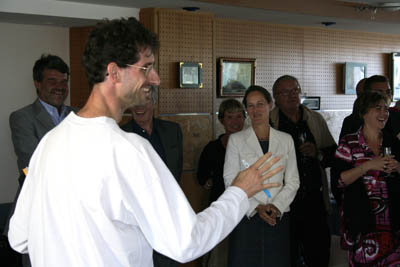 Never short of a line or two Chris Kenna takes the floor and gets a better look at the legs.
A diplomatic incident is narrowly avoided when he calls Rochefort a village !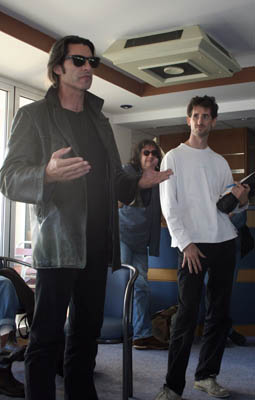 Meanwhile in the Café des Longtitudes
ravenous musicians find food and old and unexpected friends
B J Cole & Geraint Watkins get a surprise visit from Ronnie Caryl a mean tender of the telecaster
as we'd find out saturday afternoon.
The purple and yellow eggs are for shaking not consumption.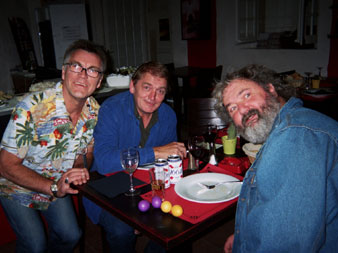 Olive ponders over which output he should use to record the show... close but no cigar
David Thomas finds things to nibble but not the Remy Martin he desires.
Olive gets a bit more bottom into the mix.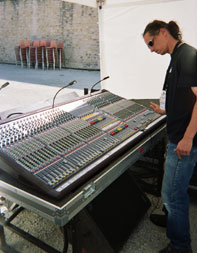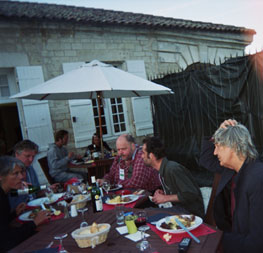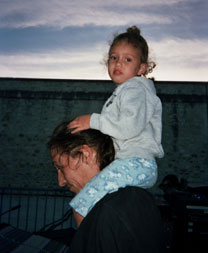 8-45 pm - Main Stage
Chris Kenna, Sal Bernardi & John Lester / Boo Hewerdine & B J Cole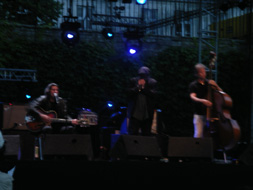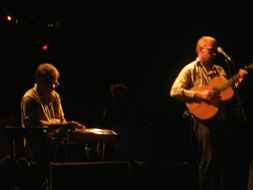 B J & Ben Bayliss / Silvain Vanot & B J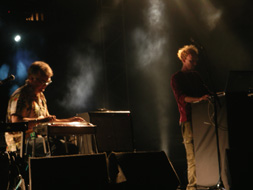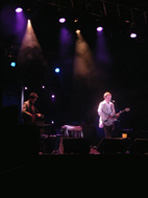 Mad Mahé, Jacques Higelin & John Lester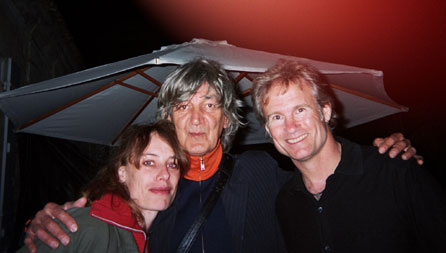 David Thomas, Rodolphe Burger & Jacques Higelin ready for the fray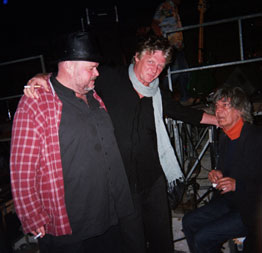 Jacques & Silvain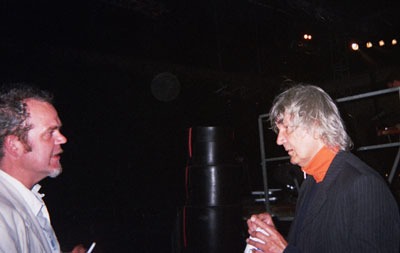 Midnight
David Thomas, Rodolphe Burger & Jacques Higelin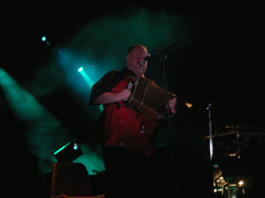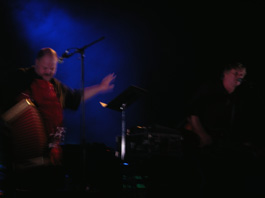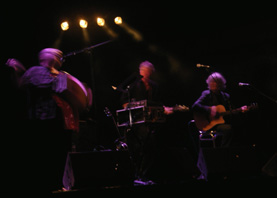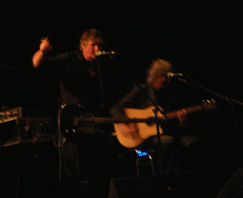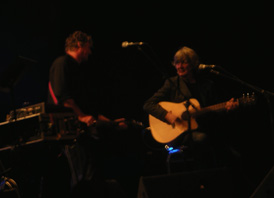 Jacques' Blood On The Axe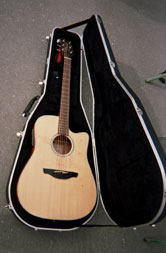 1-30 am
Olive, David, Mad, Rodolphe, Jacques & Alex
before they found out the show had not been recorded
Saturday 11-30 am
Ecole Colbert
Panama Red thinks twice and wonders if it will be alright.
Johan Asherton has a reason to believe and Vic Moan stands head and shoulders above the cautious crowd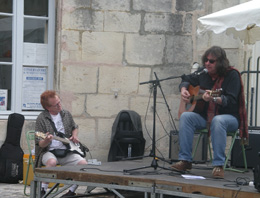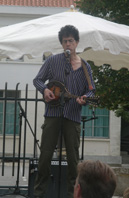 Alice in wonderland sports one of the rare T Shirts whilst Chris Kenna tries to prove the Ayres rock.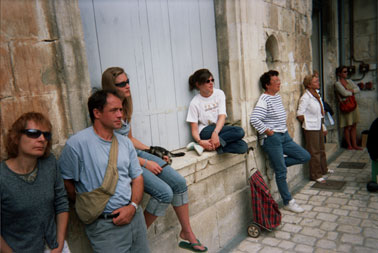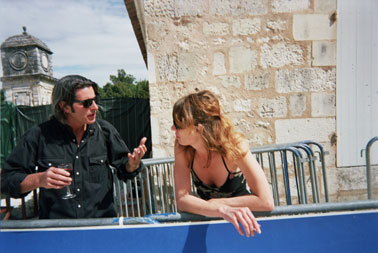 4-30 pm Jardin du Theatre
Panama, Geraint & George Wolfheart the shady boys watch Boo woo the corwd.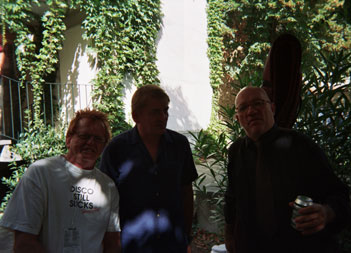 Boo Hewerdine & Paul Tiernan make it up as they go along.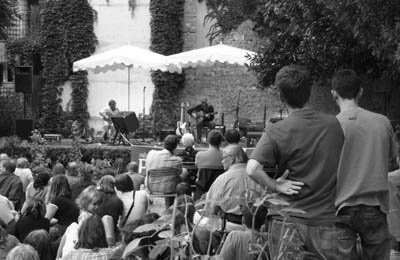 Being welsh Geraint takes a leek wherever he goes. Rochefort will be no exception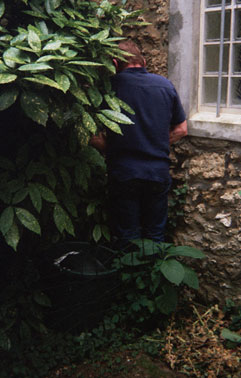 5-15 pm
Ronnie Carroll joins Panama, Geraint, Sal & George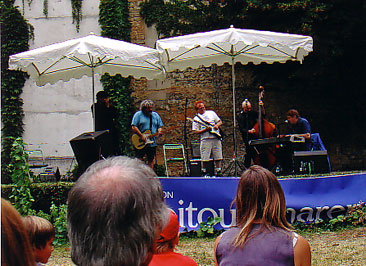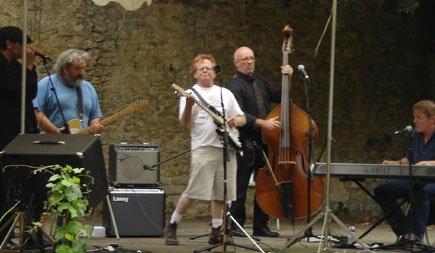 6-30 pm
Avenue Lafayette get's wet - the marchandise staff take cover as Kenna, Bernardi & Moan
soak up the atmosphere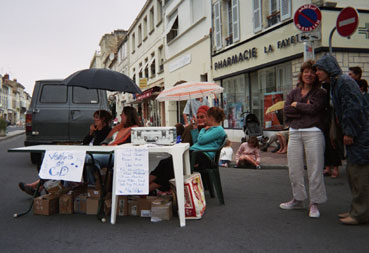 8-45 pm
Main Stage
the team seems to have used up their photo quota
Rene Miller Band soon to be joined by the ubiquitous B J Cole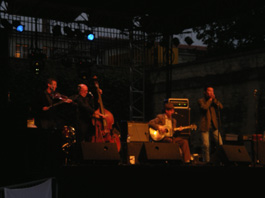 fortunately Simon David was on hand to snap Paul & John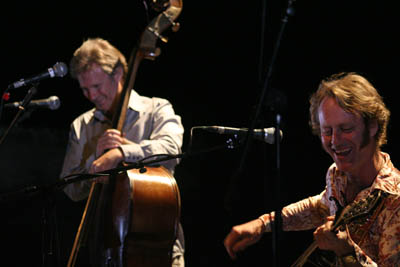 and Lisa catch Johan, John, Paul & Sal in the act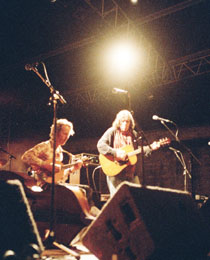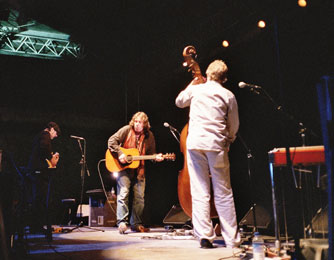 No record of Jeb Loy nor Geraint for the time being

Hugh Cornwell takes the band to the Bridge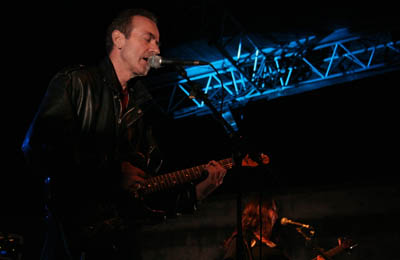 The Trent Bridge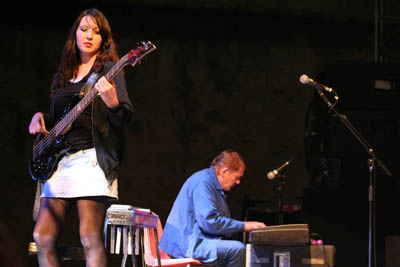 The amazing sidemen B J & Geraint admiring Hugh's taste in bass players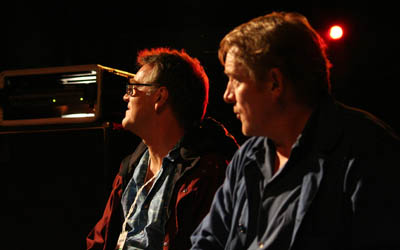 1-30 am "Sweet Home Rochefort"
the finale
Clare, Olivier, the Pauls Susen & Tiernan, John Lester, Sal, Panama,
BJ, Geraint, Windsor on drums, Rodolphe ... et al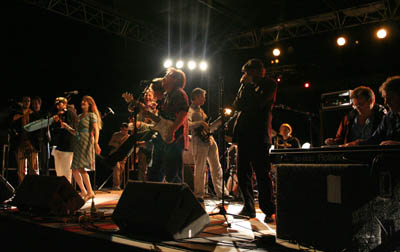 Hugh Cornwell & Panama Red discuss a dog's life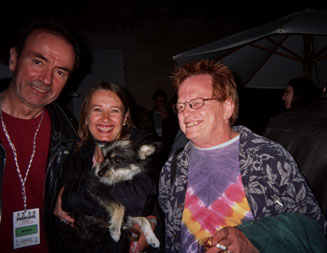 2-30 am
back in the Corderie Royale Jacques orders up some cheese and wine who needs a Burger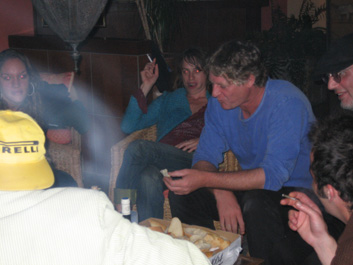 They all want Chris Kenna's battered axe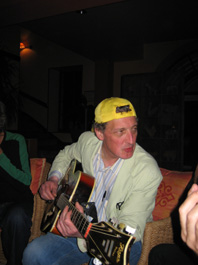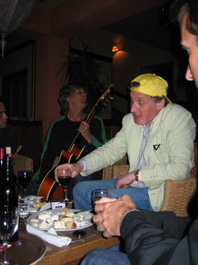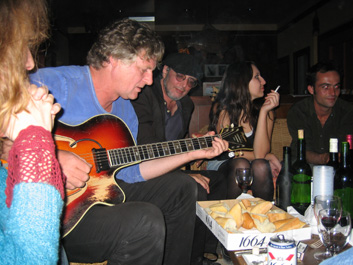 5 am
Poolside Caroline Campbell, long legged bass player with Hugh Cornwell,
debates whether she's skinny enough for a dip. Later Rodolphe takes the plunge.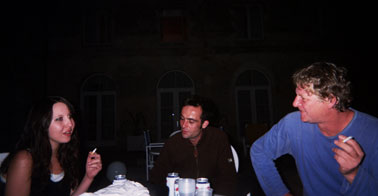 Sunday 9 am
Corderie Royale payday and partings
Boo & Hugh - Jeb Loy and Sweet Lorraine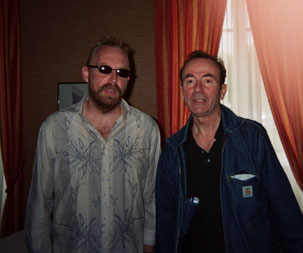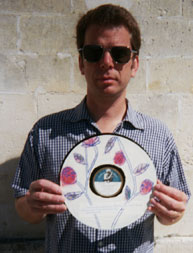 Noon picnic beside the Charente river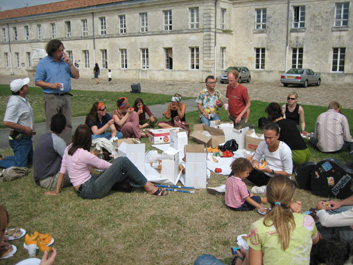 Yazid Manou cans the heat.
Merci Yaz. It's thanks to you and your big mouth that the Accords festival happened in Rochefort.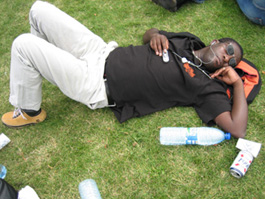 What can I say?
It was a blast everyone had a ball.
The locals couldn't believe they were on the receiving end of such a stupendous musical feast.
We had the most incredible spontaneous house band palying with great singers and songwriters.
The likes of which has certainly never been seen before in France.
The technical staff were impeccable, the local volunteer helpers made sure everyone got to the festival and was left lacking nothing of great importance.
1,000 oysters slid down three score throats as did 30 bottles of cognac and endless litres of wine.
Next year let's hope there are as many people as there were oysters and I'll make sure you all get a map.
Rochefort rocked
Thanks everyone concerned.
Karel