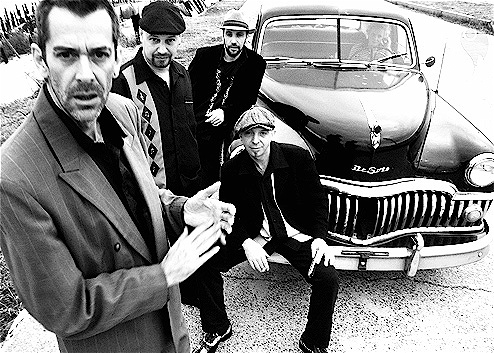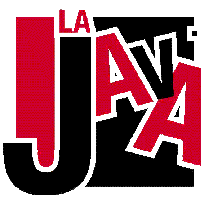 Tuesday 23 & Wednesday 24 October 2007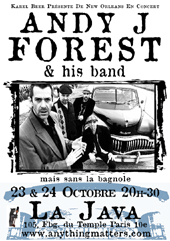 Andy is a friend who goes way back to the late 1970's.
He came to Paris from New Orleans in 1977 and was playing on the streets when I first crossed his harps.
He played a mean harmonica even then and I gave him his first taste of a recording session when he sucked and blew a solo on Irv Mowrey's "Continental Drift" album that I was producing.
Andy drifted on down to Italy soon after that and because quite a star over the alps.
Not only through his music but also on the silver screen - for a while he was the '80s version of Clint Eastwood
living the "Dolce Vita" up and down the via Veneto.
But music was his first love and before long he was back in the van gigging around Europe and playing an even meaner harp than he did back in Paris. We had some fun times in Bologna, Milano and even Los Angeles.
Our paths just semed to keep crossing I'd stay with him when I was in Italy
and he'd stay with me when he was in Paris.
He once told me he was going to write a novel and a most unusual thing happened...
he actually did write a novel.
"Letter from hell"
It was published and even got translated and put on the bookshelves in France by Gallimard!
Then he moved back to New Orleans continued to play the clubs in the Crescent City and started to paint.
He had a bunch of exhibitions one of which was here in the Sound Gallery.
Actor, author, painter, musician (hey he even studied ballet) Andy is a bona-fide renaissance man.
Yet oddly over all the years I never got to organise a proper concert with him.
We did do an ad-hoc evening with Andy and friends (Chris Kenna, Sal Bernardi, Rene Miller)
at the Hotel du Nord some years ago and he sat in with Kim Richey here in the Sound Gallery where in 2004 he that memorable juiced jam with Corey Harris and Jamil Williams.
Now some 30 years after we first met he's coming to town with his band
for a couple of compelling nights at La Java.
A lot of bon temps are going to rouler - he's got a new CD with a catchy title
"Real stories about love, labour and other man-made catastopes"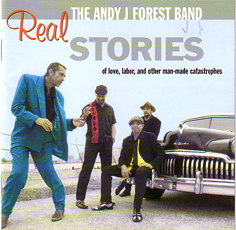 click on the photo to hear what went down when andy got together with
corey harris & jamil williams late one night in the sound gallery.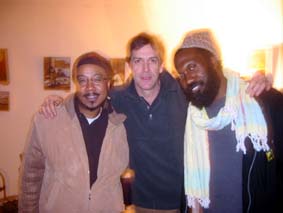 ---
"Autour d'Andy J Forest "
at the Hotel du Nord
Monday 18th December 2000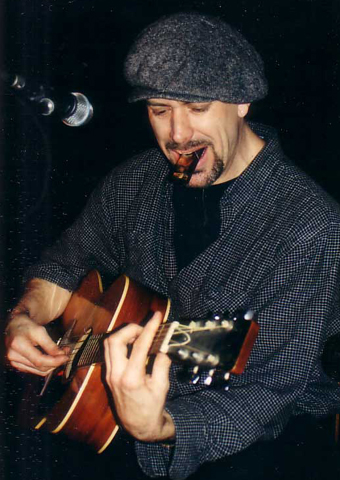 A spontaneous way to see the season out in the company of Andy J Forest, fighting fit and fresh from New Orleans. He'll come armed with his lungs, blues harp and rub-board and will be sitting in with some of the hard-core musical stalwarts of our concerts and comedy, Rene Miller, Chris Kenna and Sal Bernardi.

Background:
I've known Andy since the late '70's when I had the honour of being the first person to plonk him in front of a studio microphone to blow his first recorded harmonica solo. When I was in New Orleans in November having jumped a Russian Ferry moored in the Mississippi I took refuge in Andy's flat in the heart of the French Quarter and helped him finish off the contents of his fridge and 14th album. A great piece of work entitled "Sunday Rumba" it was concocted with some of the creamiest musicians in the Crescent City. As each day and night rolled by Andy introduced me to the players as they performed in the various clubs and venues in the city. To a man all great guys and devastating players, but then Andy has always kept good company.
Currently on tour in Italy I suggested he pop up to Paris and get together with the guys from Gallimard who will soon be publishing his novel "Letter From Hell" as well as let me introduce him to some of my favourite musicians who have currently gone to ground in Paris. They being; Rene Miller of Louisiana extraction who you may have seen opening for Dave Van Ronk or Corey Harris, Chris Kenna who comes in from the Australian outback and has graced the HdN stage prior to Sonny Condell & Corey Harris and Sal Bernardi, omnipresent at all of the shows but only on stage in the gracious company of Gabriela Arnon. Sal has recently been working with Willy de Ville and for a lot longer Ricky Lee Jones with whom he played at La Cigale back in August.

Sal Bernardi, Chris Kenna & Andy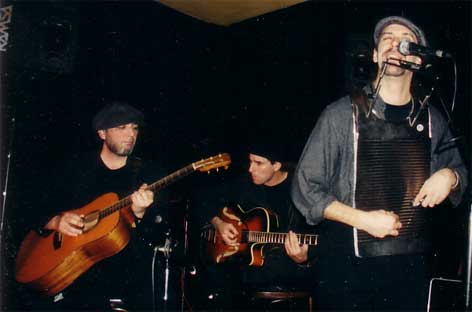 The Clapper Boys
Patrick Verbeke & Andy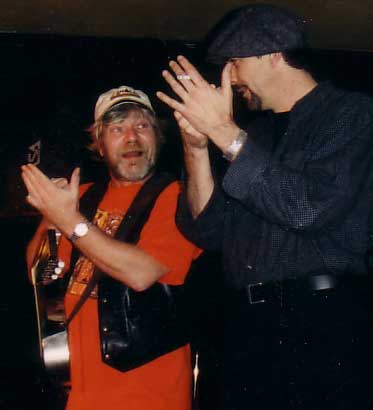 Chris Kenna & Andy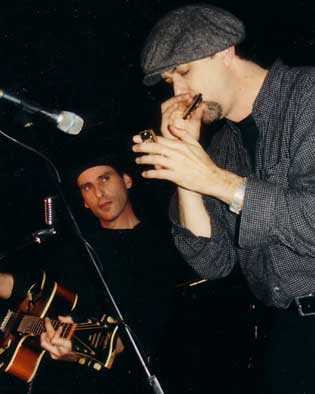 Rene Miller's Wedding Band & Andy
"keep it down boys"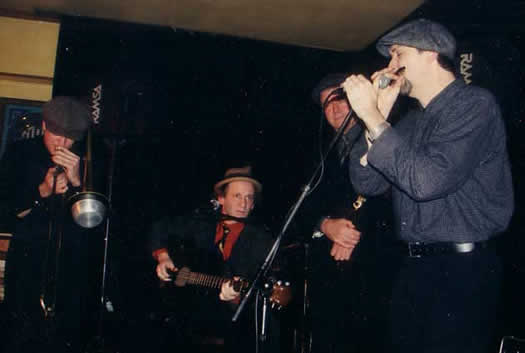 And later in the Sound Gallery