ANDY J FOREST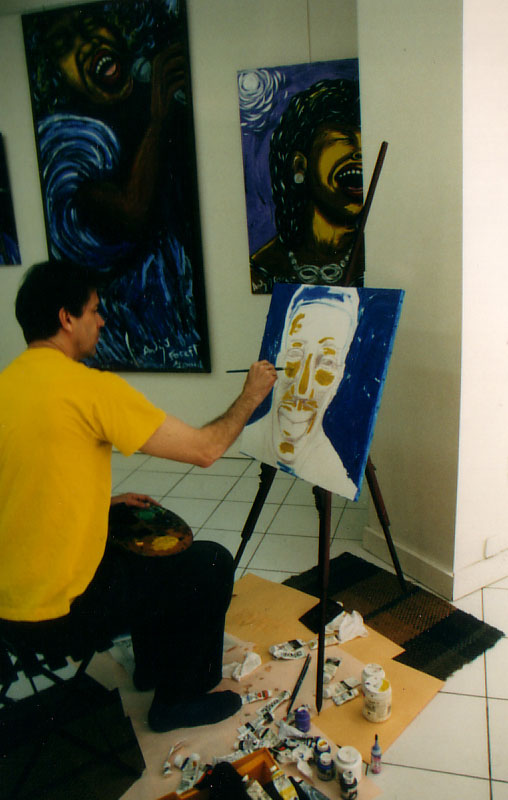 DES TETES DANS LES TOILES
à la Sound Gallery
à partir du 24 mars 2002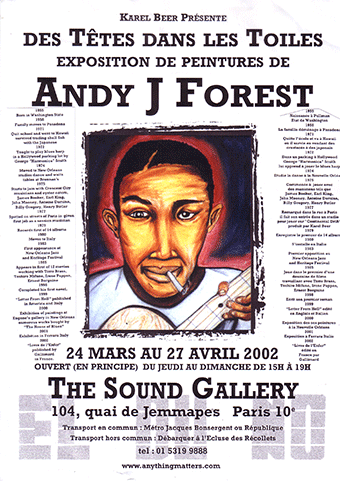 Andy J Forest - Born in 1955
The first harmonica lessons came from hearing live performances by Sonny Terry, Walter Horton, Charlie Musselwhite, and Rod Piazza in the Los Angeles area as a teenager. The legendary George "Harmonica" Smith gave the young man pointers in the parking lot of the Ash Grove in Hollywood. But he really started playing in New Orleans in the early 70's, jamming with James Booker, Earl King, John Mooney, Antoine Dominoe, Billy Gregory (of Professor Longhair's band) and other local musicians who went on to form the Radiators and the Subdudes. He began his professional career at age 22 demonstrating a unique and personal style from the beginning. Forest recorded the first of 14 LP's and CD's in 1979 at age 24.
Live performances, mostly in festivals gave him the opportunity to open up for Albert King, Albert Collins, Canned Heat, Magic Slim, Robert Cray, Stevie Ray Vaughan, Buddy Guy & Jr. Wells, Clarence "Gatemouth" Brown, J. Geils & Magic Dick, Terrance Simieon, Otis Grand, The Blind Boys of Alabama, Johnny Copeland, Roy Rogers, John Hammond, Melvin Taylor, Duke Robillard and Johnny Winter.
On some of these occasions Andy was invited to play with his heroes. In 1989 B B King had him play with him, Bobby "Blue" Bland and Luther Allison at the Montreux Jazz Festival. That same summer B B invited Forest to join him in a jam with Jeff Healy on stage at the Pistoia Blues Festival in Italy. Champion Jack Dupree asked Andy and his band to back him up for an entire set. He also played a set with the Otis Rush Band which was televised on national Italian TV (RAI). Other illustrious artists to have had Andy J up to jam with them include; Taj Mahal, Screamin' Jay Hawkins, Matt Murphy, James Cotton, Walter "Wolfman" Washington, Jimmy Johnson, Sugar Blue, Willy DeVille, Louis Meyers, Johnny Heartsman, Bernard Allison, The Memphis Horns, Johnny Shines and John "Juke" Logan.
Andy's appearance on the national award winning program "Louisiana Juke Box" on Cox cable TV was put on the "Best Of" compilation program which was aired repeatedly in 1997. Two concerts were aired on Swiss National Television in 1994 & 1996 from Lugano's Blues to Bop festival. Several Canadian television shows have been host to appearances by the Andy J Forest Band. Also BBC's "Jazz me Blue" with Paul Jones. A documentary directed by Ray Roth, entitled "I Got The Blues" shot at the Sherbrooke Blues Festival featuring an interview and performances was aired in Canada in 1997. The Italian RAI TV network has featured Andy on scores of programs including "D.O.C.", "Jeans", "Roxy Bar", MTV, "Pickwick", San Remo Blues Festival, and Ravenna Blues Festival with B B King, Charles Brown and A Tribute to Muddy Waters.
A Prolific song writer, Forest has penned over 100 tunes, mostly blues and New Orleans style.
Blues Revue called his "wordplay Berryesque" and rated the CD "Bluesness as Usual" an "UN-usually strong album". Of the book Letter from hell "Sounds and reads like good blues to me" - "agile imagination".
Off Beat magazine in a review of Forest's CD "Blue Orleans" stated "The songs present an uncompromising look at the life of a traveling musician... Also Forest proves his versatility by tackling themes like insanity and growing old. His understated delivery has a poignancy which comes from the heart". "One of the best harp players in New Orleans"
Gambit Weekly in New Orleans hailed Forest as "One of the scene's more experienced and vital practitioners".
OBScene, Ottawa's blues periodical printed, "Andy performs harp magic...every number was truly entertaining... his original tune "Motel Blue Orleans" is the epitome of the blues".
Living Blues gave him a "solid harp player" vote and of his songwriting reported, "...from soulful instrumentals to raunchy (lyrics).."
Blues Access "a fine series of intriguing albums...original compositions, lusty singing and virtuouso harp". "...hot harmonica" "... distinctly out of the ordinary".
Guest artists on Andy J Forest's CDs include Marva Wright, Eddie Bo, John Mooney, Lil' Queenie, Mason Ruffner, Willy DeVille, Davell Crawford, Bruce Daigrepont, Anders Osborne, Tommy Malone, George Porter Jr., Herman Ernest III, Lenny McDaniel, Bruce "Sunpie" Barnes, John Magnie (of the Subdudes), Dave Malone (of the Radiators), Jerry Jumonville, and Johnny Vidacovich.
He has played at the New Orleans Jazz and Heritage in 1983, 1995 and 1997, Trois Rivieres and the Ottawa Blues Festival in 1996 & 1997, The Montreux Jazz Festival in 1989, Cognac Blues Passions '97, Antwerpe Parkblues Festival, Amsterdam Blues Festival, Tamines, Beermem Blues Festival, More Blues Festival, Gulf Shores Shrimp Festival, Lokerse Feesten, Pistoia, San Remo, Nantes-Rendezvous dans l'Erdre, Lugano Blues to Bop '94, '96 & 2000, Sherbrooke Blues Festival, Windsor International Festival, Montremblant and many others in France, Italy and Canada.
After being nominated in two categories for the William Faulkner Society Awards for a short story and a poem, Andy has written a novel "Letter From Hell"about a blues band from New Orleans that goes to Hell. With this novel, Forest was short listed for the Pirates Alley Faulkner House awards 1998. The book was first released in February 1999 in English and Italian on Pendragon and the prestigious Gallimard Editions is publishing "Letter From Hell" in French in March of 2002. Off Beat Magazine listed two of Andy's recordings among the "best" Louisiana CDs of 1999. The newest CD, "Sunday Rhumba", is produced, arranged and mixed by grammy winning songwriter Anders Osborne. It features 11 tunes, 5 of which penned by Forest & Osborne and is allready considered by many to be the most provocative, innovative and best sounding recording by Andy J to-date. It features an unusual assortment of original songs, poems, New Orleans percussive beats and a lot of harmonica. The cover artwork is by Forest himself.
More Bio Info
Andy J Forest was born in Washington State in 1955. His family moved to Southern California where he grew up in the Pasadena area. At the age of 16 he quit school and went to Hawaii where he survived by picking shell fish on the coastal cliffs and selling them to the Japanese fish merchants, cleaning Hotels and picking pineapple on the Dole plantation.
Upon returning to the mainland he studied violin and harmonica. A six month trip to the Virgin Islands after hitch hiking to New York added to the resume of already some 30 jobs he'd had, ranging from fishing salmon in the Northern Pacific, constuction, oil refinery tank-scraping, roofing and electrician's assistant.
Andy studied music, dance, Latin and fencing at Pasadena Junior College when he was 18. During this time he focused on blues harmonica, which would later lead to a recording career. Moving to New Orleans in 1974 he received a scholarship at a local dance company. Between waiting tables at Brennan's and playing harmonica with local bands he began to experiment with poetry and songwriting.
1977 found Andy on a three month trip to Europe that lasted over ten years. He recorded the first of 13 albums in 1979, consistantly writing 90% of the material. Touring extensively in Europe he returned to New Orleans periodically to record his songs and play in clubs. In Italy, he began teaching harmonica seminars and master classes and interviewing rock stars for Italian television as his Italian became fluent.
A casting agent in Rome saw him playing in a club in 1985 which led to a twelve film, five year acting career. He landed lead roles acting next to Toshiro Mifune, Irene Pappas, Ernest Borgnine and many others. He shot films in the Moroccan Sahara Desert, Yugoslavia, Brazil, Canada, on the Orinoco River in Venezuela and in Italy. The films ranged from B war movies to arty erotica and brilliant comedy to Safari films for Japanese television. Forest also has a dozen TV commercials to his credit as an actor and one as a writer.
Not satisfied with his dialogue he began to re-write a lot of his lines and eventually wrote film ideas that he wound up molding into short stories, preferring the literary form over film script. By 1990 he had begun to develop a writing style and abandoned cinema for a full time touring schedule. The music had become just as lucrative and more artistically satisfying.
In 1997 Forest entered a short story and a poem in the William Faulkner Creative Writing Competition in New Orleans and was a finalist in both catagories. With this encouragement he has taken writing more seriously. In the winter of 1997-98 he completed his first novel without stopping his steadily growing career as a singer/songwriter. The novel was short listed for an award in the 1998 Faulkner Competition and will be published for Pengragon Press in January 1999. The newly recorded soundtrack CD on Appaloosa Records has the same title as the novel-