Simon Munnery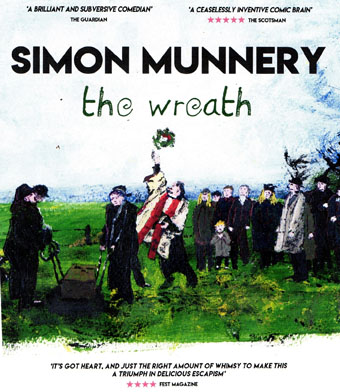 "One of the few geniuses in comedy" Nick Wilty

"Better than any quote could possibly say" Al Murray

"Touching, genuine, brilliant." Adam Hills

"If you ever dreamed you were clever and funny see Simon Munnery and see how they are both done with style,
precision and hilarity.... he's a spunk" Julia Morris

" If you really need a quote for Munnery, and there are many out there,
some of them not even using the word "Genius", then how about "perfectly adequate primer
if you can't be bothered to read the original Nietchze" Simon Evans

Friday 28th June 8pm
Karel's Finest Comedy
at
Sinaloa
(ex La Chapelle)
19, rue de Lappe
Paris 11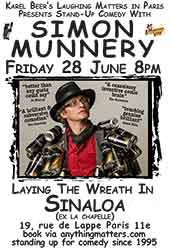 ---
" One of the few geniuses in comedy" Nick Wilty


.Laughing Matters In Paris Presented
on the night that Jacques Chirac either did or did not die
the answer to canned laughter


Simon Munnery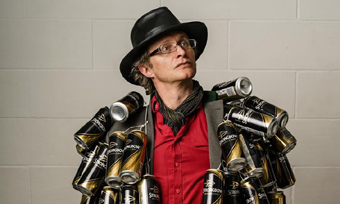 p
hotograph: Edward Moore

The legend returned


Wednesday 21 September 2016




La Chapelle des Lombards


19 rue de Lappe Paris 11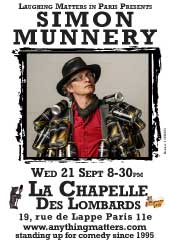 lotsa press came out of Edinburgh

his guardian angel story
read the scotsman article here
---
"Better than any quote could possibly say" Al Murray

"Touching, genuine, brilliant." Adam Hills

"If you ever dreamed you were clever and funny see Simon Munnery and see how they are both done with style,
precision and hilarity.... he's a spunk" Julia Morris

" If you really need a quote for Munnery, and there are many out there,
some of them not even using the word "Genius", then how about "perfectly adequate primer
if you can't be bothered to read the original Nietchze" Simon Evans
"Is it not about time to have Phil Kay back?" Phil Kay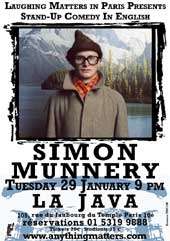 ---
Laughing Matters in Paris presents Perrier Bridesmaid & all round madcap
Simon Munnery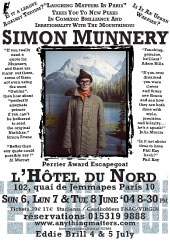 6, 7
& 8 June 2004

minimal smoking night
Is it a bird brained scatterhead, is it a league against tedium ?
Is it an urbanised warrior ? Is it a man with a bucket on his head ?
Who knows what carnation the astonishing Mr Munnery will come to Paris in !
The only thing for certain it that it will be mind-bugleingly hilarious.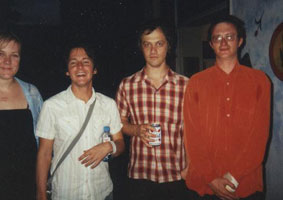 the gang shows up
melanie horsnell - josh rouse - tim keegan - simon munnery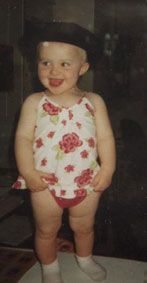 ---
also back in March 1999 when he appeared as both
Alan Parker "Urban Wirrior" & his very own self
on the tuesday night Andre drove across the
Canal St Martin footbridge in a 4 x 4.