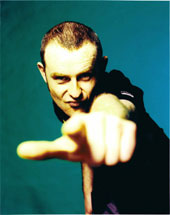 tuesday 17 & wed 18 may 2005
La Java
Colin Murphy is the premier Northern Irish comedian working. His distinct fusion of edgy 'in your face' topical satire, with acute observational material, make him a highly original and much sought after performer.
As regular MC at Belfast 's infamous 'Empire' comedy club, Colin has deservedly earned himself a reputation as a force to be reckoned with. Always armed with a razor sharp wit, his turn over of material is nothing short of prolific.
As a formally trained actor, and founder member of the 'Sightlines' Theatre Company, Colin has appeared in countless theatre productions including 'Twelfth Night' (as Sir Toby Belch) and as Gottleib in ' Auschwitz '. The latter part earning him a nomination for 'Best Actor' at the ISDA awards.
However it is his barn storming comedy routines which have brought him directly into the public eye, including a sell-out breathtaking runs at the 1999-2002 and 2004 Edinburgh Festivals - earning him huge critical and industry acclaim. 2002 saw Colin headline shows in New York, Boston, Singapore, Hong Kong, Brussels – and the acclaimed, Just for Laughs Comedy Festival in Montreal. Colin returned to Edinburgh this year (after a year's sabbatical to film 5 TV series!) with a brand new solo show, Miraculous.
"Explosive, roof raising comedy. Watch this man's name – he's going to be huge" IN DUBLIN MAGAZINE
"Observational humour at its very best, impeccable delivered by this extremely talented, loveable rogue" THE LIST
"Multi-talented and hilarious. Refreshingly original and honest – a true 'find'. THE TIMES
"…superb…skilful mimicry…a crescendo performance…an enormous future awaits" THE STAGE
"…the kind of powerfully, genuinely charismatic comic talent for whom the most obvious comparison is a younger Billy Connolly….. …sharp observational routines and an interaction with the audience that many higher profile comics could only aspire to…" THE SCOTSMAN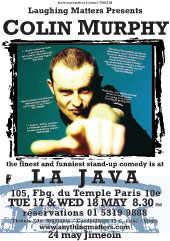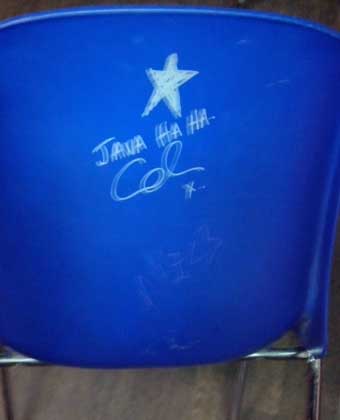 ---