Jennifer Terran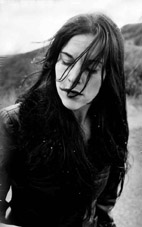 New album "The Musician" CRS/Rounder

Vocalist, pianist, songwriter, recording artist, Jennifer Terran is the creator of three critically acclaimed independently released recordings on CD, Cruel, Rabbit and her latest release, The Musician. Terran is best known for her outstanding voice, hauntingly beautiful songs and original approach to composition, performance and recording.
The rawness and charge that is Jennifer Terran is most profoundly embodied in her latest work The Musician, which is a compellingly beautiful and uncompromised piece of musical art. It is a culmination of two years of intense effort by Terran as musician, producer and engineer - and brings with it some of the most inspired performances of her career.
As a concept album, The Musician centers around the tortured, then liberated character Mad Magdaline, who ends up killing "Mr. Recordman" or some symbolically speaking, the idea that a musician needs to be bound to the corporate music world in order to succeed. Though fictitious, Mad Magdaline brilliantly harmonizes with the whole of the album, which is primarily a deeply personal and honest look at Terran as musician, artist and human being.
Besides being rich in concept, heart and guts, The Musician is simply a great record that is proving to resonate with a wide range of people. It is trendless, timeless and is the kind of album that gets more pleasurable and meaningful with each listen.
---
"Jennifer Terran: "The Musician"- #2 Best Album of the Year. An astonishing album by an almost unknown singer-songwriter." The Sunday Times - U.K.
"The Musician: #1 BEST ALBUM OF 2002 ". Terran is an extraordinary USA singer/songwriter and THE MUSICIAN places her firmly in the top echelon of her craft. This is remarkable pop music, and one of 2002's few essential albums"
Shakenstir.co.uk
"The Piano immediately reminds one at Tori Amos, but Jennifer Terran needs no model (proposal?), she knows exactly what to do. She has her own label (Grizelda Records), her own (special) voice. In the highest tones she sings about all those depths one has experienced in the (Bermuda) triangke of Musicians, managers and money. "The stations would never play it and as fasr as money we'd never make it" is one of the prophecies, but of course she won't listen to him -luckily! But she only intensifies her playing to deliver the necessary drive to her folk pop". ****
Rolling Stone Magazine Germany
"CD of the Week - ALL OF you wondering whether Kate Bush is going to release another album, or if Tori Amos will ever make another record as good as her debut, can stop bothering with such side issues. Here's the album you've been waiting for." The Times
"I'd gladly trade in all my Tori Amos CDs for Jennifer Terran's 'The Musician'...a magnificent album." ***** five stars and #1 BEST POP ALBUM of 2001 HEAVEN MAGAZINE (Holland) - Eric van Domburg Scipio
"Tori Amos and Ani DiFranco combined couldn't take on Terran's integrity." Positively State Street -Marko 72
"Jennifer Terran is a stand out diva!" Bam Magazine-Carey McDonald
"...sounds a lot like, well, Jennifer Terran. Grade A." L.A. Times-Bill Locey
"Terran is remarkable...equal to that of a young Joni Mitchell." LA Weekly-Greg Burk
"Captivating... powerful voice and songwriting" Chris Douridas - KCRW's "Morning Becomes Eclectic"
"That's the thing with transcendentalism, it hardly lives up to its name unless it carries you away. Well Jennifer, it did carry some of us away. We just left our bodies back there on the Plaza Theatre chair." Coastal Review - Gary A. Schlueter
"Listening to Jennifer Terran was an orgasmic auditory experience. Sometimes Terran sounds like a spiritual pop-folk goddess, and at other moment she comes off like a wide-eyed town freak.... it always sounds beautiful. You've gotta listen to understand." The Fish Rap Live-Jenni Balsam