Karel's Lemmings recording journal
with photos unearthed by Mike Peven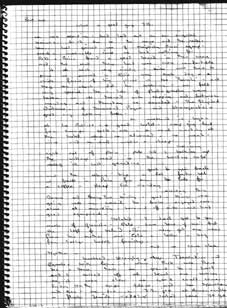 June July 1970
Monday 1 st June we begin recording at Wagram Studio – we had lost out on our original session slot of 6 to 12 pm due to the noise factor
and the neighbors who we'd soon discover were prone to turn up at 8-30 pm in their nightgowns.
We had use of an English band called Majority One's equipment which they'd left in the studio.
This was fortunate since we had no amp for Pete.

Pete may not have an amp but he feelt like a Neumann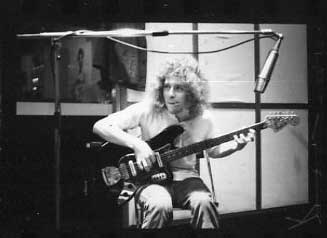 Brian found Majority One's snare sounded good and since their stool was more comfortable he used that too.
Brian, always picky about his stools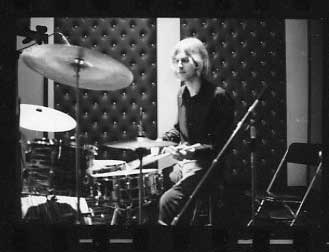 Things went very smoothly – Mike Peven was there to drive us around in Ed's VW van.

A VolksMadame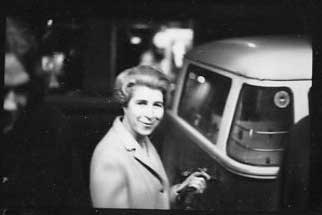 The Larks Brothers
Ed, Col, Mike Peven and young Octavio Segui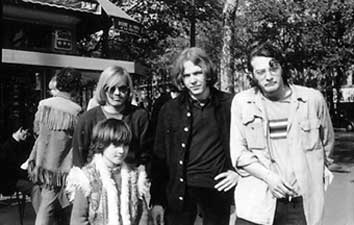 Sarah Brown joined the team.

Sarah's Pschitt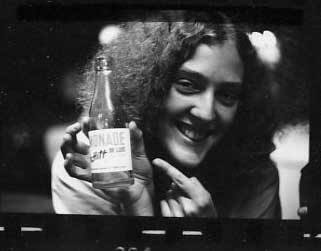 Mike and Sarah ran errands and did the laundry.
Mike took lots of photographs (as you can see)
and played and probably paid for pin-ball games.
Between Monday and Thursday we recorded the backing tracks for
The Slightest Distance, 1000 Pages and Strangerstill.
By Friday we were supposed to have finished the album.

For a 1000 Pages Col borrowed a Gibson 335
he gave it back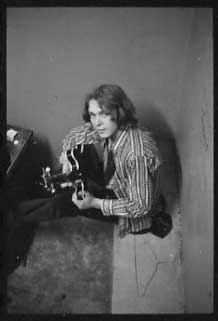 Saturday 6 & Sunday 7 June we have a gig in Lyon at La Colline.
We get a good hotel but a crap show just played rock & roll.
The amp-less Pete played through an old valve radio we managed to borrow from a repair shop.
Arrived back in Paris on Bvd St Michel at 4am.
For once we have some money but it's too early for breakfast, even at Shakey Jakes.

Monday 8thJune – Recording : Donna and Long Time Living –
things going well we weren't too broke, enjoyed ourselves recording and had managed to find some decent equipment.
Hassled defiantly over Translation and Equals with Colin – who when hearing the first play back of Translation dismissed it as "Crap"
He proceeded to make it heavier whilst Pete and I waited to dissuade him.
When Colin's push came we our combined our shove and it came out very clean sounding
Took ages to get Pete's piano part down on Equals after which the Ramirez guitar part pissed Colin off.
We ground to a halt and I called off the session.
Friday 12th and the amps blew taking the speakers with them.
Saturday 13th Jean Besnard booked us for a flash Bat Mitzvah in the Pavillon d'Armenonville
we even got some go-go dancers together for the occasion and grabbed 800 almighty francs.
Besnard dressed the band up in velvet.
Mike Peven got to put a lot of champagne away, rolled on the floor and ended up on stage playing the kazoo.
He managed to get us home though after Jean Besnard had told us some cautionary tales about music and the mafia.
He actually paid us and for a while it felt like he had become an ally if not a friend.
Go to studio Charcot and listen to the tracks, they sound good – especially Strangerstill.
Don't get to do any vocals however.

Start Appointment and Settlement Song.
After a couple of days we decide to scrap them both
and do them over again when the gear had been repaired
Friday 19thJune, Perform at the American Centre.

Revolutionary PopCorn at the American Center
Light Show by Bernard Szajner's à la Flore des Alpes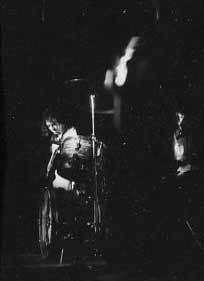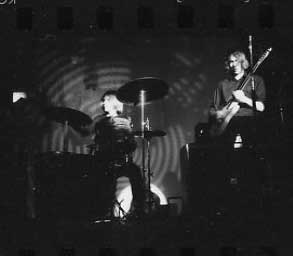 Saturday 20th go to Reims, play the fool, die a death.

St. Symphorian d'Ozone
The Ozone Players stop for a snack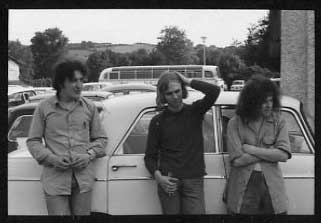 Colin already on the ladder to success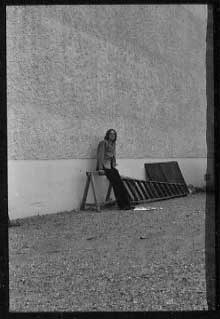 Sunday, 21st Pavillion d' Armenonville again. Same thing as last week,
Then a recording session in Rue Crozatier on Monday for Jean Besnard (Sleepy River Boys?)
followed by an argument over the money. We lose the argument and consequently the money...
Back at Studio Wagram the recording of Faceless is interrupted by the entrance of an irate neighbor.
He's a short man and is glaring at his watch in amazement.
Since no one stops playing he picks up a shoe and throws it at Colin – who dropped his guitar and then proceeded to throw the midget-man out of the door.
Brian followed and a scene ensued in the courtyard.
The little guy was by now completely beyond himself and tried to haul at least one of us to the commissariat.
End of session.
We packed up and went over to Studio Charcot.
So Faceless was not finished.
But we had half of The Settlement Song.
Friday Saturday (26th / 27th) during a late night session we decided that dropping Faceless
and finishing Settlement Song was the only way out.
Sunday 28th. Double tracked everything on Settlement Song on
Brian had finished his parts and packed his drums.
He's ready and able to go back to England.

Brian takes a drip and gets that sinking feeling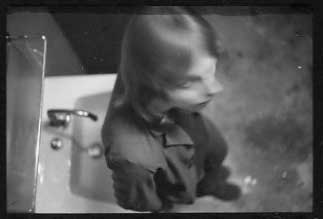 Monday 29th we worked through the night at Charcot to finish guitar tracks.
Tuning takes forever only to find out that previously recording parts are out of tune.
Managed to get Appointment solo down.

Tuesday 30th an almighty session at Studio Gaité where Settlement guitar parts were finished.
Did a good Translation vocal before Colin's voice broke on the end of 1000 Pages – we were all smashed.
The session had started at one in the morning and ended at 10-30am
We've now clocked up over 150 hours in the studio. £3,000 owing.
Colin left for England and since Pete can't sing he left as well.
I stayed to sell the PA and Marshall gear.
July
15th band back in Paris

Karel gets the credit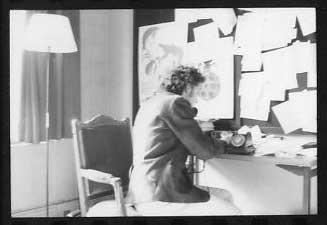 Wednesday 16th I'd called Poudubois at Europa Sonor in the morning and he suggested I come over to see him
since I hadn't brought any additional money.
I explained the situation to him and he looked resigned and gave us more studio time.
Thursday 17th we recorded from 5pm until midnight.
Managed to get the first, second and part of third verses of Strangerstill recorded.
Slow going. Seven hours on vocals and they're not even finished
There seems to be no way of going faster. At least what is accomplished is good.

Friday 18th back to studio de la Gaité where we transfer some of the 8 track tapes to 16 track.
Finished Strangerstill and Pete did a vocal on Appointment
After almost 2 months it has cost over £4000.
Decide to use what we have of Faceless.

Friday 24th July add parts to Settlement and 1000 Pages – some guitar solos and a bass track.
These we'll have to redo. We can't finish the record without some decent equipment.
Borrow money from Joseph and cable Rick for some dollars.

Tuesday 28th July back in Studio Charcot for a night session – re-doing bass part on Translation,
then track and phase drums on Faceless – add more guitar parts.

Thursday 30th July a crushing hot-tempered overnight session at Gaité. 9pm to 9am then back in again at 2pm.
Work until 9pm finishing off the tracks. Record vocal on Settlement Song.
Each time we get to the line "why don't you take my life" the tape starts to rise dangerously above the tape head.
We're all afraid the tape will tear and the track be ruined.
It holds out and we also finish Faceless in time for Pete and Colin to rush to Gare St Lazare
to catch the night train to London.
225 hours of studio time and no possibility of mixing before the studio has been refurbished in mid august.

Mike Peven's portrait gallery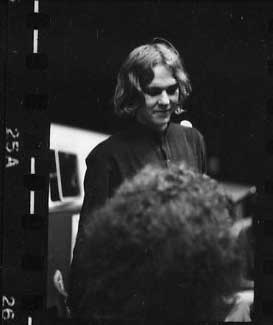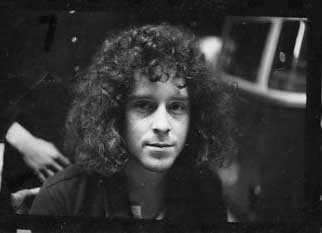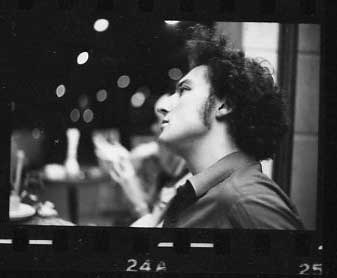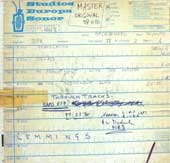 The original Lemmings 3 sided running order:
The Slightest Distance
Donna
1000 Pages
Long Time Living
Translation
Equals
An Appointment with the Master
The Settlement Song
Strangerstill
Come All Ye Faceless
Song backgrounds.
The Slightest Distance (is a long time)
Though probably started in late 1968 when we rehearsed at theMidland's Arts Center it was put aside until December 1969
when we were in the University of Grenoble. Here Colin started playing around with the tuning.
Finished in Prenteg Wales January 1970.
Donna
Written in the Birdland Club in April 1969. Pete added the middle 8 and we worked on it in the Tabou club.
Last verse written in the studio Charcot when recording the vocal.
A Thousand Pages
Written May 1969 St Aubin. Pete still had his Eko guitar.
Sat on the base of a cross up the road from the club and wrote the verses.
Middle 8 written at Bazzar 99 on the fender 6 string bass.
Song was arranged in Prenteg where the middle 8 was re-written.
Long Time Living
Birmingham December 1968 – I'd come back from London, the band were rehearsing at the Factory
before a gig with The Gun..
They had the basis of the song and I had the title line in my head.
First performed on stage at the Factory
(This was when bass player Dave Bradley discovered we were doing a show
behind his back with Pete using his gear}.
The first serious song we wrote together.
Translation
Began life as Colin's B minor theme, in St Aubin. There was a major discussion about the lyric.
The song had painful beginnings apparently. First played with the Ballet Translation and so entitled in Cassis.
Equals
Written November/December 1969 in London and linked to a song worked on in Vilars.
The link was dropped. Pete worked on the middle 8 at the American Center prior to recording.
An Appointment With The Master
Bleak spell Charlotte Rd Edgbaston early 1969. Based on Mr Businessman by Ray Stevens.
Pete came up with the chord sequence . Arranged at the Midland's Arts Center where tthe final verse was added.

The Settlement Song
Introduction came about in Paris in June 1969 whilst performing Translation at the American Center –
the body of the song came about in a hall we rented near Southampton in July 1969.
Very difficult song. The Losing My Life lyric came about In Dorset but little else
and work was resumed on it in the Towers Settlement in Birmingham where the Arts Lab had its base.
First performed at free concert Calthorpe Park.
Strangerstill (you leave me)
Written October 1969 in the cellar of the Oasis club in Sarcelles. The song was almost finished when I first heard it.
Worked on a very simple lyric that brought about some strong reactions, notably from Pete,
finally settling into stubborn sublimity.
Come All Ye Faceless
Written in the cellar of Auchinleck House by Colin, Pete and Brian in November 1969
when Dave Bradley was still the bass player.
Started with Brian's bolero drumming , it was completed in one night.

home as if we had one