105, rue du faubourg du Temple Paris 10
Wednesday 21 May 2008
Tift's new CD "Another Country" Fantasy
One of the most soulful alt-country-americana voices that can be heard on record or stage.
From North Carolina (Ryan Adams country) comes the highly acclaimed Tift Merritt whose influences range from
Emmylou Harris to Dusty Springfield and Aretha Franklin.
*******************************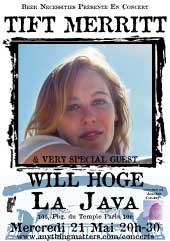 Tft's single "Broken" was #1 on the US Americana radio charts for six weeks!
has been added to the playlist at BBC Radio 2 and BBC Northern Ireland.
**** 4 star review for Another Country - Sylvie Simmons writes in Mojo:
" Merritt's first solo album won her critical acclaim; her second got a Grammy nomination.
Neither was as good, nor as fully representative as her third...
Here her wonderful voice, smooth and warm with throaty twang and unforced power,
has free rein to do what it does best on 11 fine new songs."
"The most accomplished new American female singer-songwriter to emerge in a decade"—Uncut

"Merritt is one of the best singer-songers you haven't heard of yet." —Time Out New York

"There's not a trace of twang, reinforcing the fact that Merritt is a force to be reckoned with
as a singer and a songwriter in any genre she approaches." **** 4 stars — Paste Magazine
"I first heard Tift Merritt some years ago during a writer's night at a small club in Nashville. She stood out like a diamond in a coal patch, and everyone there knew she carried a promise of great things to come. She has more than fulfilled that promise, especially here on her lovely new album 'Another Country'." — Emmylou Harris
After two records and a Grammy nomination, Tift Merritt took hiatus with a piano in Paris and came home with her best and most personal songs to date. On February 26, Concord Music Group's Fantasy Records will release Merritt's Another Country.
After intensive touring, Merritt erased her grueling schedule and rented a flat with a piano in Paris's 10th arrondisment planning to take time off. Merritt recalls, "Days were wonderful there. I wore the same clothes nearly everyday. I would take a coffee in the street, say hello to the good people in the little wine store across from my door," she writes. "I cannot explain what happened except to say that there were never enough hours in the day to write, and there was always kindness at hand. I took pictures. I wrote stories. I played piano. I wrote songs."
These songs together comprise Merritt's third recording Another Country. Merritt describes the writing as a plainspoken look at the distance we all attempt to cross: between two people, between one heart and the rest of the world.
Merritt's debut Bramble Rose earned spots on both Time Magazine and the New Yorker's year-end Top Ten lists. Tambourine, her sophomore album, was Grammy nominated for Country Album of the Year and earned numerous accolades from press and fans. She has appeared on "The Tonight Show" and "The Late Show with David Letterman," and shared the stage with Nickel Creek, Gillian Welch, Emmylou Harris, Ryan Adams, Elvis Costello and Willie Nelson. Her Austin City Limits television performance was released on DVD in October of 2007.
Another Country was written by Tift Merritt, produced by George Drakoulias, and recorded by David Bianco.
The players include guitarists Charlie Sexton and Doug Pettibone and Tift's longtime band,
Zeke Hutchins (drums), Jay Brown (bass) and Danny Eisenberg (keyboards).
Merritt will also host her own public radio program starting in early '08. A program of artist-to-artist radio interviews entitled
"The Spark" will debut on Marfa, Texas Public Radio on January 27, 2008. Merritt's first guest is novelist Nick Hornby.
A writer, singer and sometime photographer, Tift Merritt is a North Carolina native who lives in New York City and longs for Paris.