from Lubbock via Santa Fe
Terry Allen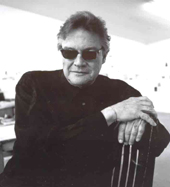 in concert
with Richard Bowden & Bukka Allen
sunday 18 april 2004
La Java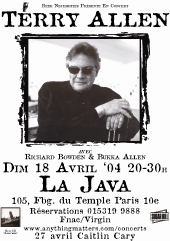 set list
little queenie
david byrne song
rendez-vous usa
butt naked
back out of the world
ourland
jaurez
what of alicia
There Oughta Be a Law Against
Sunny Southern California
2nd set
Peggy Leg
new delhi freight train
gimme a ride to heaven boy

Born in Wichita, Kansas, and raised in Lubbock, TX, Terry Allen is the standard-bearer of the progressive movement in contemporary country. Known for his intelligent, sardonic wit, while still having a foothold in the country and folk traditions in which he was raised, Terry's music is irreverent and humorous, and challenges even the most open-minded of listeners to expand their horizons. Terry has collaborated and played with such greats as Jimmie Dale Gilmore, Lowell George, Lucinda Williams, David Byrne, and Butch Hancock.
"SHIT SHIT SHIT and bloody 'ell mate.
I'm leaving Paris after 12 years, and NOW you get Terry Allen here !!!
I'll be in Georgia that weekend for a wedding, then over to San Francisco to begin another chapter.
Sadly for me, I'll miss 'im, but great for those who'll be there.
Please think of me when he's on your stage, 'cause I'm sure gonna be wishin' I was there.
All the best," Casey Jones