Jack Tempchin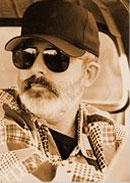 a peaceful easy evening in the
Sound Gallery
friday 24 september 2004

Sound Gallery concerts are private and totally unique,
only those of you on our mailing list are informed about these events
and since space is limited it is advisable to book early.
Jack Tempchin is the writer of such legendary hits as "Peaceful Easy Feeling" and "Already Gone" for the Eagles, a long a fruitful collaboration with Glen Frey resulted in songs such as "Smuggler's Blues" and "You Belong To The City"...
other artists who have recorded songs by Jack include,
Emmylou Harris, Johnny Rivers, Trisha Yearwood, George Jones,
Glenn Cambell and Chris Hillman... that makes for good company !
Having heard good things about our concerts through Rex Foster
Jack, who was in Paris on vacation, got in touch and asked if there was any chance of playing whilst he was in town. Obviously the answer was we'd be privileged to have him perform for us and I know we are going to be treated to an evening of humorous anecdotes, great music and no doubt a few surprises.
---