Le Hautement Fréquentable
Chris Smither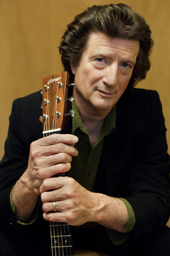 Wednesday 24 January 2007
La Java

Nouveau CD
Leave The Light On
(Rounder / Harmonia Mundi)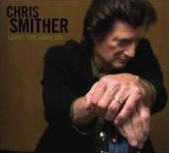 Set list first set
Train Home / Origin Of Species / Lola / Crocodile Man / Help Me Now / Drive You Home
Diplomacy / Father's Day / Never Needed It More / Link A Chain / Can't Shake These Blues

Second Set
Confirmation / Love You Like A Man / Visions Of Johanna / No Love Today / I'm All Alone / Open Up
Shillin For The Blues / Thanks To You / Hold On / Killin' The Blues / Seems So Real / Leave The Light On
Encores
Statesboro' Blues / Dust My Broom



Libération par Serge LOUPIEN
mercredi 24 janvier 2007
Sympathique folkeux-bluesy porté sur l'acoustique et les ambiances laid-back, Chris Smither est à ranger dans la catégorie des songwriters avachis tels qu'on en rencontre des quantités, passé minuit, dans les bars à bière d'Austin, Texas, depuis que ce cossard de Jerry Jeff Walker, chef de file reconnu du mouvement (et influence manifeste du paisible Chris) a choisi de s'installer dans la région. Comme Walker, Smither est d'ailleurs originaire de la côte Est, puisque natif de Miami, Floride (le 11 novembre 1944), bien qu'il ait grandi à La Nouvelle-Orléans et même fréquenté un temps l'université des Amériques située à Mexico, afin d'y préparer un diplôme d'anthropologue. Seulement à la même époque, la découverte inattendue d'un enregistrement de Mississipi John Hurt allait contrecarrer sa vocation scientifique.
Devenu familier des répertoires de Skip James et du révérend Gary Davis, Chris Smither, adoubé par un autre fameux troubadour floridien, Eric von Schmidt, s'est alors constitué un gentil répertoire personnel, qui lui a valu de voir des gens de la qualité d'un Stephen Bruton (ancien guitariste de Kris Kristofferson débauché par James McMurtry) s'intéresser à son sort (au point de produire pour lui l'album Up On the Lowdonwn), tandis que Bonnie Raitt, alors au sommet de sa popularité, reprenait son Love Me Like A Man; exercice auquel se sont essayées ensuite Diana Krall et The Dixie Chicks. On l'aura compris, Chris Smither est donc un personnage hautement fréquentable, que les Javaphiles ont l'occasion unique, ce soir, de fréquenter.
********************
Chris Smither is truly an American original. With a career that spans four decades, Chris Smither was one of a handful of musicians on the scene during the blues renaissance of the mid '60s. That revival, brought on by renewed interest in folk music around the U.S. strongly influenced the early work of, among others, Bob Dylan and Bonnie Rait. With his new album Leave The Light On, Chris Smither has created a work that keeps the spirit of these legends alive while taking their blues-rooted music in breathtaking new directions with his smart lyrics and distinctive musical grooves. As an added treat, Smither invited Grammy Award-winning mulit- instrumentalist, Tim O'Brien, along with rising American roots stars Ollabelle, to lend their talents on several tracks.


ASSOCIATED PRESS
A product of the musical melting pot, and one of the absolute best singer-songwriters in the world.
WIRED
A megawatt solo performer.
BLUES REVUE
This peerless singer-songwriter is also one of modern blues' finest fingerpickers.
ROLLINGSTONE.COM
one of the most riveting live shows you're ever likely to see.
His growling vocals, badass finger picking and uniformly brilliant songs are here in spades.
REVOLUTIONS
His voice has astonishing power even when barely louder than a growled whisper and a guitar so full of the blues.
NEW YORK TIMES
has taken the blues in a direction entirely his own: stoic existential ruminations sung in a pained,
weathered moan and set to quietly virtuosic guitar.
MONTREAL GAZETTE
With his Southern-drawl singing voice, tapping foot in constant motion and fingers pulling fluid blues patterns from his acoustic guitar he can convert almost any audience he sits down in front of.
VILLAGE VOICE
grand voice, stomping foot, blues-drenched guitar, and abiding interest in the problem of evil
SAN FRANCISCO CHRONICLE:
he's matured into one of roots music's most passionate, soulful songsmiths and interpreters.
CHICAGO TRIBUNE:
Sitting all evening in a wooden chair, blue acoustic guitar cradled in his lap, feet miked to amplify him stamping out the beat, Smither coupled a firm grasp of nuance with understated, focused energy. Smither's quiet intensity made itself felt most of all in his dazzling guitar picking.
BOSTON GLOBE:
(among the finest acoustic guitarists anywhere in American music
his songs, while banked in the blues, are as modern as tomorrow's newspaper.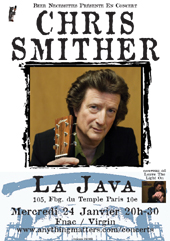 ---
In Concert
Chris Smither
with special guest
Peter Mulvey



Monday 18 & Tuesday 19 February 2002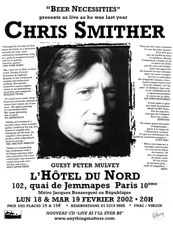 Set List 18th
Link Of chain / No Love Today / Rock 'n Roll Doctor / Shake These Blues / Never Needed It More
Love You Like A Man / Drive You Home Again / Hi Heel Sneakers
Confirmation / Hold On / Killin' The Blues / Statesboro' Blues / Desolation Row
Help Me Now / Ouside Looking In / Duncan & Brady / Magnolia

Set List 19th
Link Of chain / Jailhouse Blues / No Love Today / I'm All Alone
Rock 'n Roll Doctor / Never Needed It More / Shake These Blues
Love You Like A Man / Wearin' Thin / Drive You Home Again
Hold On / Killin' The Blues / Dust My Broom / Statesboro' Blues
Desolation Row / Frankie & Albert / Highheel Sneakers / Outside In
Duncan & Brady

Some artists continually reinvent themselves; others identify their muse early on and spend their careers single-mindedly pursuing it, remaining recognizably themselves through a career-long process of refinement, growth and discovery. Chris Smither belongs to the latter group. Leave the Light On, Smither's masterful twelfth album—the first he's released on his own Mighty Albert label—stands as the quintessence of his life's work while throwing in some new wrinkles that reflect where he's been and what he's encountered since the last time around. But Smither's central theme as he enters his 60s is clearer than ever.
"The last three or four records I've done are mostly talking about the big questions—life, death, love and… not love—and where the whole thing's going," he says. This new "fistful of tunes," as he calls it, finds Smither once again in a contemplative mood, examining his thought processes on "Open Up," struggling to distinguish between self-deception and truth on "Seems So Real" and seeking the most fundamental kind of closure on "Father's Day." No, Leave the Light On is not a party record.
"Since I started recording again around 20 years ago [22, actually], I've been writing about the same sorts of things; it's just about my own growing perception of it, and how clear can I make it?" Smither explains. "I guess I'm making it clearer, because people don't often ask me what the songs are about anymore. It's a process of engagement. When you write a song, you've got three or four minutes to get a-hold of somebody, and if they can remember one phrase or line when they walk away from it, you've won. And I think I've accomplished that."
What is immediately recognizable to anyone who has encountered Smither on record or in live performance during the course of the last four decades are his been-there, done-that voice and the crystalline, wordlessly eloquent sounds of his fingerpicked acoustic guitar. Familiar, too, are the writer/artists whose songs Smither has selected to intermingle with his own. These include Mississippi John Hurt, whose "Blues in the Bottle"—a striking showcase for Smither's approach to the acoustic guitar—is drawn from Blues in My Bottle, the album that inspired the New Orleans-born, Boston-based artist to begin performing in the 1960s; and his contemporary Bob Dylan, from whose vast oeuvre the artist this time has chosen the Blonde on Blonde linchpin "Visions of Johanna."
The new elements introduced on Leave the Light On—the second album produced by Smither's cohort, David "Goody" Goodrich, after 2003's Train Home—provides the new recording with its particular flavor. On hand is young neo-gospel group Ollabelle, who bring a complementary loveliness to Smither's "Seems So Real" and additional resonance to the traditional "John Hardy." The renowned roots musician Tim O'Brien plays mandolin and fiddle all over the record, as well as harmonizing with Smither, Sean Staples and Anita Suhanin on the lilting title track for a billowing blend that evokes Southern California circa 1972. Atypically, he tackles topical themes on "Origin of Species," which he says is "making fun of dummies," and the edgily political "Diplomacy," harkening back to his roots in the '60s folk scene. Also different is Smither's bold and surprising decision to arrange "Visions of Johanna" in 6/8 time (he credits his friend Steve Tilston, an English artist, for the suggestion) that results in a track of otherworldly beauty.
Smither considers himself a performer first and foremost, and the fashioning of new material for each album brings added interest to both his fans and himself. "New tunes not only have a freshness of their own, but they also freshen up all the old material as well—they cast a new light on it," he points out. In this sense, each album results in an act of recontextualization of his entire body of work. "It's an interesting process," he confirms. "Not for a minute do I believe the songs come from anyplace but inside of me, but at the same time there's an otherness to them that continually surprises me. Why does it take so long for them to become part of my conscious self? It's an interesting problem, but I've talked to enough writers to realize I'm far from unique in that respect."
After coming on the radar in 1970 with the well-received debut album I'm a Stranger Too! and the similarly lauded 1972 follow-up, Don't It Drag On, Smither didn't release another record for more than a decade. "Everybody has good patches and bad patches," he says. "I was basically drunk for 12 years, and somehow I managed to climb out of it; I don't know why. Why did I get well when so many other people don't? It had nothing to do with any virtue on my part; if I were Christian, I'd call it grace. I just got lucky. Mostly you just get tired of it. So when you get sufficiently tired of it, you either descend into utter obliteration or you get out, and so I got out."
Smither says he recognizes the young artist on the front end of his long struggle from his present perspective. "He got sidetracked, and he learned a lot, but it's definitely the same guy," he says. "The other interesting thing is that I had to go through all the horrible stuff to get where I am now. It's part and parcel of the animal that's walking around today. It's unfortunate that I stayed so unproductive for so long, but at the same time, I couldn't write the kind of stuff that I write now if I hadn't gone through it. I wouldn't realize what it is to be a human—not really. I might think I did, but it wouldn't be the same."
When asked about his career-long predilection for mixing in outside songs with his own material, Smither says, "This may sound a little self-important, maybe, but I like to hold these things up and say, 'These are the people I consider my peers, and my stuff stands up to this. This is what I do, and this is where I come from.'"
The four non-originals on Leave the Light On—also including Peter Case's "Cold Trail Blues"—indicate where Chris Smither comes from; the eight new songs he's fashioned show where this deeply soulful artist is now, and what lies ahead. The particular opening into the universal, delivered by a knowing voice and filigreed by tasty licks—you can't ask for more than that from an album.
---
Chris Smither
In Concert
Phil Tagliere opening the proceedings.


Monday 30 July 2001
This was Chris' big show on a steaming July evening when we ran out of seats and beer.
With bar staff from the Baron Rouge, Chez Angele, Stolly's, Les Vignes de Lancry and the Zero Zero on hand
we were in the company of folks used to staying stood-up for long stretches but when the beer ran out of gas
even they couldn't keep the pumps pumping !!! What a way to end a season of sensational concerts
.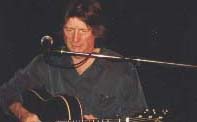 Chris first started playing music as a kid growing up in New Orleans. The son of a Tulane University professor, he was taught the rudiments of instrumentation on his mother's ukulele. "Uncle Howard showed me two chords, but when I learned a third I knew you could pretty much rule the world."
After teenage years spent woodshedding, then winning a battle of the bands at the Saenger Theatre on Canal Street, Chris headed to Boston at the urging of Eric von Schmidt. It was the mid-'60s and acoustic music was flourishing."I'd loved acoustic music - specifically the blues - ever since I first heard Lightnin' Hopkins' Blues In The Bottle album. I couldn't believe the sound Hopkins got. At first I thought it was two guys playing guitar. My style - to a degree - came out of trying to imitate that sound I heard." In Boston, he forged lifelong friendships with Bonnie Raitt (who has made Smither's "Love Me Like A Man" a signature song of hers, and refers to Chris as "my Eric Clapton"), Eric von Schmidt, Jim Rooney and a host of others who were writing songs by day and performing them at one of the many clubs around town at night.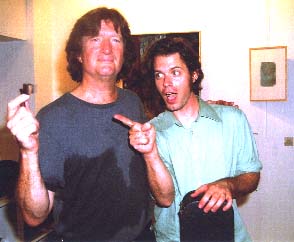 Smither's first albums were released on Poppy Records, home of Townes Van Zandt and an impressive stable of roots-based artists. By the time Smither recorded his third album, Honeysuckle Dog, with Lowell George and Dr. John helping out, United Artists had absorbed Poppy and dropped much of their roster. To this day the record has never been released. Smither's next record would not be made until 1985, when the spare It Ain't Easy marked his return to the studio.
By the early '90s, Chris Smither was on a full-time schedule of making his music happen. His return to steady nationwide touring and regular releases of consistently brilliant albums quickly cemented Smither's reputation as one of the finest acoustic musicians in the country. In 1993 he received the NAIRD award for the year's Best Folk Recording. It was with the release of Up On The Lowdown in 1995 that Smither crossed over to the roots label HighTone Records. It also marked his first of three albums to be recorded with producer Stephen Bruton at The Hit Shack in Austin. The album rode the crest of the newly formed Americana alternative country radio format wave and far outsold Smither's previous recordings.
In early 1997 Chris released Small Revelations which earned further notice in print, high positions on the Americana and AAA radio charts, and concert dates with B.B. King, Bonnie Raitt, Nanci Griffith, and the hugely successful "Monsters of Folk" tour with Ramblin' Jack Elliott, Dave Alvin, and Tom Russell. Emmylou Harris recorded his song "Slow Surprise" for the soundtrack of The Horse Whisperer and added another gold record to Chris's wall. His recording of "Hold On" was used in the indie feature film Love From Ground Zero.
Drive You Home Again, Chris's 1999 release, added a few new continents to his touring schedule. In addition to his thorough blanketing of the US and UK, he toured New Zealand and Japan, returned to the venerable Jazz & Heritage Festival in New Orleans, and joined John Prine and Joan Baez on tour.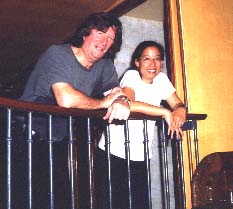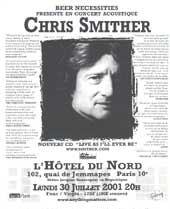 Set List
1/ No Love Today
2/ Rock'n Roll Doctor
3/ Can't Shake These Blues
4/ Love You Like A Man
5/ Drive You Home Again (tuning)
6/ Down In The Flood
7/ Another Way to Find You
8/ Happier Blue
9/ Hold On
10/ Killin' The Blues
11/ Dust My Broom
12/ Statesboro' Blues
13/ Hey Hey Hey
14/ Memphis In The Meantime
15/ Frankie & Albert/


---
Music Matters in Paris presented for one night only
Chris Smither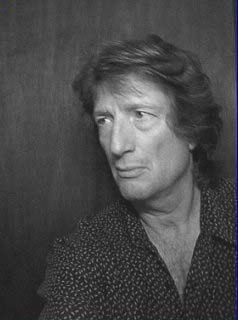 In Concert at the Hôtel du Nord


Wednesday 2 May 2001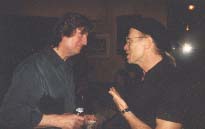 Chris & Elliott Murphy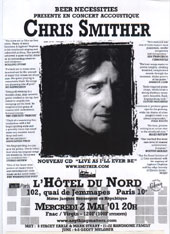 Set List
1/ Link Of Chain 2/ No Love Today 3/ Hi Heel Boss Man
4/ Can't Shake These Blues 5/ Rock'n Roll Doctor
6/ The Devil's Real 7/ Dust My Broom 8/ Hold On
9/ Killin' The Blues 10/ Statesboro' Blues 11/ Hey Hey Hey
12/ What Was It You Wanted 13/ Memphis In The Meantime
14/ Help Me Now 15/ Love You Like A Man
16/ Drive You Home Again 17/ Happier Blue
18/ Thanks To You 19/ Caveman