bluegrass and beyond with
Peter Rowan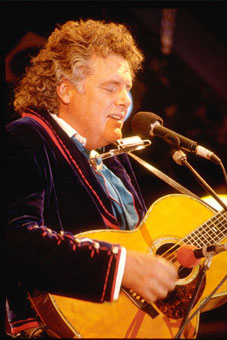 Wednesday 30 August 2006
La Java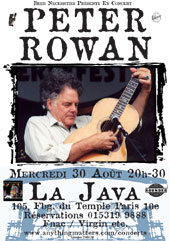 set list 1st set
dustbowl children - to live is to fly - tumbleweed - panama red
this old d18 - wings of horses - the walls of time - free mexican airforce

2nd set
moonshiner - angel island - t for texas- tuck away my lonesome blues
in the land of the navajo - livin' the blues
jewel of priceless worth - vulture peak
god is a wisdom - wisdom woman

with George Wolfheart on mandolin
---
Peter Rowan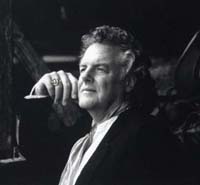 & friends
Christian Seguret, Jean Marc Redon & Olivier André
Bluegrass... & Beyond II


Tuesday 9 December 2003





solo set
in the moonlight - panama red - tumbleweed - wings of horses
in the land of the navajo - free mexican airforce - c'mon and break my heart again
i don't want to live without your love - miss liberty


band set withthe
Christian Seguret, Jean Marc Redon & Olivier André
roving gambler - the cuckoo - memphis train - the walls of time
a man of constant sorror - rawhide - philadelphia lawyer
close by - blue moon of kentucky - blue velvet band - mountain gals



---
Peter Rowan
Bluegrass... & Beyond
Tuesday 25th February 2003
Hotel du Nord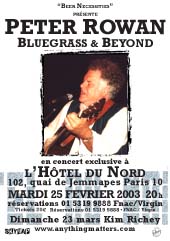 set list
dustbowl children- tumbleweed - you were there for me - panama red - walking down the line
talkin' G W Bush Blues - cowboys and indians - miss liberty (lay my lonesome down)
mississippi california - ranger's command & philadelphia lawyer (guthrie)
2nd set
wild cowboy -the night sky - blue moon of kentucky - the walls of time - lonesome traveller
trail of tears - trail of the buffalo - the wild mustangs - angel island
i come riding - wisdom girl - in my arms asleep - in the moonlight
no woman no cry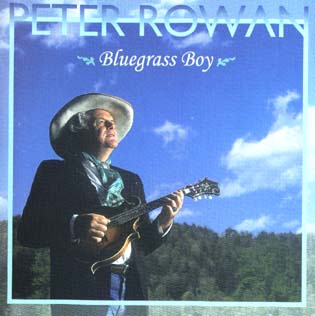 Peter Rowan was one of the major cult bluegrass artists of the '80s, winning a devoted, international fan base through his independent records and constant touring. A skilled singer/songwriter, Rowan also yodeled, and played numerous stringed instruments and the saxophone. He was born in Boston, Massachusetts; his parents and many of his relatives were musicians, and it seemed only natural that Rowan too would become one. When he was a teenager, he frequently hung out at the Hillbilly Ranch, where he heard such bluegrass and old-time bands as the Lilly Brothers. He also enjoyed listening to the blues.
Rowan formed the Tex-Mex band the Cupids while he was in high school. The group became a popular New England attraction and independently released a single. After college, he decided to become a professional musician, and in 1963 joined the Cambridge-based Mother Bay State Entertainers as a mandolin player and singer, appearing on their LP The String Band Project. In 1964, after performing with Jim Rooney and Bill Keith, Rowan became a rhythm guitarist and lead singer with Bill Monroe and his Blue Grass Boys. He remained with them through 1967, leaving to join mandolinist David Grisman in the folk-rock band Earth Opera. The group recorded a couple of albums and toured (frequently opening for the Doors) until the early '70s. One of their albums, The Great Eagle Tragedy (1969) produced a minor hit single, "Home to You."
While with Monroe and Earth Opera, Rowan had begun to write and co-write songs, some of which were used in both bands.
After leaving Earth Opera, he became a part of Seatrain, a rock-fusion unit whose records were produced by George Martin. Rowan left the band in 1972 to form the Rowan Brothers with siblings Chris and Lorin, and recorded one eponymous album. After the group disbanded Rowan then recorded Old & in the Way with Grisman, Jerry Garcia, Vassar Clements and John Kahn. In 1974, Rowan, Grisman, Clarence White and Richard Greene formed Muleskinner, a bluegrass band. Muleskinner released one album and then disbanded. He then reunited the Rowan Brothers, who this time played together until the early '80s. Meanwhile, Rowan also began playing rock and bluegrass with Mexican Airforce, which featured accordion player Flaco Jimenez. In the mid-'80s, he and Jiminez again reteamed to record Flaco Jiminez and Peter Rowan: Live Rockin' Tex-Mex. He founded the Nashville-based Wild Stallions in 1983, and throughout the '80s and '90s continued to work with a variety of musicians and tour as a solo act. Sandra Brennan
His current album "ReggaeBilly" has been nominated for a Grammy.
---
Peter Rowan



Monday 13 & Tuesday 14 May 2002
with
Bob Neuwirth
& special guests Elliott Murphy on monday
and Renaud Pion tuesday
quite simply one of the most majestic couple of concerts we have ever promoted...
a musical feast !

set lists
monday 13th
tuck away my blues - wayfaring stranger - panama red
lonesome l.a. cowboy - the free mexican airforce
last slow dance - the walls of time - let the harvest go to seed
fetch water carry wood - armagedeon - land of the navajo

tuesday
in the moonlight - paama red - just an old hobo
i will work for food - howling at the moon - the walls of time - winning hand?
forever only you - wayfaring stranger - now woman no cry - armageddeon
land of the navajo - rusty old strings (with bob neuwirth
encores
fetch wood carry water - the free mexican airforce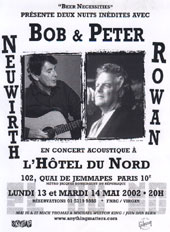 It is fair - and accurate - to compare the art of PETER ROWAN to that of literary giants like Ken Kesey, Edward Abbey and Larry McMurtry. It is also fair to compare his musical and lyric ability to Bob Dylan and Robert Hunter. What all these artists share with Peter Rowan is that collectively they have created a new mythic American West. They have helped shape a usable past for the present and future, and helped undo myths shaped first by Buffalo Bill and dime novels, and later reified by Hollywood Westerns, with their reluctant, individualist heroes, who tame nature and introduce violent justice to wrong-doers and ne'er-do-wells. In Peter Rowan's West the Devil walks the earth and still tempts souls, `Oakies' flee Depression and Dust Bowls for discrimination in California, "illegal immigrants" are used by the rich, and smugglers are celebrated for the fine products they bring to the table.
The land finds a voice in the mind of Peter Rowan, especially the land of the Southwest. From around the time of the Civil War to just after World War, wave after wave of Southerners brought not just theor families, but their culture, which of course included their musics, west, looking to recreate their lives in a freer environment. What they found in the Southwest were pre-existing cultures of Native Americans and metsizos. In Rowan's music we find the prime example of one very special way that bluegrass met the Southwest.
The frontier was declared closed over 100 years ago by the Census Bureau. But for artists like Peter Rowan, there are plenty of frontiers still wide open. The only boundaries Peter Rowan respects musically (or otherwise) seem to be the ones he has just crossed over unmolested. This is true whether he is performing a mariachi about the exploits of "The Free Mexican Airforce," praising the arrival of "Panama Red," lamenting genocide, despair, and loneliness in the sorrowful moans and wails of "The Land of the Navajo," invoking the spirits with the deep, skanky, reggae groove of "Freedom Walkabout," or reinventing the story of _Elmer Gantry_ in "Rainmaker."
Robert Hunter and Jerry Garcia have described their mythic frontier as a place where the law has failed and everyone is on their own. Ken Kesey has declared that the only real and important frontiers were inside of us. Peter Rowan takes you to these places and beyond. Albums like "Dust Bowl Children," "Old & In The Way," and "All On A Rising Day" deserve places on the modern American Classics shelf, next to _One Flew Over the Cuckoo's Nest_, _Sometimes A Great Notion_, _Desert Solitarre_, _The Fool's Progress_, "American Beauty", "Workingman's Dead", _Lonesome Dove_, and "Blood On The Tracks," and "Oh Mercy."
Peter Rowan
A former member of Bill Monroe and the Bluegrass Boys, is one of bluegrass music's most popular cult figures. He has developed a devoted international fan base through his recordings and years of constant touring. A skilled singer/songwriter, Rowan has written some of the most classic songs in the bluegrass repertoire. In describing players trained by the late Bill Monroe, Billboard Magazine referred to Rowan as "one of the best of them."
---