Private Gallery Concert
mostly for parottheads 'neath a full moon


Peter Mayer
with brother Jim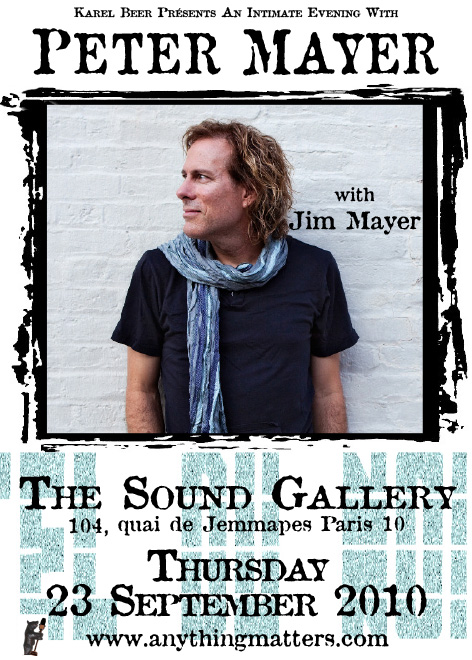 The Sound Gallery

Peter Mayer is Jimmy Buffet's lead guitarist, Jimmy will be Buffeting the Olympia on Friday 24 September
but since the band was arriving in Paris a couple of days early I was contacted to see if I could arrange an intimate evening for Peter whilst he was in town. So following in the musical footsteps of
Kim Richey, Darden Smith, Rodolphe Burger, Clive Gregson etc. Peter will be performing in the Sound Gallery on the eve of his "Coral Reefer" gig in the mighty Olympia Music Hall.
Set List
(of sorts)
On My Way
Romeo's Garage
Singin Your Cage
Ride a Swingin Light
Come Together
Here Comes The Sun
Norwegian Wood
Michelle
Penny Lane
U R What U R
MoonLight Over Paris
Chain Of Love