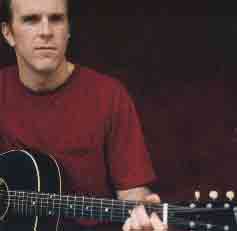 in concert 100% unplugged
The Sound Gallery
monday 16 june 2003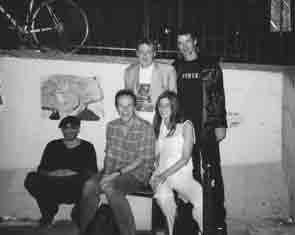 sal bernadi, peter keane, kjb, amy, rich hall
1st set
1/ Got Everything I Need But You 2/ chat 3/ Shuckin' Sugar
4/ I Want You 5/ Fallin' Down 6/ Gee Baby Ain't I Good To You
7/ Talco Girl 8/ T'Ain't Long For Day 9/ Frankie & Albert
10/ Chase My Blues Away
11/ Wish I Was In Heaven Sitting Down
12/ false start > Everything's About The Same
13/ I Wanna Be Your Lover 14/ Poor Jessie
15/ Going Back To The Delta 16/ Paper Moon
18/ Another Kind Of Blue
2nd set
1/ Angels Laid Him Away 2/ Get Yourself Another Fool
3/ Intro Dave Van Ronk song 4/ Saturday Alley Sunday Street
5/ Fools Paradise 6/ Tom Thumb's Blues
7/ Countin' On Delilah 8/ Big Road Blues
9/ Wind's Gonna Blow My Blues Away
10/ Sal guest 11/ Well Alright Then??? (+Sal Bernardi) 12/ Ruby Baby (+Sal Bernardi)
13/ Glory Land
14/ Hervé guest 15/ Handsome Molly (+Hervé Oudet)
16/ Shorty Said 17/ Illegal Man
"I can't believe Peter got to Paris before I did. He such a great guy and musician. He knocks me out with his sense of rhythm, phrasing and soul. (And you should hear us play together.)"
Bill Morrissey.
Friday the 13th Hervé Oudet calls to tell me that Peter Keane (pronounced kane) is visiting Paris, here with his wife but without his guitar the couple are enjoying an overdue honeymoon. Peter Keane comes to Paris and doesn't let me know in advance ! I've been playing his "Milton Street" album regularly ever since he sent it to me almost a year ago. If you've been to one of our concerts then you have probably heard it too 'cause we've been playing it frequently before the live music starts. It's a wonderful, languid work with tremendous guitar playing behind Peter's warm, lazy vocals.... effortless.... nothing to prove.
That night we had dinner in the Cremerie Polidor rue M. le Prince (still a great place to eat), between the main course and the tarte tatin we decided to organize a spontaneous concert in the Sound Gallery. Hervé brought his guitar along and Peter tried it out for size (it fits) played a few tunes for a handful of bemused late night diners before wrapping up the evening with a final carafe of wine. Now that's what I love about Paris !

Peter lives in Austin, Texas, and is one of the finest performers on the national acoustic music scene. His music defies easy categorization. It's a rootsy mix of fingerstyle blues guitar playing and quietly soulful singing. Top-shelf songwriting and a talent for choosing and interpreting songs by other songwriters gives him a range and depth rarely found these days. His list of admirers includes the likes of Carole King, Guy Clark, and Bill Morrissey.
Of Keane's latest release, Milton Street, the Austin Chronicle said, "The art of understatement is arrived at through time and effort, and Austin's Peter Keane demonstrates an ease and skill with a guitar and a microphone that marks the best and most seasoned of performers." Milton Street follows 2000's critically acclaimed Another Kind of Blue (Broken White Records, 2000). The Boston Herald called Another Kind of Blue
"simply one of the most enjoyable roots music CDs of 2000." Keane's songwriting skills are in the forefront of both CD's, along with choice covers from Dave Van Ronk, Skip James, Blind Lemon Jefferson, Bob Dylan and other masterful writers both well-known and not-so-well-known. His catalog also includes The Goodnight Blues (Northeastern Records, 1991) and Walkin' Around (Rounder/Flying Fish, 1996), both of which have seen widespread critical acclaim.
Originally from Cincinnati, Ohio, Keane moved to Cambridge, Massachusetts in 1981 and spent 12 years working the east coast circuit. A move to Austin in 1994 brought Keane and his rootsy acoustic music to a whole new enthusiastic audience. Keane continues to bring his music to audiences across the country. (RollingStone.com singled out his performance as one of the standouts of the 2000 Newport Folk Festival.)
In addition to live appearances, his studio credits include guitar work on three of Bill Morrissey's albums (Standing Eight, Night Train, and [Grammy-nominated]Songs of Mississippi John Hurt on which Keane was also co-arranger).