Paul Kelly
Tuesday 25 & Wednesday 26 July 2006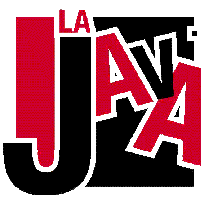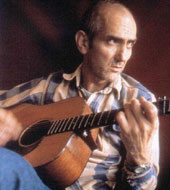 +
Dawn Landes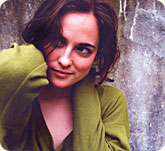 Paul Kelly is an icon of Australian music who personifies Australia in the same way that Bruce Springsteen does the United States, and the Clash the UK.
His output has ranged from bluegrass to studio-oriented dub reggae, but his core output comfortably straddles folk, rock, and even some country. His lyrics, simply and laconically voiced, have managed to speak to Australian experiences and history perhaps more broadly and directly than any other artist.
Raised in, Adelaide, South Australia, Kelly's career can be broken into three distinct periods: first as Paul Kelly & The Dots; then as Paul Kelly & The Coloured Girls, later known as Paul Kelly & the Messengers; and lastly as Paul Kelly the solo artist (a period that also included his involvement with side-projects Professor Ratbaggy, a more groove-oriented and less song-based ensemble and with Uncle Bill/Stormwater Boys, both bluegrass ensembles).
Though he has worked with other songwriters since 1992, the years from then 'til present, might be considered his solo period. During that time he has released 8 albums and has written songs with and for many other artists, including Renee Geyer, Kate Ceberano,
Vika and Linda Bull, Nick Cave, Kasey Chambers, Yothu Yindi,
Archie Roach and Troy Cassar-Daley
Dawn Landes : Cette jeune artiste, nouvelle icône de l'underground New Yorkais, est déjà comparée à Cat Power, Kristin Hersh ou encore Beth Orton. Mais Dawn est elle même et explore son propre univers. Elle a d'ailleurs était la révélation du prestigieux festival « Les femmes s'en mêlent » en 2004. Elle a aussi partagé la scène avec Suzanne Vega, Throwing Muses, Jane Siberry, Juliana Hatfield. Elle a travaillé comme assistante ingénieur du son pour Hem, Philip Glass et Joseph Arthur. Son immense album, Dawn's Music, sort le 25 février en France sur le label indépendant Ocean Music. En live, du haut de ses 24 ans et avec sa guitare et son accordéon rose, Dawn Landes en impose.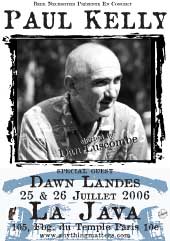 ---
Paul Kelly
an acoustic evening
with Dan Kelly
saturday 28 & sunday 29 august 2004



102 quai de Jemmapes Paris 10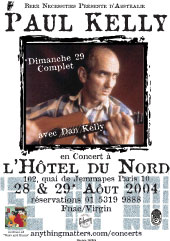 partial set list 29th
cities of texas - midnight rain - long black train - father to a child
my winter coat - nothing but a dream - if i could start today again
everything's turning to white - i can believe we were married
don't stand so close to the window - big fine girl .......