Peter Case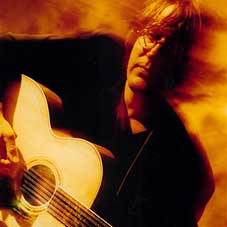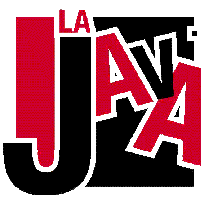 105, faubourg du Temple Paris 10
Monday 17 March 2008

beyond the blues à la mississippi john hurt


milk cow blues à la eddie cochran, elvis presley, the kinks & sleepy john estes
(tape ran out during the bob dylan verse)



nouveau cd
Let Us Now Praise Sleepy John


http://www.elmoremagazine.com/2016/10/features/case-in-point
set list
1
put down your gun - crooked mile - million dollar bail
bumble bee - cold trail blues - every 24 hours - worry no more
a whiter shade of pale - milk cow blues
underneath the stars - first light/fixin to die

2
two angels - i shook his hand - on my way back home
+ book readingi
garden of earthly delights - drivin wheel - i hear your voice
farewell to the gold (gold mining song) -
beyond the blues (mississippi john hurt version)
get away blues - careless days - waterfall - flying on the ground
someone sees the dreams we hide - lost highway
beulah land - down the line
iced water

---
astounding triple bill
an ex Plimsoul & an ex X + an ex Good Son
Peter Case

John Doe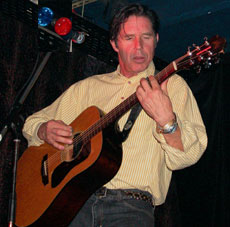 Michael Weston King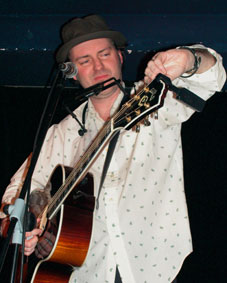 La Java
14 November 2005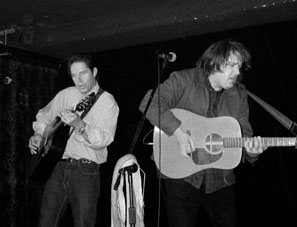 have you heard everybody's talking ?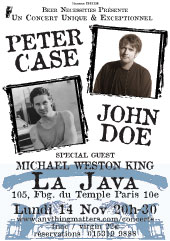 Peter Case qui sera à Paris pour notre troisième concert ensemble.
Quand j'ai démarré les concerts à l'Hôtel du Nord il y a sept ans c'était avec l'intention de faire venir deux des musiciens pour lesquelles j'avais une appréciation particulière Clive Gregson & Peter Case. Mission accomplie puisque ça fera trois fois pour chacun d'eux que j'aurais eu le plaisir d'écouter leur musique hors pair.
La dernière fois que Peter est venue c'était avec son compagnon de route et écriture Bob Neuwirth
et cette fois-ci il sera aussi bien entouré par John Doe & Michael Weston King
pour un concert de « song trading » qui s'annonce comme un tour de magie musical.
A premier vu ce duo Case-Doe peut apparaître surprenant. Peter l'ex leader du group power-pop The Plimsouls partageant la scène avec l'ex leader de X, groupe phare du mouvement « art punk » américain. Mais au début des années '80 The Plimsouls & X furent deux des groupes les plus en vu à Los Angeles et Peter & John ont beaucoup des points de repère en commun.
Ce qui est évident quand on écoute leurs derniers CD's.
Personnellement je serai ravi de passer du temps en leur compagnie ayant sortie The Plimsouls' premier single « A Million Miles Away » en Angleterre et passé sur le premier album de X en faveur d'un disque de The Flesheaters produit par John Doe.
Ni un ni l'autre n'a vendu qu'un poigné d'exemplaires mais des fois il faut prendre des risques. Vous ne risqueriez que de prendre du plaisir en assistant à leur concert le mois prochain.
Karel
Rock. Peter Case et John Doe avec Michael Weston King.
Trois voix, six possibilités
par Philippe BROCHEN -Liberation
Lundi 14 novembre 2005

Deux légendes sur le retour occupent la Java ce soir. Deux icônes vénérées par les férus du pop-rock américain des années 80 : Peter Case, ex-Nerves (1976-1977) puis Plimsouls (1980-1985 et de nouveau en 1997), et John Doe, ex-X (1980-1994).
Pour qui affectionne les mélodies ouatées portées par une rare énergie électrique, la powerpop des Plimsouls reste un précieux souvenir. L'enthousiasme des critiques n'empêchera pas le groupe de Los Angeles de se désagréger dès 1985. Peter Case, leur guitariste-chanteur, explorera dès lors une veine pop-folk singulière. Pour justifier une amplification désormais minimale et des chants plus plaintifs, Case confiait à la sortie, en 1986, de son premier album solo : «L'intensité ne réside pas dans le boucan.» Une petite dizaine suivront, aux influences diverses, jusqu'au dernier en date, Crooked Mile, prétexte à ce concert parisien.
Le virage de John Doe est encore plus radical. Après avoir porté la basse et le chant de X, mythique groupe punk de Los Angeles ­ dans Moins que zéro, Bret Easton Ellis ne cesse de faire référence au groupe ­, Doe s'est lancé en 1990 dans une carrière musicale solo countrysante, puis, parallèlement, d'acteur (à la télé notamment).
Mais c'est un troisième larron moins connu qui est l'origine de cette soirée : Michael Weston King. Admiré par Townes Van Zandt, ce songwriter anglais partage avec Peter Case une passion pour le club de foot Manchester United. Lors d'une rencontre au festival d'Austin (Texas), Case a provoqué Weston King : «Trouve-moi une place à Old Trafford [le stade de Manchester, ndlr] et je viens.» C'est ainsi qu'est née cette tournée européenne, où chacun des trois s'élancera d'abord en solo, avant que deux duos se forment, puis le boeuf final.
---
Peter Case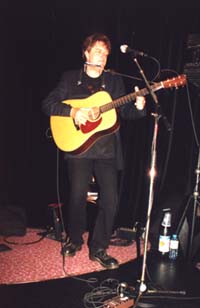 & Bob Neuwirth
In Concert
Aux Étoiles
Wednesday 11 December 2002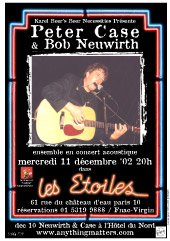 Les Etoiles
set list of sorts
beulah land - crooked mile - driving wheel
drunkard's harmony - gone - i hear your voice
old dry leaves - on my way back home
something happens - on my way back home
wait until the next time - to romona
&
Tuesday 10 December 2002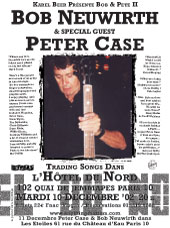 Hotel du Nord
set list of sorts
why feel sorry for the blind man
rusty old strings - matchbox - working on a building
heartache - put down your gun - unconditional surrender
down the line - christmas in vengas - power lust and money
iced water - our town - garden of earthly delights
she means nothing to me now

---