Acoustic Music Matters In Paris
presented from Nashville
David Olney
1948 - 2020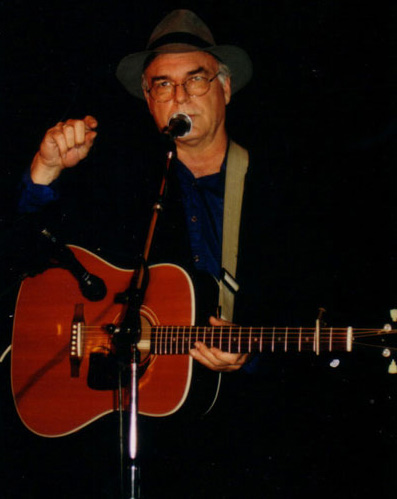 In Concert



Mardi 27 & Mercredi 28 Fevrier 2001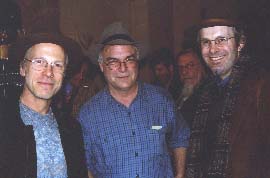 Murphy - Olney -Oudet
Set List Wednesday
1st set
If My Eyes Were Blind / God Shaped Hole / Women Across The River / Jerusalem Tomorrow / Fitzgerald's Lament
Embraceable You / Millionaire / Vincent's Blues / Rose Tattoo
Barrymore's Bartender / Dillinger / 1917
2nd Set
If It Wasn't For The Wind / If I'd Have Known I Couldn't Do It / Bathsheba Blues
Lily Of The Valley / My Wild Youth / Rex's Blues
plus encores
Play With Fire / Chain Of Fools
and some more but the tape broke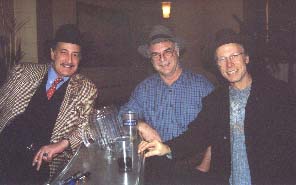 More hats
James Arch, David & Elliott Murphy
Over the course of his defiantly independent- and increasingly triumphant -career Olney has created quite an amazing tapestry. On recent albums-from the French Prostitute musing upon the likely impending deaths of the young soldiers who are her customers, to Robert Ford and Jesse James' final conversation, to the inner monologue of Barrabas, set free as Jesus dies-to OMAR'S BLUES, his latest, most ambitious and finest recording, David Olney has emerged as one of the preeminent songwriters in America.
Ferociously intelligent and fearsomely unconventional, Olney came to Nashville from the flinty coasts of Rhode Island. "When I got to Nashville, I tried to play the game. I tried co-writing, tried to write to a formula, tried to write hit songs," he shrugs. "I found out that I just couldn't do it." What he found he could do, however, was to get inside the head of characters-or things-and report what he saw.
Townes Van Zandt-one of the towering, troubled figures of 20th Century songwriting-specified his favorite musicians as "Bob Dylan, Mozart, Lightnin' Hopkins and David Olney."
Emmylou Harris- no slouch at recognizing a good song when she hears one- has covered numerous Olney songs, including a harrowing reworking of "Deeper Well" on "Wrecking Ball", her highly lauded collaboration with Daniel Lanois.
After a long stint with Rounder , he felt it was time for a change and signed to Nashville maverick label Dead Reckoning. Formed as a musician's collaborative, Dead Reckoning has breathed new life into the sometimes staid world of Nashville.
The matchup with Dead Reckoning seems like a natural for Olney, who feels that now, as a 50-year-old, he is finally hitting his stride as a recording artist. "I've always found making records to be very hectic, very unnerving," he says. "I tend to doubt myself. But this time, I knew what I wanted the record to sound like, I knew what songs I wanted to put on it, and in what order. It just came together effortlessly. And if I have an issue I need to discuss with the label, I can just meet them for a cup of coffee right in town, and we all talk the same language, we're all musicians."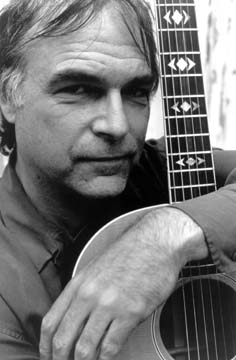 David Olney is one of the greatest songwriters alive, in my opinion. His being darker and more "unpolished" than most performers seems to put a few people off - but not for long. In the concert series I ran in Augusta, Georgia for four years, I had David play in a songwriters' round with Larry Jon Wilson and myself. We had done a small tour together and had come to enjoy our stark differences in
style. Larry Jon was most reknown as a writer in the late 60's and 70's, and is the best poet and songwriter to ever come out of Georgia (another opinion). Just listening to him talk all night is like hanging out with
William Faulkner. His songs are poignant, sumptuous and very much rooted in his Southern-American heritage. Our audience was familiar with their native son, Larry Jon, and were very familiar with my music. But that strange, dark, "scowling" guy in the third chair struck some people as out of place.
Larry Jon would start a round with his ultra-deep voice and warm Southern manner. Then I would play one of my songs. The audience was extremely appreciative. But they held their breath when the "scowling" new guy's turn came up. After a few rounds, and after hearing "Jerusalem Tomorrow", "The Road That General Lee Took", and "If It Wasn't For The Wind", they were dumbstruck by the power of David Olney's poetry and delivery. Anyone unfamiliar with this great writer's work would do well to give it
a listen. David's a good friend, but what I write here doesn't spring from that bias. I loved his music years before I met him. And if anyone foolishly requires commercial "credentials" before giving the "scowling guy" a chance, check out recordings of David's songs by Linda Ronstadt and Emmy Lou Harris.
He's one of the best. Jack Williams