"Peter Case and Bob Neuwirth on the same stage? Well, alright then, just wind 'em up tighter than a cheap watch and let 'em go. Case comes from a long line of circus people, mostly fire eaters and knife throwers. Neuwirth was once married to Marilyn Monroe. For the price of a ticket you could get a full education."
Eric Taylor

"An astounding double bill of two old friends and two major lights on the contemporary folk scene, not since Guthrie and Seeger will two guitars have rung out truer and bolder and prouder..."
Sid Griffin
---
Bob Neuwirth
&
Peter Rowan

Monday 13 & Tuesday 14 May 2002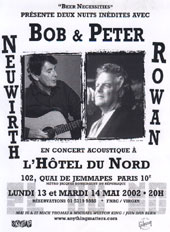 Bob songs 13th
Akron - Kiss Or Fix - Private Eye - Dead Man's Clothes - Havana Midnight - Don Quixote - Beyond The Blues
The Biggest Border Town -Lucky Too - You're a Liar/She Aint Nothin to me Now
Brassai Redux - I Can't Afford To Lose - Rusty Old Strings (with Peter Rowan)
Eliot Murphy Fix Me A Coffee - Out Of You
---
Acoustic Music Matters in Paris hastily presented
Bob Neuwith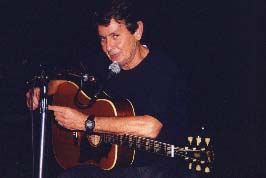 Sunday 2 December 2001

set list
1 rusty old strings - 2 akron - 3 kiss or fix - 4 private eye - 5 suicide song
6 - the biggest border town - 7 havana midnight - 8 Don Quixote
9 lucky too (christmas in las vegas) - 10 brassai redux - 11 just for old times sake
12 keep your eyes on the road - 13 the place i can't afford to go
14 - beyond the blues - 15 power lust money
encores
whistlers - the junkie and the juicehead


Saturday morning December 1st I get an unexpected phone call from Bob Neuwirth who says "Geoff Muldaur said I should get in touch with you... to find out if there is any music happening at the Hotel du Nord." My answer was that there wasn't any until tuesday when Jack Williams would be performing... "Too bad I'll be gone by then" he moaned. So what are you doing Sunday night? I asked "Nothing" he replied. Why don't you do a concert then ? I suggested. "Cause I don't have a guitar. Besides how can you organise a concert overnight?" he wondered. Well I can rustle up some guitars and all we need is an audience.. I think I can get that too even at such short notice. I said. Well thanks to Pascal who brought an old Gibson guitar from his shop Open Tuning some 50 or so people sat mesmerised for an hour and a half hardly believing their good fortune. A historic evening.
For those of you not familiar with Bob Neuwirth he's not only the owner of the camera toting body lurking in the background on Dylan's Highway 61 revisited album cover he's an old friend and chaperone at times to the Zim...
Neuwirth's entire career has been spent creating and harmonizing with a wide spectrum of people in a variety of places. To skim the surface of Neuwirth's life and career is to take a trip through four decades of pop-cultural signposts; he may have deliberately stayed out of the headlines, but he was always in the thick of it.
Neuwirth went to art school in Boston and was part of the burgeoning Cambridge blues-folk scene, where he learned firsthand from such urban blues legends as Lightnin' Hopkins, Sonny Terry and Brownie McGhee, Mississippi John Hurt and the Rev. Gary Davis. The other end of the transcontinental hitchhiking axis lay in California's Bay area, where Neuwirth divided his time between folk clubs in Berkeley and bohemian bars across the bay in San Francisco's North Beach neighborhood.
Some of Neuwirth's mid-'60s years were spent working and traveling with Bob Dylan, including the chaotic tours documented in the movies Don't Look Back and Eat the Document. As part of the New York underground film scene of the time, he filmed the Monterey Pop Festival, went to Woodstock and traveled to Nashville with a then-struggling songwriter named Kris Kristofferson. He would later teach Kristofferson's song "Me and Bobby McGee" to his old friend Janis Joplin, with whom Neuwirth had co-written the song "Mercedes Benz."
In the 70s, Neuwirth put together the band for Dylan's acclaimed Rolling Thunder Revue, which helped launch the careers of T Bone Burnett, J.S. Soles and David Mansfield, among others. During this period he was also featured in the film Renaldo and Clara.
In the 80s, he recorded two solo albums Back to the Front and 99 Monkeys; produced such artists as Burnett and Vince Bell; and saw his songs recorded by the likes of Concrete Blonde, k.d. lang, Peter Case, Robert Earl Keen Jr., Kris Kristofferson, Tom Russell and others. In 1994 he partnered with John Cale on the album Last Day on Earth, and two years later released Look Up, which contained Patti Smith's first recording in more than a decade. During this period he toured Europe often, sometimes alone and other times with artists such as Cale, Warren Zevon, Howe Gelb and Sid (soon to be seen in Paris) Griffin.
More recently he has produced Down from the Mountain, a documentary film by D.A. Pennebaker that documents a Nashville concert by the artists from the current Oh Brother Where Art Thou? movie soundtrack. Last year he also participated in the much-lauded Harry Smith concerts with famed producer Hal Wilner, appearing at Royal Festival Hall in London and at St. Ann's Church in Brooklyn, New York.
Through it all, Neuwirth has remained purposefully elusive. He's an artist in search of art, not fame, one whose travels never cease because his artistic restlessness never lets up. "You have to let the art take you," he says, reporting from the road once more. "The minute you try to control the art, you've lost it." Such is the impetus that drives Bob Neuwirth; such is the spirit that brought him to Havana, and to Havana Midnight his latest album.
visit http://www.bobneuwirth.com
---