in Concert
Kelly Joe Phelps
1959 - 2022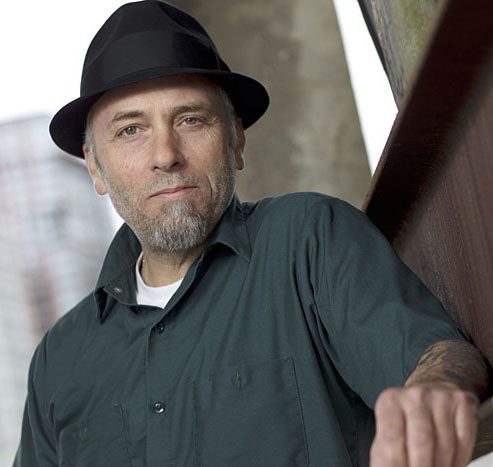 and



Nibs van der Spuy & Guy Buttery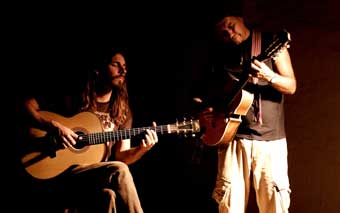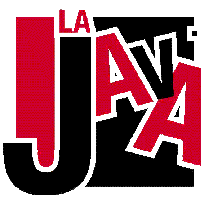 105, Faubourg du Temple Paris 10
Sunday 16 September 2012
two concerts
at 5-30pm & 8-30pm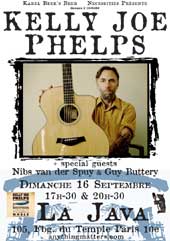 ---
Kelly Joe Phelps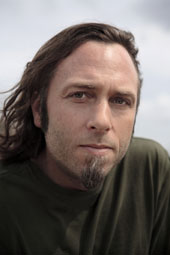 avec special guest
Sarah Harmer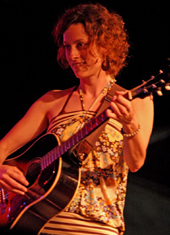 Wednesday 22 Novembre 2006
La Java
105, rue du faubourg du Temple Paris 10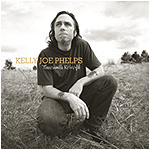 nouveau cd
"tunesmith retrofit"
rounder records

set list
clear eyes - crow's nest - the anvil - knock louder
the house carpenter - carboard box battery
nine tail whip - macdougal - sally ruby - tight to the jar
cabin floor - goodnight irene
river rat jimmey

then he had a bus to catch in twenty minutes

Throughout his career, Kelly Joe Phelps has garnered a wealth of praise for his guitar work. But with his new album, 'Tunesmith Retrofit,' he is sure to be revered not just a great musician, but as an outstanding songwriter as well. The album showcases Phelps at the peak of his songwriting powers, tackling engaging story songs and soul-baring ballads with equal aplomb in a bare-bones, stripped-back setting. 'Tunesmith Retrofit''s musical depth and poetic charm will undoubtedly expose this gifted artist to an even larger audience.

"His music is a wide world with three hundred and sixty degrees of influence.... Kelly Joe is a musical sleight-of-hand master."-Tim O'Brien
"An inspiration to me." Bill Frisell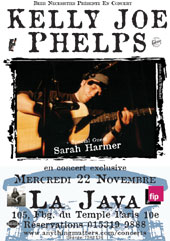 c'était un concert

---
Kelly Joe Phelps

An Impromptu Concert
a triumphant return to the
Hôtel du Nord
Lundi 2 December 2002
Set list
1st set
River Rat Jimmy / Katy / Wandering Away / Lass of Lock Royale (If I Prove False to Thee)
Piece By Piece / Beggar's Oil / Taylor John

2nd set
Sally / The House Carpenter / Without The Light
Hard Time Killing Floor / Capman Bootman / Tommy

"Very few performers have impressed me as much as Kelly Joe Phelps. He's a true stylist. He's a curve ball pitcher that throws harder than anybody in the Indian League. You try to crowd the plate on this guy, he'll take you off at the knees." Eric Taylor

"Kelly Joe Phelps...living proof that you can dress sensibly and still play great slide guitar. Please send him my best regards, and thank him for that invaluable recipe for canned tomatoes that he shared with me in Dublin." Steve James

"Kelly Joe Phelps is intensely personal & emotionally energizing with his moaning howls of pathos & soulful guitar playing, I would recommend every song in his catelog to the loyal followers of Hank Williams & Woody Guthrie with the exception of "Tommy" which is a song about a fucked up boy named Tommy but I only say that because I'm a fucked up boy named Tommy & wish KJP would stop giving out everyone's secrets." Tommy Rhodes

"His is songs are also infused with poignancy, passion and spirituality." Washington Post

"Took country-blues to a new place, a peak from which the past was clearly visible in the machinations of the present." The Independent

"Knows how to create that elusive quality best described as magic." Blues Revue

"Textured, pure, noble and moving. Call it art." Pulse

"There's a quantum leap in his own darkly compelling songwriting, which at times is even reminiscent of the great Tom Waits." Uncut

"A git up, lay down, moonlight throb. A hip shake boogie. A long desirous backyard moan of busted hearts, greased-up good and bent down low." Time Out

"His husky voice narrating the lives of assorted chancers with a timeless, rustic slant much as, say, John Martyn did back in his heyday. A class act." The Observer


"Such is the mesmeric blur of Phelps' moaning, free-wheeling vocalising and dizzying guitar impressionism that everything becomes one." Mojo

"L'un des grandes découvertes du blues de ses dernières années, si ce n'est la seule." l'Express

""KJP est un poète et sa guitare est magique. Un immense talent." Soulbag

"Une des personnalités les plus singulières de la nouvelle scène acoustique américaine."
Nouvel Obs
---
KELLY JOE PHELPS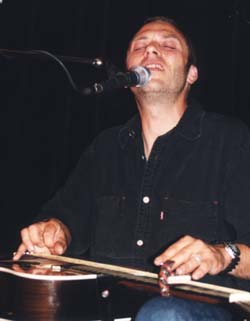 Hôtel du Nord
Lundi 2 Août 1999

Nouveau CD "Shine Eyed Mister Zen" Ryko

This was the last show of the summer season and what a cracker it was too !!!
Steve Earle: "Kelly Joe Phelps plays, sings, and writes the blues. HOLD UP before you lock that in - forget about songs in a twelve bar three chord progression with a two line repeat and answer rhyme structure - though he can certainly do that when he wants to. I'm talking about a feeling, a smoky, lonesome, painful - yet somehow comforting groove that lets you know that you are not alone - even when you're blue. Play on brother."
Bill Frisell: "I first became aware of Kelly Joe Phelps when my daughter (who was 9 or 10 at the time) brought home a cd ('Lead Me On') from the Vancouver Folk Festival. "You might like this, Dad" she said. Boy was she right. I've heard Kelly Joe mention that he's been inspired by people like Roscoe Holcomb, Robert Pete Williams, Dock Boggs, Mississipi Fred McDowell, and others. He seems to have absorbed all this (and all kinds of other stuff as well) and come back with something all his own. Sounds like he's coming from the inside out. The bottom up. He's not just playing 'AT' the music or trying to recreate or imitate something that's happened in the past. He seems to have tapped into the artery somehow. There's a lot going on in between and behind the notes. Mystery. He's been an inspiration to me."
Tim O'Brien: "When I heard Kelly Joe the first time, I was amazed how it all made so much sense. His music is a wide world with three hundred and sixty degrees of influence.... Kelly Joe is a musical slight of hand master. He pulls world wide sounds out of his guitar."