Robyn Hitchcock

photo Laura E Partain

avec special guest
Emma Swift
Vendredi 8 Juin 2018
La Chapelle des Lombards
19, rue de Lappe Paris 11


The latest solo release for the artist was produced with Brendan Benson with a full studio band that included
Grant-Lee Phillips, Pat Sansone, Emma Swift, and Gillian Welch

abus dangereux has him covered
and read all about him in french

---

In Concert the indestructable
Robyn Hitchcock


with
Morris Windsor
et sa drum kit
& along came
Rodolphe Burger


+
in all their glory
special guests

Tuesday 5 December 2006
La Java


Ce vingtième album (et des poussières) de Robyn Hitchcock est-il vraiment le meilleur qu'il ait publié depuis une bonne dizaine d'années ? Il semblerait. Mais peut-être est-il juste, comme souvent chez les artistes aussi prolifiques, celui qui tombe au bon moment, qui donne envie de se réintéresser à lui. Grâce au culte voué aux disques psychédélico-punks mélodiques de son groupe les Soft Boys (Underwater Moonlight en particulier), Hitchcock mène en toute quiétude, depuis plus d'un quart de siècle, une sympathique carrière de baladin power pop excentrique qui lui a valu l'admiration de REM en particulier. Peter Buck et sa guitare néo-Byrds sont d'ailleurs très présents sur ce nouvel album aux charmes multiples. Un disque qui pourrait faire office d'introduction parfaite à l'œuvre attachante de Hitchcock. On y trouve son art du texte en apparence absurde, très Lewis Carroll, qui n'exclut pas, en creusant un peu, une certaine gravité. Surtout, Olé ! Tarantula couvre la palette variée d'un artiste singulier dont les compositions tissent une toile qui relierait la poésie planante de Syd Barrett à la pop acide de XTC (Andy Partridge cosigne ici un titre), le folk carillonnant des Byrds au grunge vaporeux du Teenage Fanclub. Et si The Authority Box rappelle étrangement Lennon à son meilleur, le complainte nostalgique de Belltown Ramble ou la déchirante ballade N.Y. Doll – émouvant hommage à la mémoire du disparu Arthur Kane – sont du pur Robyn Hitchcock.


Télérama - 6 Janvier 2006

set list

unplugged
museum of sex - olé tarantula - queen elvis -full moon in my soul - arms of love - wreck of the arthur lee
lysander - ride - live in the trees - a blonde sometimes

plugged
oceanside - i'll come running to you - devil mask - raining twighlight coast
freeze - where angles hover

encore with rodolphe burger and some latrine lovers
tomorrow never knows - waiting for my man - who do you love - maggie's farm

C'était un rencontre qui aura dû avoir lieu lors de Rochefort en Accords au mois d'août
mais étant retenu dans sa vallée par le disque d'Higelin, Rodolphe Burger n'a pas pu participer au festival.
Les chemins de ces deux grands gabarits se sont finalement croisés dans la Sound Gallery
autour de quelques guitares acoustiques, pistaches et verres


l

e lundi soir avant le concert de Robyn Hitchcock à la Java le lendemain.

C'était un grand concert qui s'est terminé avec un rappel de taille quand Robin invita Rodolphe de monter sur scène
où muni d'une des guitares des Latrine Lovers (qui ont fait un première partie très remarqué) ils s'embarquent sur une suite des morceaux des Beatles, Velvets, Dylan, Bo Diddley en passant par the Doors.
Assistés par Morrris Windsor à la batterie et deux des Latrine Lovers Bertrand à la basse et Mickey à la guitare.

On avait l'impression d'être au Filmore ou Winterland à San Francisco dans les années '60.

C'est comme ça qu'on aime les concerts à la Java pleins des surprises, spontanéité et bon humeur.

Whose Farm do You Love?

---

Robyn Hitchcock
&
Peter Blegvad
sunday 6 february 2005



It was the final concert at the Hotel du Nord
Peter was there for the first show in 1997
and appropriately present for the last in 2005
True to form when the HdN was announced as double booked on monday we had to hastily switch venues to La Java.
After sunday's show we had a few drinks
and a sing-a-long in the Sound Gallery

set list
Peter Blegvad






Robyn Hitchcock new CD
"Spooked" Proper Records UK

Peter's site


Peter Blegvad & Andy Partridge new CD
Orpheus - The Lowdown

to hear Robyn live at the Hdn with Peter Blegvad & Syd Straw in 1999
click on the microphone

to hear Peter live at the Hdn with John Greaves & Syd Straw in 1999
click on the microphone


---

in concert
Robyn Hitchcock
+
Tim Keegan


monday 8 september 2003



| | |
| --- | --- |
| From his first crab-drenched utterances with The Soft Boys, in the late Seventies, Robyn has emerged as the single most engaging talent England has to offer. Across a dozen solo albums, he has proved himself to be a songwriter of infinite imagination, both in terms of lyric and of melody. As a guitarist, Robyn Hitchcock is inventive and cutting - and severely under-rated, even by himself. Subtle and never inappropriate, always sympathetic and powerful when it's called for. That's why we keep bringing him back for more of the "never the" same. | |



raymond chandler evening - bass - all shook up - chinese bones - full moon - idonia
over the hill - my wife and my dead wife i something you
with Tim Keegan madonna of the wasps - queen elvis

i saw nick drake - never gets anywhere with you -
encore
Tim
pomme de terre -


---

Robyn Hitchcock
& Grant Lee Phillips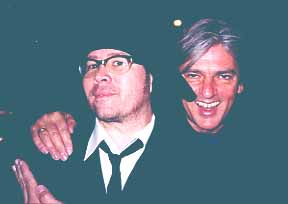 thursday 8th may 2003



disconnected & in concert
a totally unique double shared bill !

Robyn Hitchcock's entire body of work---both as leader of the Soft Boys and as a solo performer, remains one of the great undiscovered treasures of modern pop music.
Psychedelic pop of the '60's provides the touchstone for his melodic, emotional compositions, but Hitchcock blends his own ideas with those of John Lennon, Syd Barrett, Captain Beefheart, the Doors and the Byrds to create music that advances the tradition rather than merely recapitulating it. Touser Press
Set List
Killing Moon / Cynthia Mask / Fractions
Sounds Great When You're Dead / Heavenly
Another Kiss / Squint / Every Day Is Like Sunday
Queen Elvis / Stars and Stripes / Jupiter and Teardrop
Unknown Legend / Because I'm Young /
Reverb Three Dream / Trams Of Old London
The Shallow End / I Feel Beautiful
Fuzzy / Ashes To Ashes
encores
Sound And Vision / Kung Foo Fighting
Tangled Up In Blue
---
Robyn Hitchcock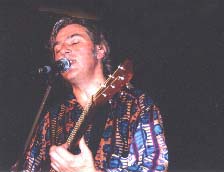 for this full moon concert Robyn was
aided and abetted by
Tim Keegan
in
Les Étoiles
Wednesday 20 Novembre 2002

visions of johanna / your wax doll / let the sun /
more than this / creeped out american girl / she was vibrating
i dream of trains / only the stones remain /

encore with tim
queen elvis / i saw nick drake / madonna of the wasps (with 12 string)


From his first crab-drenched utterances with The Soft Boys, in the late Seventies, Robyn has emerged as the single most engaging talent England has to offer. Across a dozen solo albums, he has proved himself to be a songwriter of infinite imagination, both in terms of lyric and of melody. As a guitarist, Robyn Hitchcock is inventive and cutting - and severely under-rated, even by himself. Subtle and never inappropriate, always sympathetic and powerful when it's called for.
The last time Robyn played in Paris for a solo show he turned up with Peter Blegvad, John Greaves and Syd Straw. That was at the HdN and an evening that some of the neighbours are still talking about!
---
Robyn's first coming
27th & 28th June 1999



+
Peter Blegvad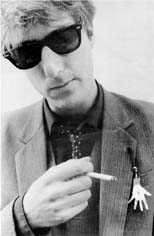 + Syd Straw & John Greaves

strutting with Straw, Hitchcock and Greaves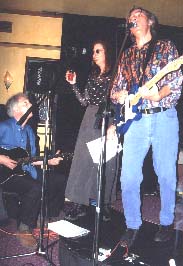 If Patty Smith wasn't opening for REM at Bercy in July we'd probably have had to share Robyn with thousands of REM fans instead of having this highly influential and underrated performer to we merry few at HdN. Mills, Stipe, & Buck rate Hitchcock so highly that he regularly tours the USA with them and they like nothing more on a cold winter's night than to sit around and play on each others records.

If Robyn at long last came to do a show in Paris it's thanks to another of his buddies Peter Blegvad who enthused about the gig following his shows with Loudon Wainwright III in 1997. A great singer songwriter with a string of excellent albums to his credit Peter wound and found his way through bands such as Slapp Happy, Faust, Art Bears, Golden Palominos and The Lodge. When he's not drawing his weekly cartoon strip Leviathan for the Independent he's doing something else such as seducing dusky voiced chanteuse Syd Straw into coming along for the ride. It was simply unmissable, two unique evenings in the company of three exceptional performers!