Henry Gross
In Concert



Tuesday 10 & Wednesday 11 April 2001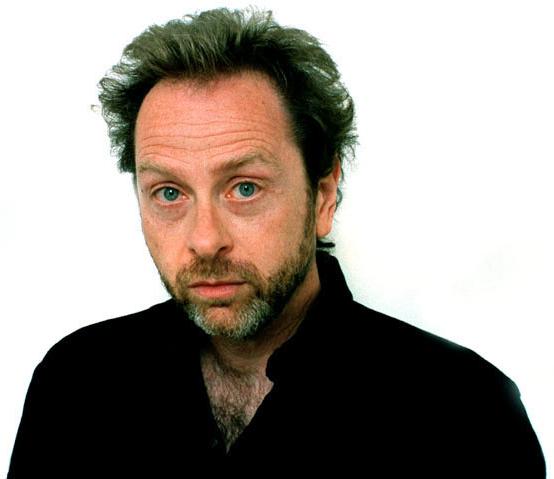 Henry with Elliott Murphy - he's the one saying "cheese"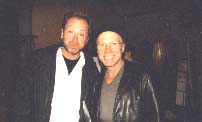 Standing with the ovation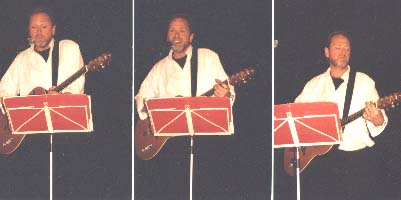 Henry was born on April 1st, 1951 in Brooklyn, New York. His older sister, Sarah, was a huge Rock & Roll fan, so Henry's introduction and subsequent addiction to it came at a very early age. His mother Zelda's lifesong love of music, which included a brief stint with the Metropolitan Opera Chorus, encouraged his pursuit of a performing career so strongly that by age fourteen he was playing regularly in local clubs all over the New York area and spending his summers playing at Catskill Mountain Resort hotels.
At age eighteen, Henry was a founding member of the world famous Rock & Roll revival group, SHA NA NA, wearing on-stage the "Greaser" clothes he wore in high school "because he thought they looked good". The groups' popularity took a giant step after legendary performances in the Fillmore Auditoriums, East and West and at the Woodstock Festival. With the groups' appearance in the movie "WOODSTOCK" their popularity became a worldwide phenomenon.
Henry left the band in 1970 to pursue a career as a singer songwriter signing his first solo deal with ABC DUNHILL RECORDS in 1971. The albums lack of commercial success did not discourage him and in 1973, after performing at colleges and clubs all over the country, he was signed to a production deal by Cashman and West, legendary producers of Jim Croce, who almost immediately placed Henry on A&M RECORDS.
His first A&M album, "HENRY GROSS" sold very well and had several large regional hits including "Simone", "Come On Say It", "Skin King" and a near gold cover of Lindisfarne's European hit "Meet Me On The Corner".
Henry's second A&M album "Plug Me Into Something", sold just short of gold and garnered him a huge following as an exciting performer and he began to achieve national recognition in publications like Rolling Stone Magazine and The New York Times as a great Rock & Roll guitarist.
For his next album he was moved to Cashman & West's new label, Lifesong Records. His first single release on the label, Shannon, a song written about the passing of Beach Boy Carl Wilson's Irish Setter of the same name went gold and became a worldwide hit. Sales of the album called "Release" were big and the second single, "Springtime Mama", sold just short of gold.
On his next album, "Show Me to the Stage", Henry mixed Rock & Roll songs with Phil Spector and Brian Wilson influenced production. While the album had strong sales it produced no "hit" singles.
Henry's recording career continued with albums on CBS Records with " Love is the Stuff" and on Capitol Records in 1981 with The Bobby Colomby produced LP, "What's in a Name". Henry feels his best work of that period, an unreleased record wallowing in Capitol's vaults, produced by Anthony Battaglia (studio guitarist and re-mixer of the latest N' SYNC single) and Ed Machal (engineer of all the Eagles records) will someday see the light of day.
In the Eighties Henry performed in the road company production of "Pump Boys and Dinettes," with a cast featuring Jonathan Edwards, and the late Nicolette Larson. Henry moved to NASHVILLE in 1986 and signed a publishing deal with Pic A Lic Music, a company owned by legendary songwriter Roger Cook and the multi talented Ralph Murphy. A record deal in Europe soon followed through Murphy's efforts and two albums, "I Keep on Rocking", and "She's My Baby", were released by Sonet Records all over Europe and Japan.
Henry continues his song writing and recording career in Nashville. In 1993 he released a CD of twenty-two songs, called Nothing But Dreams, on his independent label, ZELDA RECORDS, about which his motto is, "Not only am I the president, I'm a client as well.".
Henry has a new CD in the works and is constantly writing with a marvelous cast of world-renowned songwriters. In 1995 he and longtime friend Henry Paul, of Blackhawk and Outlaws fame, co- wrote Blackhawk's top fifteen country hit, Big Guitar. With songs recorded by artists as diverse as Judy Collins, Mary Travers, Cindy Lauper, Sonny Burgess, Ronnie Milsap and All The Kings Men, Henry, his wife Marilyn, a Realtor, and their four dogs and four cats live happily in lovely and creative Nashville Tennessee, pursuing their dreams.