In concert
Guy Clark
1941 - 2016
with
Verlon Thompson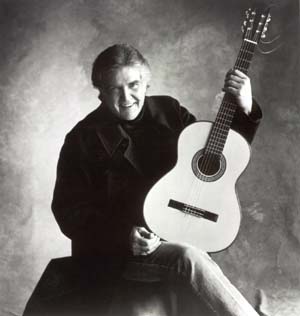 Tuesday 23 & Wednesday 24 July 2002
What a way to end the season of shows -
Guy & Verlon performing to our biggest audience ever
had some good photographs too but my camera was stolen
with the film in it.
Anyway here is the set list for the 2nd show

1/ Cold Dog Soup 2/ Always Trust Your Cape 3/ LA Freeway
4/ chat 5/ Texas 1947 6/ Boats To Build 7/ Sis Draper
8/ Stuff That Works 9/ Home Grown Tomatoes
10/ Old Friends 11/ requests - we outa have a set list
12/ Rita Ballou 13/ Coat From The Cold
14/ Last Gunfighter 15/ chat
16/ Desperado Waiting For A Train
17/ The South Coast of Texas
18/ Rex's Blues 19/ Texas Cookin'
20/ Parkin' Lot 21/ Randall Knife
22/ Dublin Blues
23/ Heartbroke
+ 1
Born and raised in Texas, Clark and friends Townes Van Zandt and Jerry Jeff Walker all became fixtures of the Austin music scene in the '60s. Clark later lived in California before moving to Nashville in 1971. Achieving success as a songwriter with Johnny Cash's version of Texas 1947 and Walker's recordings of "L.A. Freeway" and "Desperados Waiting for a Train", Clark's reputation as a performer spread with the release of "Old No. 1", his 1975 debut album which is now regarded as a classic.
Clark's songs have been recorded by numerous artists, including Vince Gill and Steve Wariner. Ricky Skaggs took Clark's "Heartbroke" to #1 in 1982, with Clark and Rodney Crowell teaming up to write Crowell's 1988 chart-topping "She's Crazy for Leavin".
Creating compelling songs from personal topics is not the easiest thing to do. You've got to hold your breath and jump off the edge, he says. It's an emotionally dangerous place to be if you want to get really close to the bone. And while Clark isn't reluctant to record, his greatest gratification as an artist is when he performs those songs onstage. "That's what I love to do", he says. "I've got no reason to write unless I'm going to play for the folks. And I've got no reason to play for the folks unless I write. One feeds off the other. The whole premise is to play for the folks. As far as I'm concerned, that's where I do my best work."
new album "Cold Dog Soup" previous album "Keepers"

"...Nothing less than exquisite." -Country Music People

---