in concert
Clive Gregson
& The International House Band
featuring
George Wolfheart, Jeff Boudreaux, Sal Bernardi, Rob Armus
Bobby Rangell, Alec Beardsell, Paul Susen & Melissa Cox

Tuesday 26th April 2011
in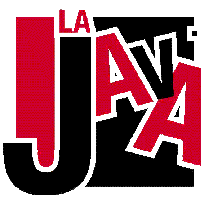 105, faubourg du Temps Paris 10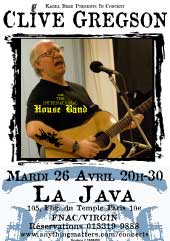 The IHB Set featured
bittersweet - a little more love - one for the trees - julianne
the door is open - without you - start again - i think i'm falling in love
that's the thing about love - back where we belong
matchbox - the last time
in concert
Gregson in the Gallery
The Sound Gallery
Sunday 5 March 2006
with surprise guest from Chicago
(the city not the band)
Al Rose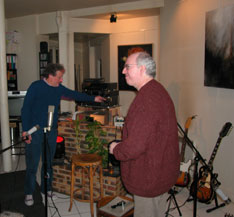 and here are the other axes clive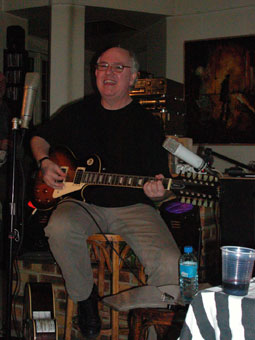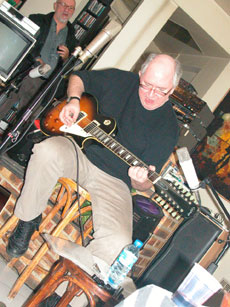 audience gets value for money when he straps on the 12 string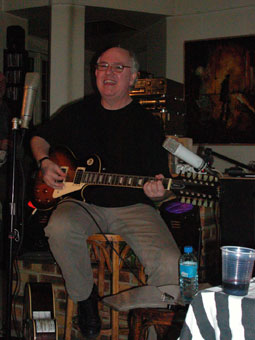 clive and the wolfheart pickin' the perkins and hollerin' the holly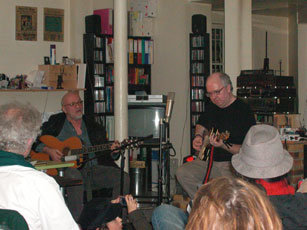 an exceptional evening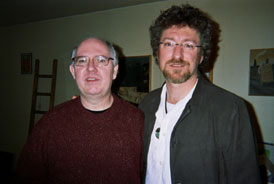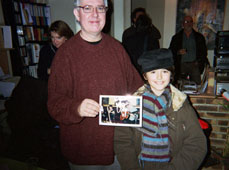 from Manchester via Nashville
Clive Gregson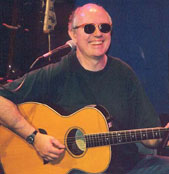 very special guest
Clare Muldaur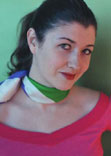 102, quai de Jemmapes Paris 10
Sunday 30 May 2004

Described by Rolling Stone as "the state of the art in British folk-rock" and in
The Times as "One of Britain's most cultured singer-songwriters."
Manchester born Clive currently lives in Nashville where when he is not falling off his roof, he is much in demand as a sonwriter and session player. He began his carrer in the 1980's with highly acclaimed band "Any Trouble" and after the band split up he enjoyed a long and successfull collaboration with Christine Collister before becoming a member of the Richard Thompson band.
Clive along with Peter Case was one of the reasons why I started doing concerts in the first place (look what a musical feast that led to). In my opinion he's one of the all time great songwriters whose work is brilliantly crafted, moving and intelligent. He's also an incredible guitarist who keeps excellent company... Richard thompson, Boo Hewerdine, Eddie Reader and myself seeing as how he's already been to Paris twice before and on the 31st we will be going down to Milano to inaugarate acoustic concerts at the Scimmie.
Oh... and he's a great raconteur.... who can bring two types of tears to your eyes.
Clare Muldaur is daughter of Geoff Muldaur who arranged brass parts for
Clive's "Any Trouble" album so there is a connection already, though they have never met.
Something tells me the connection will be a lot stronger
after what promises to be a unique evening of music.
A Beer's Eye View
www.clivegregson.com

set list
cornerstone - over the garden wall - my bitter half - she came to me in winter time
ghosts - jenny - north of england days - summer's end

it's all just talk -
mama tried (merle haggard) - northern soul
here comes the sun (encore) all of me (with clare)

New CD "Long Story Short"
"Just when you think a spot in the top twenty acoustic guitar
players has opened up, the man recovers"
Iain Matthews
"I think Clive's beautiful, but Iain is the prettiest backup singer I've ever had."
Eric Taylor

"Clive is as wonderful as it gets! His music and humour are a true joy".
Henry Gross
"One of my favorite song-writers."
Mary Chapin Carpenter

"One of mine too."
Peter Blegvad

"One of my ten favorite guitarists."
Richard Thompson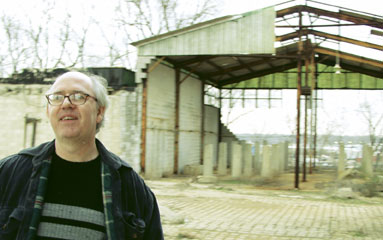 In 2003 Clive Gregson had the misfortune to fall off his Nashville roof
and do some damage to himself, this fortunately has since been repaired.
If the roof in question is the one seen above
I suggest he has that repaired too before getting back on it.
---
Clive Gregson
Boo Hewerdine & Rob Peters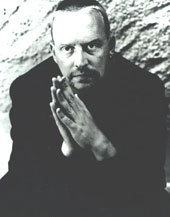 photo Boo Hewerdine
Monday 5 & Tuesday 6 June 2000


Born and raised in Manchester, England, Clive is an accomplished singer, musician and record producer. His start in the music business was as the leader of Any Trouble, a band that made five albums and performed hundreds of gigs but which broke up at the end of 1984. Clive then released his first solo record, Strange Persuasions, described by Hot Press as "a truly exceptional piece of work." The record featured the voice of Christine Collister, and between 1985 and 1992, Gregson & Collister formed a partnership that Rolling Stone called "the state of the art in British folk-rock". Their first four albums all achieved chart success and numerous tours of the UK, USA, Canada, Europe, Australia, New Zealand and Japan further established Clive's world-wide reputation as an innovative leader in the world of British folk-rock.
Throughout this period Clive was also a member of the Richard Thompson Band and in demand as a record producer and session musician. He compiled his second solo project, Welcome To The Workhouse and by October 1992 was performing as a solo artist again. He developed a fruitful songwriting partnership with Boo Hewerdine, founder member of The Bible. They toured the UK in the spring of 1993 as a fascinating trio completed by Eddi Reader, the ex-Fairground Attraction vocalist.
In November 1994, Clive released Carousel Of Noise, a mix of live and studio recordings, hailed as "brilliant" by the Manchester Evening News. The following April, Clive signed to Compass Records and released People And Places, a new studio record featuring some of his best writing and performances to date. New Country described this record as "among the year's best records..." while Pulse gave the CD a five star review. August, 1996 saw the release of I Love This Town, a CD that Clive describes as a "return to the Any Trouble sound: short, upbeat pop songs with lots of guitar...". Featuring great songs and first rate musicianship, the CD was greeted by rave reviews.
In September, 1996 Clive travelled to Dublin to take part in sessions for a new Nanci Griffith CD, Other Voices, Too. The following February he was nominated for a Nashville Music Award in the Artist/Songwriter category and in March he undertook his first solo tour of Japan. Further touring in 1997 took Clive to the UK, Europe and Canada. He also toured Europe and recorded a CD with Plainsong, a four piece group described as a "Crosby, Stills, Nash & Young for the '90's..." In breaks between road work, Clive set up a studio in his home and began work on a new solo album.
Throughout 1998 Clive interspersed recording with yet more touring. He was shortly re-united with legendary producer John Wood, who agreed to mix Clive's next solo project Happy Hour. The year 1998 ended with his appearance as a special guest on Nanci Griffiths' "Other Voices Too..." tour.
Happy Hour was released in April, 1999 to glowing reviews: "Gregson has come up with one of his best ever records..." Dirty Linen. The album is a truly solo project. No other musicians were involved and the sound is sparse and intimate. His song Fred Astaire has already established itself as a firm favourite with fans and was recently recorded by Norma Waterson.
April of 1999 saw a reunion of the Gregson/Hewerdine/Reader Trio with some dates in the U.S.A. Boo and Clive then did a tour in Japan culminating in a SRO Tokyo show. Back in Europe over the summer, Clive played festivals both solo and with Boo and Eddi. The year concluded with a solo tour of the UK with several shows in Europe and a week at Ronnie Scott's in Birmingham with the Trio. When not on the road, Clive is busy in the studio, playing on album projects for Boo Hewerdine, Ian Gomm and Andy West among others. The new millenium saw Clive join forces with Boo for their first UK tour as a duo, more Trio dates, a guest appearance with Nanci Griffith & The Atlanta Symphony, various solo summer festivals and more session work. The year ended with Clive's most successful solo UK tour to date.
Clive's next CD Comfort & Joy was released in 2001. Much solo touring followed to promote the album, including a trip to Japan and Clive's first solo dates in the USA in almost five years. The warm reception for the album and live shows kept Clive busy on the road throughout 2002. The year also saw the first official label release of Carousel Of Noise and a compilation of Any Trouble tracks from their Stiff era, Girls Are Always Right. The latter met with a great response from critics and fans alike and even showed up on the Amazon.com best sellers list.
In October 2003, Clive managed to fall off a ladder, breaking his left arm and shoulder. These injuries required a fairly lengthy healing process and the cancellation of touring and recording commitments for a while. Happily, the end of January 2004 saw Clive back in the studio playing on sessions for a new Nanci Griffith CD and a couple of weeks later he played his first solo gig since the accident. Luckily, his next solo CD Long Story Short had been completed the week before his accident and the album is now scheduled for release in the UK on Fellside Recordings on March 29th, 2004.
In between sessions, producing and touring, Clive is currently working on a number of solo recording projects and also trying to dream up something special to mark his 25th anniversary as a professional musician in 2005. Watch this space!

What Others Say About Clive...
According to Rolling Stone, Clive Gregson is "the state of the art in British folk-rock".
In an interview with the BBC, Mary Chapin Carpenter named Clive as one of her favorite songwriters.
Melody Maker described his 1980's band, Any Trouble, as "the most exciting new rock'n'roll group since The Pretenders".
According to Guitar Player, he is one of the "1000 Great Guitarists".

Clive's songs have been recorded by many artists including
Kim Carnes, Fairport Convention, Claire Martin, Norma Waterson and Smokie.

"One of Britain's most cultured singer-songwriters."
The Times
"Adult pop from one of the most emotionally literate songwriters around."
The Guardian
"A superb songwriter and fine guitarist, keyboards player and producer."
Daily Telegraph
"Gregson is as fine a singer-songwriter as anyone has a right to expect...he does the lot."
The Independent
"Gregson is a powerful and vital force in contemporary music."
Folk Roots
"A player of great taste and sensitivity - not to mention one of our finest songwriters."
Guitarist
"More musical expertise than is usually good for one man."
Time Out
"Gregson is a consummate songwriter."
Chicago Daily Herald
"Make this man a cult hero now!"
The Seattle Rocket
"Clive Gregson is an Englishman whose solo work is full of wit, romance and tight pop arrangements."
The Wall Street Journal
"Clive Gregson continues to write dark, brilliant songs as a solo artist."
Acoustic Guitar
"Gregson deserves an award for the most under-rated singer-song writer of the '90s: each and every effort is a minor masterpiece."
Goldmine
"Gregson's greatest strength is an inspired ear for melody which he matches
to touching, poignant lyrics resulting in pure elegance. He is a seasoned,
expert songman at the top of his game.... strong recommendation."
Sing Out
"As on Dylan's "Blood on the Tracks" the writing is deceptively simple
without ostentatious lyrics or incongruous musical changes. Despite
references from English folk to Buddy Holly, these 12 songs form such well
crafted wholes that it's difficult to deconstruct them to determine what
makes them work; they just do."
Dirty Linen # 59
---
In Concert
Clive Gregson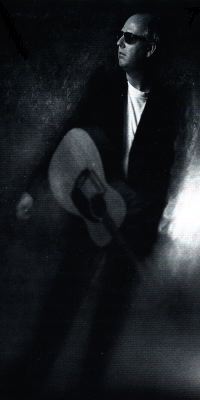 Special guest
Kerry Getz

Mon 4 & Tue 5, October 1999


Despite being one of Britain's best kept musical secrets Clive is a world renowned singer songwriter and possessed with one of the most evocative voices in Britain. A brilliant guitarist he has worked with Christine Collister, Richard Thompson, Nancy Griffiths, Plainsong and Eddi Reader. Born in Manchester he fronted "Any Trouble" a highly rated indie band of late 70's and has made a string of acclaimed solo albums culminating in this years "Happy Hour" (1999) on Compass produced by John Wood. The album in Clive's words is not "happy" nor does it "last an hour". His Paris concert will however.

Clive will be supported by Kerry Getz a young lady from LA a friend who he has worked with in the States and who will be coming up from Florence specially for the two nights.

set list monday 4th october
Antidote/Catholic Girls/It's You I Want To Hold/Chemistry/Green Park Girl/Angel In Disguise
Comfort And Joy/That Sound/I Shake/All The Time In The World/Nothing In The World
Fred Astaire/Come Home Soon/Cross I Bear/Tattoo/Second Choice
Home Is Where The Heart Is / Trouble With Love
encore
with Kerry Getz- One After 909
set list tuesday 5th october
I Get What I Deserve/Wrong Track/Blue Rose/Beck And Call/Nothing Ever Lasts
Melody/Salt/Kitty Come Back/Black Train Coming/Feathers/Wash Me Away/We're Not Over Yet
Things I Didn't Do/Unforgivable/Prettiest Girl In Camden Town/That Sound
encore
Antidote/Across The Universe/I'll Be Your Baby Tonight/Home Is Where The Heart Is