Alejandro Escovedo
and his string quintet
Matt Glenn Fish and Brian J Standefer cellos
Susan Mary Voelz/violin
David Earle Pulkingham/guitars

his only European date and an unmissable opportunity
to hear this major artist in concert.

+ special literary guest
Harlan Coben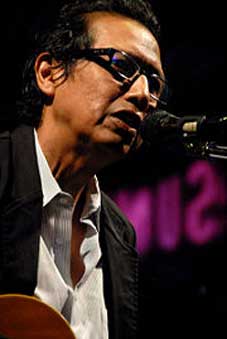 wednesday 6 june 2007
La Java

set list
Baby's Got New Plans - Arizona
Everybody Loves Me
Dearhead On The Wall - Notes On Air - Rosalie
Slow Down - Castanets - Break This Time
Wave - Put You Down
encores
I Wish I'd Been Your Mother
Pale Blue Eyes

'Al has 2 B one of the most underrated songwriters in past 20 years and for my money, the top of the heap.
I love to see that look of joy and bewilderment on peoples face
s when I put on "13 years" or
" A man under the influence"

If I wasn't busy, I'd come to Paris and see him play.' Iain Matthews
"I wish I could attend that show. Mr. Escovedo is magnificent..." Stephen Fearing
"Simply put, one of the best songwriters the world has to offer." Robert Fisher (Willard Grant Conspiracy)
"Alejandro Escovedo, rockin and powerful!" Jennifer Condos

"Al is ON FIRE!"...love Bob Neuwirth

"Alejandro is an American legend, only a city such as Paris is deserving of his voice.
Take good care of him." Ellis Paul
"Wish I could be there." Jeb Loy Nichols
"One of the very best shows i have ever seen was alejandro escovedo. he is magic." Kim Richey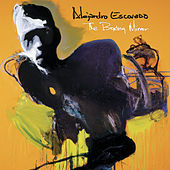 new CD "Boxing Mirror
Alejandro Escovedo began performing in the first-wave punk rock group The Nuns, with Delphine Neid, Jennifer Miro, and Jeff Olener, in San Francisco, California. In the 1980s Escovedo moved back to Austin, Texas, where he adapted a roots rock/alternative country style in the bands Rank and File (with Chip and Tony Kinman) and the True Believers (with his brother Javier and Jon Dee Graham). However, it was with the release of his first solo albums, "Gravity" in 1992 and "Thirteen Years" in 1994, and on through his sixth album, A Man Under the Influence (produced in 2001), that he found his true voice. Although he has yet to crossover to any type of mainstream audience, he has a huge underground following, and many popular artists cite Escovedo as a strong influence. No Depression magazine named him Artist of the Decade of the 1990s.
In 2003, after having lived with Hepatitis-C for many years, Alejandro fell critically ill and nearly died. In his long road to recovery, he faced increasing medical bills. Since he had no medical insurance, and had only limited commercial success, he could not pay the substantial medical bills. It's a testament to the respect with which Alejandro is held as an artist and as a person that friends and admirers around the country began organizing benefit shows to help the songwriter in his time of crisis. A grassroots effort that eventually grew into the album Por Vida: A Tribute to the Songs of Alejandro Escovedo, a sprawling two-disc set whose proceeds benefit the Alejandro Escovedo Medical and Living Expense Fund. Musicians contributing included Steve Earle, Jon Dee Graham, Lucinda Williams, John Cale, Peter Case, Bob Neuwirth, Jennifer Warnes, Ian Hunter, The Jayhawks, and Son Volt, as well as family members Pete Escovedo, Javier Escovedo and niece Sheila E.
In 2005, Alejandro was declared to be free of the disease.
His latest release, Boxing Mirror, came out on May 2, 2006 and included many of the songs he has promoted with his latest band, The Alejandro Escovedo String Quintet, including Jon Dee Graham. Escovedo went on a short tour with the Quintet, which included a date at Carnegie Hall in early December. Escovedo also has been writing new songs with Chuck Prophet recently. Interestingly Escovdo's music has appeared on the iPod playlist of George W. Bush
which is proof that he has ears either side of where his brain sould be.