an evening with
Bruce Cockburn
accompanied by
Julie Wolf
(keyboards/accordian/vocals)


monday 15 september 2003
l'Espace Jemmapes

new album"You've Seen Everything"

Bruce Cockburn's recording career spans twenty-eight years and twenty-three albums. From tumbling, guitar-driven rock and roll to subtle acoustic creations, Bruce Cockburn's performances run the gamut of stylistic approaches.
He is a performer who masterfully moves his audience through a range of emotions, at once inspiring them to dance and next inspiring them to think. Woven together with a thread of integrity and intelligence, his music is a glimmering snap-shot of a provocative and important performer.

"One of the most intelligent and consistently innovative songwriters in North America" - The Washington Post

---
Bruce Cockburn's recording career spans twenty-eight years and twenty-three albums. From tumbling, guitar-driven rock and roll to subtle acoustic creations, Bruce Cockburn's performances run the gamut of stylistic approaches.
He is a performer who masterfully moves his audience through a range of emotions, at once inspiring them to dance and next inspiring them to think. Woven together with a thread of integrity and intelligence, his music is a glimmering snap-shot of a provocative and important performer.
"One of the most intelligent and consistently innovative songwriters in North America" - The Washington Post
Over the course of three decades, Bruce Cockburn's ability to distill political events, spiritual revelations and personal experience into rich, compelling songs have made him one of the world's most celebrated artists.
And, as the title of his 27th album, You've Never Seen Everything,
suggests, few musicians have been as curious, probing or provocative as Cockburn.
Written mostly over the last three years, the album's 12 songs reflect Cockburn's deepening frustration with a world out of balance. We're confronted with great darkness as a species right now, as spiritual creatures on this planet, says Cockburn. I don't think it's hopeless, and I don't want this album to make people feel hopeless. But I think we've got to call a spade a spade.
Songs like the tense opening Tried and Tested, the hypnotic All Our Dark Tomorrows and, especially, the swirling jazz of Trickle Down represent some of Cockburn's angriest and most political songs since his Call it Democracy and If I Had a Rocket Launcher classics of the mid-1980s. You look at war and environmental problems and you look at what's causing them and what's preventing us from solving them and the trail always leads to human greed, says Cockburn. Somebody's getting paid to keep it that way or make it worse. Everyone's wondering what it all means and what we can do about it.
Cockburn's solution comes through in some of the most powerful songs of hope he's ever written: the joyous Open, the euphoric Put It in Your Heart and the gorgeous closing Messenger Wind. Says Cockburn: What I see happening in the face of all this darkness is something new in human spirituality, openness, some sense of our common destiny. We've got to keep nudging ourselves in the direction of good and respect for each other.
An intriguing part of the album, both its songwriting and the recording's evocative jazz influence, came about when pianist Andy Milne introduced himself after one of Cockburn's New York gigs and expressed an interest in collaborating. Together, they wrote the dreamy Everywhere Dance, with its shifting time signatures, from scratch. Cockburn already had the words to Trickle Down. But it was only when he jammed with Milne's band, an avant-garde jazz ensemble featuring harmonic player Gregoire Maret and rapper Kokayi, that the song's improvisational, free-form music took shape. Milne's innovative keyboard work and the inventive harmonica playing of the Swiss-born Maret are among the album's freshest sounds.
Co-produced with longtime associate Colin Linden, You've Never Seen Everything finds Cockburn collaborating with old friends as well as new acquaintances to create his jazziest album yet. Violinist Hugh Marsh, who appeared on all of Cockburn's recordings in the 1980s, returns to provide fiery accompaniment on all but one of the latest album's 12 tracks. The album's other guest players are bassist Larry Taylor and percussionist Stephen Hodges, who form Tom Waits' rhythm section. Taylor was previously a member of the legendary 1960s blues-rock band Canned Heat. Cockburn describes the playing of musicians like Taylor, Hodges and especially Milne and Maret, whom he compares to Toots Thielman, as both inspiring and instructive. It was good to work with people whose skills are very different from mine and are also highly developed, says Cockburn.
Similarly, the guests who provide vocal support on the album are both older and more recent friends. A longtime activist, Cockburn got to know singer Sarah Harmer, who lends her mellifluous voice to Open, Don't Forget About Delight and the epic Postcards from Cambodia, during a benefit for people who had been arrested at the Quebec G8 Summit. They had first met when Harmer sang Cockburn's Waiting for a Miracle at his 2001 induction into the Canadian Music Hall of Fame. She's an amazing singer, says Cockburn. She came in and listened to each song and sang her part absolutely in tune and with the exactly right feel each time-no extra work required. Other guest vocalists include fellow activist Jackson Browne, an old friend with whom Cockburn has performed many political benefits, Emmylou Harris, who he first met in the anti-landmine movement, and Sam Phillips, who sang on Cockburn's 1991 T-Bone Burnett-produced Nothing But a Burning Light album.
Along with his Hall of Fame induction, Cockburn has been honored with numerous awards since he first launched his solo career in 1970, including the Tenco Awards for Lifetime Achievement in Italy, 20 gold and platinum awards in Canada. His international breakthrough came in 1979 when his Wondering Where the Lions Are reached the Top 25 on Billboard and his video for the controversial Rocket Launcher enjoyed regular rotation on MTV. Meanwhile, Cockburn's songs have been covered by such diverse artists as the Grateful Dead's Jerry Garcia, Barenaked Ladies, Maria Muldaur, Anne Murray, Jimmy Buffet, The Rankins and Chet Atkins. Through out his career, Cockburn has always pushed himself musically and lyrically.
I'm afraid of repeating myself, admits Cockburn. It's a phobia I have. I never assume I'm going to be able to write another album after I finish one. It's a gift when I'm able to and I never take it for granted. If there's a trick to it at all, it involves approaching life with a sense of openness. If you don't keep learning and growing, you're going to stagnate.
---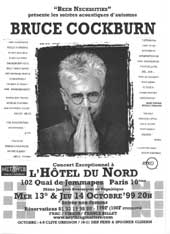 Wednesday 13 & Thursday 14 October 1999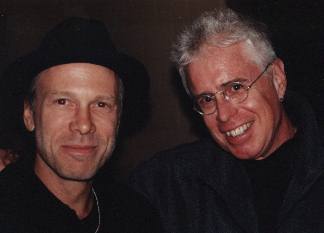 Elliott Murphy droped in on Bruce
set list Thursday
When You Give It Away / Let The Bad Air Out
Burden Of The Angel Beast / Coming Rains / Instrumental
If Had A Rocket Launcher / Stolen Land / Mango
Embers Of Eden / Pacing The Cage
The Whole Night Sky / Soul Of A Man / Understanding Nothing
Night Train / Dialogue With The Devil / Last Night Of The World

A rare solo appearance from a singer-song writer responsible for some of "the most stirring rock folk on the planet" according to fellow canadian Neil Young. During a career that has spanned some 30 years Bruce has picked up 10 Junos (they're the Canadian equivalent of a Grammy), 18 gold or platinum dics (Canadian carats) had his songs performed by Jerry Garcia, Jimmy Buffett, Maria Muldaur, Dan Fogelberg, Anne Murray and even the Barenaked Ladies. His current album on Ryko "Breakfast in New Orleans, Dinner in Timbuktu" features Lucinda Williams and Margo Timmins (Cowboy Junkies) as well as king of the kora Daniel Janke.