.


Andy Roberts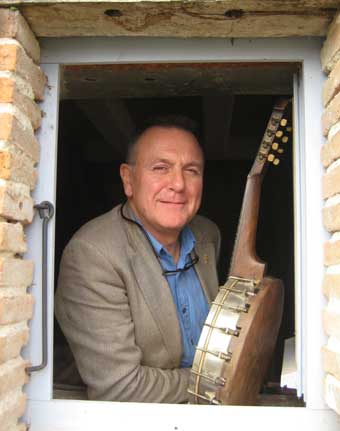 in concert in
The Sound Gallery
Sunday 8th November 2009

As is our want when someone whose music we really appreciate happens to be passing through town and asks about the possibility of a gig we do our best to accommodate. So when at Clive Gregson's suggestion Andy Roberts got in touch to tell me he'd be in Paris, for the Cliff Richard concert, on the 7th November and wasn't returning until the 9th I proposed an intimate Sound Gallery concert to pass the Sunday evening in entertaining company. Andy jumped at the occasion to play in a space that his friend Clive as well as Darden Smith, Kim Richey, Ramsay Midwood etc. had occupied in the past.
Now Andy has played guitar or sung with almost as many people as BJ Cole (who he's also played with in the Tex Maniacs)
Though born in Harrow, Middlesex, England he became a member of The Liverpool Scene having become an honorable Liverpudlian courtesy of a spell at Liverpool University. After the Scene he played with everyone from the Bonzo Dog Doo Dah Band to the Pink Floyd, making connections with Iain Matthews, Richard Thompson, Bridget St John, Roy Harper, Billy Connolly,
Rolf Harris and Spitting Image along the way.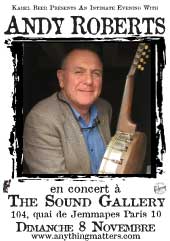 ---