In 1998
Laughing Matters presented Australia's
Trevor Crook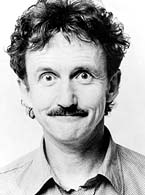 Trevor began his career at the Sydney Comedy Store in 1991, he received his first booking in just two months, his first television performance in six and capped off that first year by winning the Sydney Comic of the Year competition.
Within 18 months he was headlining regularly at the Comedy Store and touring with the likes of Jimeoin, Ben Elton and David Strassman. His television career also blossomed, performing on shows like The Midday Show, Tonight Live, and Hey Hey Saturday. After an acclaimed visit to the Edinburgh Fringe Festival in 1996, Trevor began working extensively in England and Europe. He is the first Australian comic to have performed in the arctic circle, and has performed in France, Holland, Scandinavia, Hong Kong and China.
His UK TV Credits include Live at Jongleurs ( four series), the Stand Up Show (BBC1) and amongst his radio credits is Stand Up Two for BBC Radio 2.
What they say about Trevor:
"Was that you getting all those laughs"
- Ben Elton
"My all time favourite funny man!, Superb totally unique"
- Rick Wakeman
"Shines Like A Diamond"
- Edinburgh Evening News
"One of those once in a lifetime finds"
- London Evening Standard