Laughing Matters Presented
Out of The Whirlwind
& Into Paris
Tommy Tiernan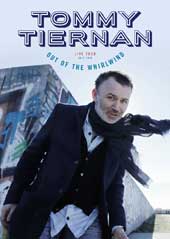 Friday 5th February 2016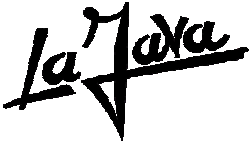 Tommy Tiernan: Out of the Whirlwind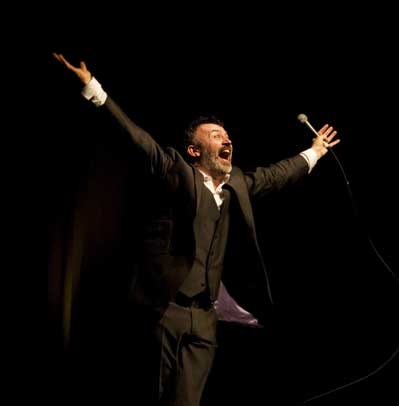 Hot on the heels of Tommy's critically acclaimed 2015 UK tour and a sold out London residency,
Irish legend TOMMY TIERNAN is now bringing his new highly acclaimed stand up show
OUT OF THE WORLDWIND to Europe.
TOMMY TIERNAN:OUT OF THE WHIRLWIND is literally a whirlwind of TOMMY'S thoughts and observations.
Its material that polarizes the every-day 'nonsenses' of life that surrounds us all.
To see TIERNAN live is a rare treat, as his stories unfold and themes are elaborated,
his performances mesmerise in a way that is joyful, uplifting,
inspirational and most importantly breathtakingly funny.
"Watching Tommy Tiernan perform is like seeing a piece of physical theatre
from an angry priest…full of delightful and compelling imagery"
****THE TIMES

"Never less than mesmerizing… mind-bendingly funny"
**** THE EVENING STANDARD

"Bright, original and refreshingly funny"
***** THE NEW YORK TIMES

" Not many comedians generate a sense of danger,
or devilment, quite like Tommy Tiernan."
**** THE GUARDIAN

---
---
Tommy Tiernan
rose to the comedy challenge on Ascension Day and forgot to sign a chair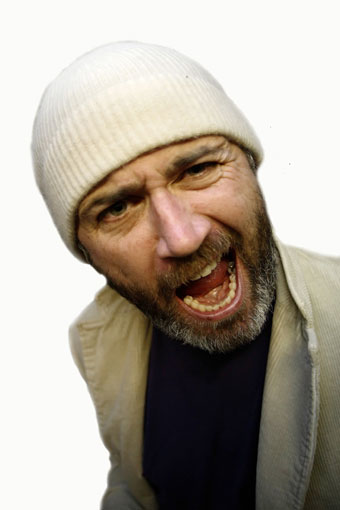 One night two shows !!!
Thursday 25 May 2006
La Java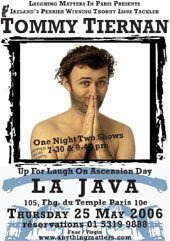 ---
Tommy Tiernan

Sunday 15, Monday 16 & Tuesday 17 July 2001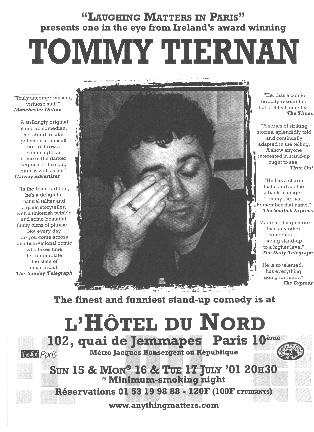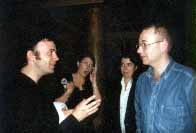 Tommy & Bugsy's Dermot
Award winning Irish comedian Tommy Tiernan returns to Paris after his outstanding performance at the New York Irish Comedy Festival. Tommy made a huge name for himself by winning the 1998 British Comedy Award and the Perrier Award at the Edinburgh Comedy Festival in 1998 which led to appearances in a series of Movies including; "The Matchmaker" in which he co-starred with Denis Leary and Janine Garofolo.
At present, Tommy is following his acclaimed B.B.C. Comedy Special with a sell-out British tour and will be co-starring with Hollywood's golden girl, Kate Hudson, in the upcoming movie," All About Adam".
Tiernan's act takes us on a journey filled with off-beat twists, hysterical stories and brilliant one-liners. Whether vividly reliving childhood memories or sharing his acute observations of the world at large, his unique mixture of honesty and originality guarantees that there is no other performer like him.
"Tiernan has emerged as the show's breakout star…can the Tommy Tiernan hour be far behind?" - The New York Irish Echo
"He...has a comic ferocity resembling that of Billy Connolly.." - The Times
"A series of striking stories, splendidly told and continually adapted in the telling. A show anyone interested in stand-up ought to see" - Time Out
"He has a charm that could sooth a bank manager. Tommy Tiernan. Remember that name." - The Scottish Express
"Made me laugh more than any other comedian….taking stand-up to a higher level" - The Daily Telegraph
"He is so talented…has everything going for him…" - The Express

"Truly uncompromising, virtuoso stuff " Manchester Online
here in 1998 too