.


Jim Tavare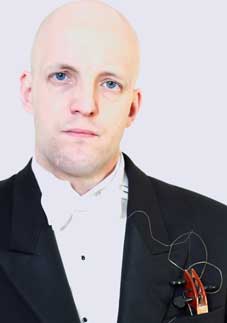 + Dave Thompson
whose claim to fame was playing Tinky Winky in The Teletubbies
Tuesday 3 July 2007
La Java
Jim Tavaré will be the first comedian to come to Paris on a boat rather than by rail or air.
When I say he will come by boat I mean he will come to Paris in a boat
and not simply cross the channel on a ferry
which will make travelling with his double-bass "Bassie" a somewhat more manageable affair.
Many years ago he began his career as a fresh faced young actor having trained at RADA.
Quickly becoming disillusioned with life treading the boards,
a friend suggested he try stand-up comedy, so he did.
A few years later he bacame a double act sharing the limelight with "Bassie".
He adopted the tails and white tie formal attire of a classical musician and the act we know today was born. Jim has performed three times at The Royal Variety Performance.
In 2001 Steve Coogans production company invited Jim to be part of The Sketch Show team on ITV.
The first series packed with over 30 sketches a programme went on to win a BAFTA. The show subsequently syndicated worldwide. Jim starred as Tom the Innkeeper in 'Harry Potter and the Prisoner of Azkaban'.