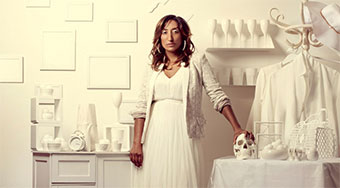 On Wednesday 7th December 2022
there was yet another of Karel's shambolic shows
(the 7th - not counting Milano)
Shazia Mirza
cracked her
"CoCoNuT"
and had her escargots, shopped for slacks, garlic
and tracked down une tarte tropezienne before performing



11, rue des Canettes Paris 6
****Shazia Mirza made her name in comedy with an audacious, topical joke shortly after 9/11: "My name is Shazia Mirza – at least, that's what it says on my pilot's licence." Two decades on she is still a fearless comedian and deserves to be famous for much more than that one-liner.
Perhaps her new show Coconut will help her push through to the next level. The Muslim ex-teacher explains in her trademark deadpan style that due to frequent rescheduling she has rewritten her set about 11 times. The hard work has been worth it though. This is a thoughtful and thought-provoking piece about identity peppered with winning gags.
Her own identity is certainly evolving. Mirza once performed in a burka, now she is in glam black blouse and trousers. She has always been good at finding the humour in her strict Birmingham upbringing and Covid has given her a fresh perspective on her childhood. Lockdown was a doddle, she was used to not being allowed out.
At the centre of Coconut is an anecdote about appearing on Bear Grylls' TV show The Island. Her reflections on taking part are funny and illuminating. Was she approached to tick diversity boxes? How would the middle class, white male competitors cope away from their cosy privileged lives at home?
Bruce Dessau Evening Standard
Mirza managed to tiptoe on the tightrope of a line between
humour and hatred rather fearlessly
Shock-factor themes surrounding masturbation, religion,
adultery, polygamy and sexism were blended together
to form a whirlwind of destruction
Redbrick Birmingham
the last job well dungeoned of the year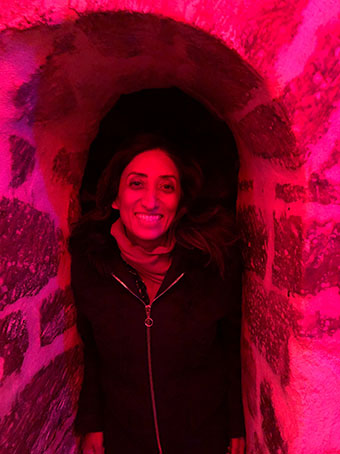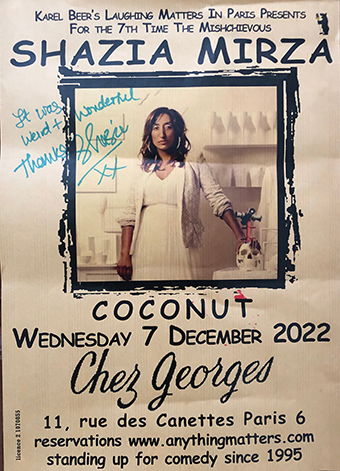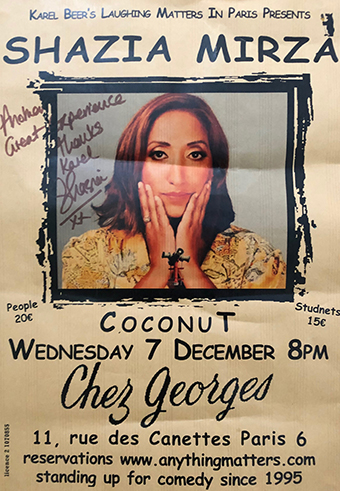 ---
Laughing Matters In Paris
Presents for the Sixth Time
Shazia Mirza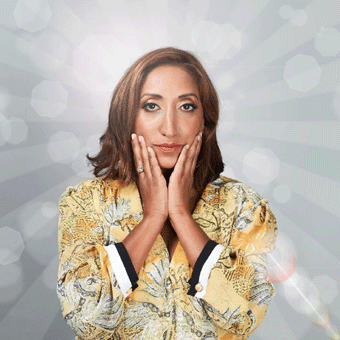 Wednesday 21st November 2018
La Chapelle
19, rue de Lappe Paris 11
5 4 star reviews
"Shazia Mirza is provoking laughter and large intakes of breath once again ... brave and urgent" THE TELEGRAPH
"As brave a piece of comedy as you'll see" MAIL ON SUNDAY
"she's effective at getting under your skin... strikes a blow" METRO
"at this moment in time – post-Brexit, post-Nice, post-Orlando –it's on point chilling and superb" THE SKINNY
"Mirza has stepped up a gear... the bravest thing you'll see on a comedy stage this year... a remarkable finale" SUNDAY TIMES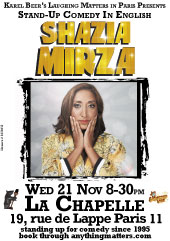 https://www.shazia-mirza.com/
---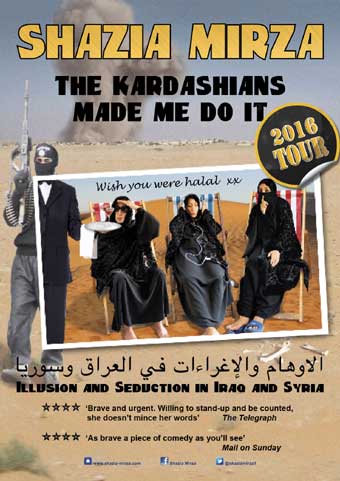 Laughing Matters Presented the Mischievous Muslim
Shazia Mirza's
Cuckoolands in Paris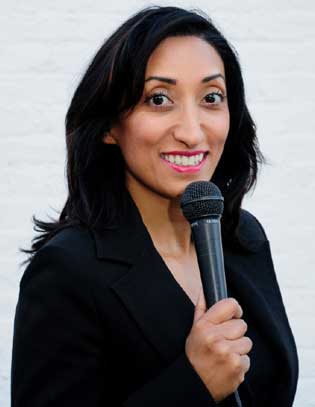 As seen on TV and a Prayer Mat
Tuesday September 24th 2013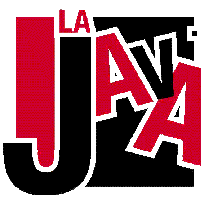 105, rue du faubourg du Temple Paris 10

Shazia will be nesting in Paris with her Cuckooland show that she's toured the UK with
and over the summer performed in California.
Hope she had a map and didn't get lost. I'll ensure she has one this time.
Great fun-da-mental stand-up on route to la Java.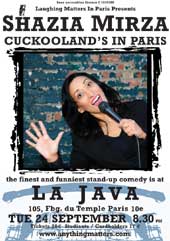 ---
---
sun 8 , mon 9 , & tue 10 june 2003
all shows sold out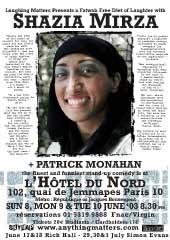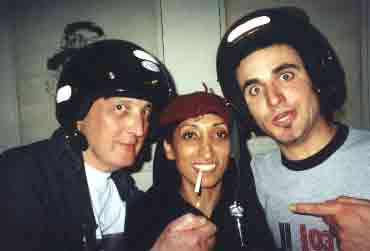 ---