Laughing Matters in Paris Presents
Hey gringo Thru Peru and beyond with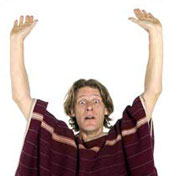 not in the
Hotel du Nord
102 quai de Jemmapes Paris 10
Sunday 3 october 2004
This is a case of last minute. comedy i.e. last come first served !
Though I've never met nor seen Peter he's been nagging me for years to do a show in Paris, being a well travelled man obviously Paris seemed like nothing more than a mere flick and a tickle, plus he was put on my trail by Stephen Frost which is as good a recommendation as anyone in a poncho can have.
In fact it will mark a bit of a change from our regular fare of straigh forward stand-up comedy as this is a highly amusing travelogue about Peter's rambling through the South American sub-continent and has been described as
" A combination of Bill Bryson's eye for the ridiculous and
Rory Bremner's ear for mimicry..." (Metro).
The shows comprise a series of hilarious and poignant true-life travel tales
brought to life for the stage.
Sounds like a lot of fun to me.