Laughing Matters in Gay Paris Presents from San Francisco
Scott Capurro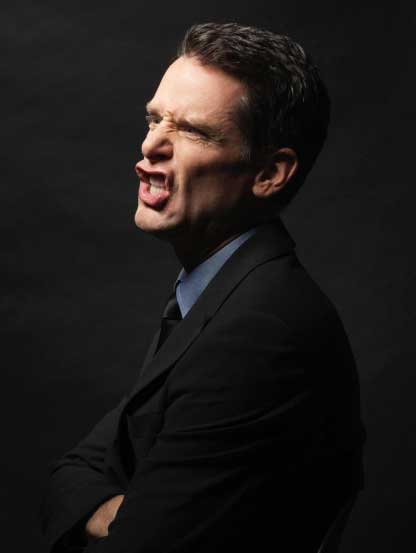 Tuesday 31 May2016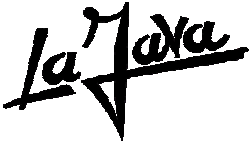 105, faubourg du Temple Paris 10
Award winning comedian, actor and writer Scott Capurro (USA), known for his work on several UK TV programmes, including The Wright Stuff, 8 Out of 10 Cats and The Truth About Gay Animals, will be back in Paris on May 31.
He's described by San Francisco Weekly (free press, edited by lesbians and designed by trannys with large hands and hidden agendas) as "stand-up in the very best possible sense - deadpan, ever-alert and hilarious".
Scott also appeared in Mrs. Doubtfire, where, effortlessly, he played a homosexual;
and Star Wars: Phantom Menace, where, breathlessly, he wore a body stocking.
Scott is an action figure (two headed, which is better than one, obviously) and he was banned from Australian TV for eroticizing the Christ figure. Consequently, Scott knows David Cameron (wink, wink) and Bono. Well, he met Bono once. They're both vegetarians. Actually, Scott is. Bono said he was, to impress Scott. Cameron eats anything.

"'If you thought comics like Ricky Gervais pushed boundaries then nothing will prepare you for Scott Capurro. Having won the coveted Perrier award in 1994, the San Franciscan comic has gone from strength to strength while refusing to sell out, making each show more uncompromising than the last. He is, in my opinion, the bravest and funniest comedian on the circuit.' GQ Magazine August

'Yet accept the ferocious, corrosive material in the provocative spirit it's intended, and it is brilliantly, shockingly funny. So far beyond the pale that the only reaction IS to laugh, partly out of discomfort, partly out of the sheer audacity of it all." Chortle *****
'Vaingloriously poisonous' Scotsman *****
'Comic equation: Larry Grayson x (Lenny Bruce + Chris Rock)' Guardian *****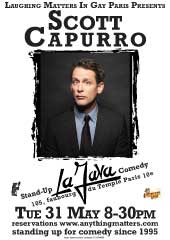 ---
laughing matters presents from San Franfrisky the outrageous
Scott Capurro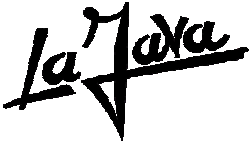 Tuesday 4 April 2006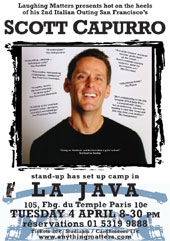 click on the pic to hear Scott's personal message, left just for you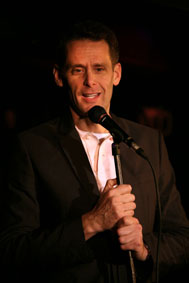 photos Stuart McAlister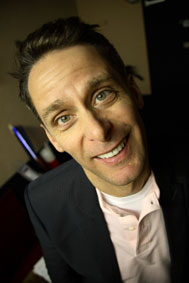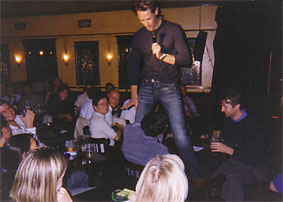 click on the photo above to hear Scott, Jacobus and the blonde in Milano Otcober 2003
---
Hot on only the heels of a historic Milanese outing
the man who put the anger in tangerine the incorrigible
Scott Capurro

Tuesday 14 & Wednesday 15 October 2003




---

two more nights with the outrageous
Scott Capurro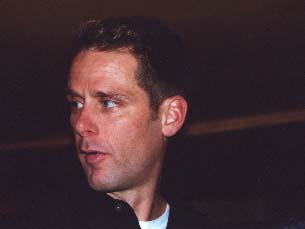 Sunday 10 & Monday 11 February 2002




What with a 13 years old boy sitting in the front row (ok going on 14 & with his dad !) on sunday plus a couple of pentecostals, the tongues Scott was talking in and about were slightly salty. Then it was Heather & Jerome's turn on monday along with the massed ranks of Alstomatos and some Dutch Anne frank fans too. They were a wild couple of nights. Some of it may well have been illegal but the chocolate karma sutra was a sweet way to end it all.
Remember as the man said "candy doesn't make people gay".
But Scott does make them laugh.


"A comic giant in the making."
The Independent
"Effortlessly funny."
TheTimes
"Scott Capurro is the margherita of the comedy world - delicious, sharp and acid."
The Scotsman
"Enthralling...electric...deliciously catty."
The Guardian
"A great show."
The Age, Melbourne
"Personable, tart stand-up...challenging... intriguing"
San Francisco Examiner
"Naughty...ironic...the most amusing...he never quits!"
San Francisco Chronicle
"Stand-up in the very best possible sense - deadpan, ever-alert and hilarious."
San Francisco Weekly
Scott Capurro is a stand up comic, actor, playwright and author. He's performed comedy in all English speaking countries, including San Francisco, from where he hails, and Scotland, where English is barely spoken, and where he won the prestigious Perrier Award at the Edinburgh Fringe Festival. He's appeared in several films, including Star Wars; Phantom Menace, playing one head of a two-headed monster; and Mrs. Doubtfire, playing a homosexual. His book, "Fowl Play", a comedy novel about murder and date rape, is out of print. He's working on a second novel about the making of a Broadway musical, entitled Runt. He lives on friends' couches.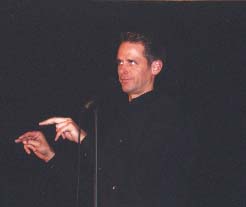 ---
Sun 26 & Mon 27 September 1999


Fowl Play in Gay Paris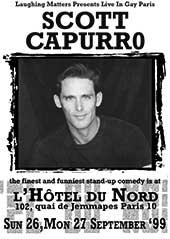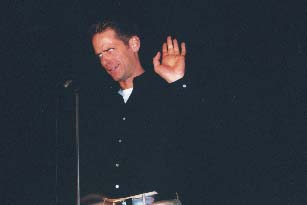 Scott hails from San Francisco and is the hottest gay stand-up comedian on the comedy cicuit. Not a man to mince his words he dishes up a winning mixture of high camp, low living, raw lust and catty banter. Winner of 1994's Perrier Best Newcomer and Spirit of the Fringe Awards his 1999 Edinburgh show "Fowl Play" described as "erect comedy" was appropriately posted as "standing room only".
---