Rich Hall
will not be sowing his wild Quaker Oatss
but he will be
"Shot From Cannons"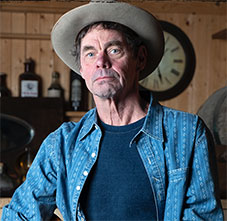 Almost too the day 24 years after his legendary first appearance in Paris
Monday 14th November
7-30 & 9-15pm 2022



11, rue des Canettes Paris 6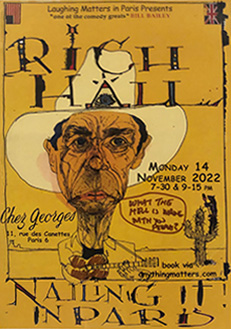 Fresh on the heels of his critically acclaimed memoirs,
" Nailing It"
available in Paris through
Shakespeare and Co or Smith and Sons

Now, Montana's transatlantic messenger returns with new rants,
knife-edge observations, thrilling musical interludes
and an ever-formidable knack for laughs on the fly.

another job exceptionally well dungeoned - twice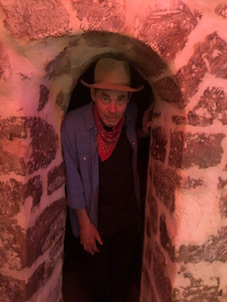 quite a night with a girl from crew, a heckler from santa cruz
rivers of laughter ouseing out of mesmerised audience
---
Deputising for Durst
Rich Hall
and
Jackie Kashian
Friday 11 October 2019
at
Sinaloa
(ex La Chapelle)
19, rue de Lappe Paris 11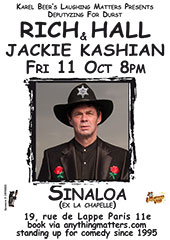 Will Durst was unable to perform in Paris as expected.
At short notice we have managed to find two great Ameriucan stand-ups to deputize for Durst.
From Wisconsin Ms Jackie Kashian who just so happened to be in town
and the man from Montana Rich Hall Eurostared in from London
'cuase he knew the show must go on.
And what a show it is turned out to be.
Thank you Jackie and Rich

---
Laughing Matters hailed for a record breaking 9th time
the award winning grump meister
Rich Hall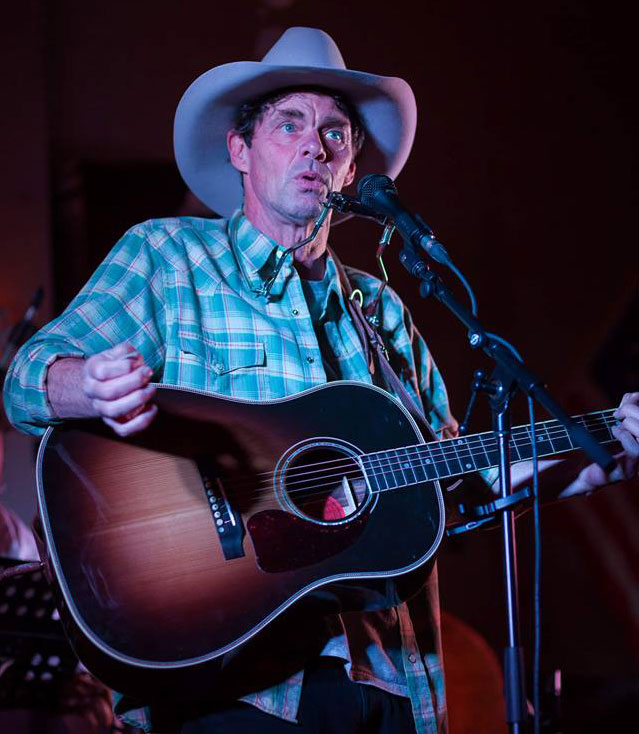 photo John Zumpano
Tuesday 14th November 2017
turn up and tune in for Rich's Sold Out Hoedown
La Chapelle des Lombards
19 rue de Lappe Paris 11
metro Bastille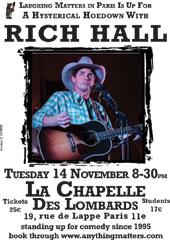 Totally agree about:-)
"..last night - it was absolutely fantastic. Rich Hall at his very best and funniest!
We didn't stop laughing all night and as we all know, laughing really does matter"
Christine
"Thanks a lot for last night. Rich was certainly on form and confirmed once again he's firmly in my Top 2 of your comedians....."
Noble Jon

"Rich Hall show absolutely genius.
A load of laughs. Intelligent and clever.
Thank you Karel for bringng .one of the most entertaining funny guys on this planet to Paris. "
Alicia
"Great stuff last night"
Yan
"my absent friends ---.they all really wish they'd been at Rich's tremendous show last Tuesday!"
Al T
---
Laughing Matters in Paris presents for the 8th time
Rich Hall
he not only brought the house down he packed it to the rafters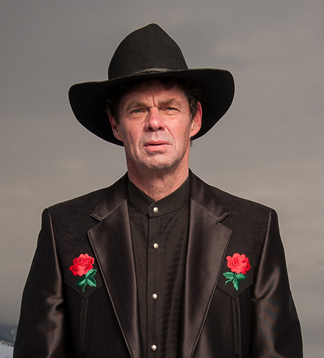 Wednesday 28 October 2015
in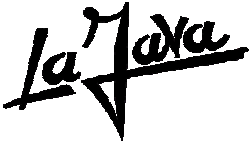 105, rue du faubourg du Temple Paris 10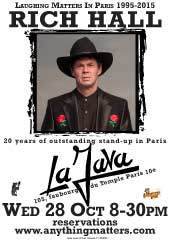 ---
Laughing Matters in Paris presents for the 7th time
The Blueberry Kid
Rich Hall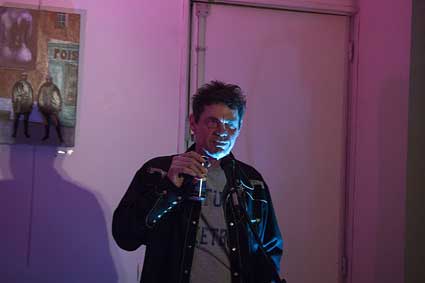 Monday 20 & Tuesday 21 February 2012
in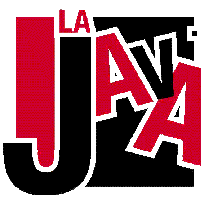 These two nights in La Java have to go down as a couple of the best comedy shows I've ever put on. Rich being in monumental form and enjoying every minute of performing in front of such a savvy and disparate audience. He just loves coming to Paris and he's ever welcome.
Thanks to all of you who came and sussed out the seating arrangements, I hope none of you have grounds for complaint.
After last night's show we came back to the Sound Gallery to unwind and jam with wine, whisky and song thanks to Rich, Rob Armus, Rodolphe Burger, Chris Kenna and Melissa Cox who played some Jimmy Reed, Rolling Stones, John Prine, Gram Parsons, Robert Johnson songs as well as a bunch of originals. Though nothing by a Willie or a Williams!
(You'd have to have been to the show to get that.)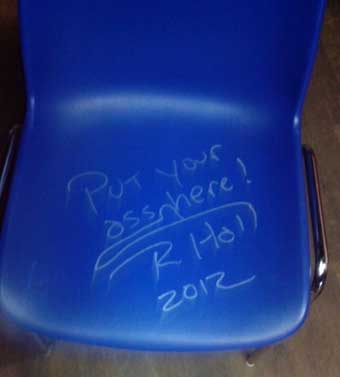 Comments from Rich's 2012 shows

yeah, it was definitely the best one yet. thanks. RH
Just a note to tell you how much my friend, husband, and I enjoyed Tuesday evening!
It wasn't as packed as I'd anticipated and we were able to pull up stools close to the stage
(on the side of the hand dryers). We parted the place feeling those endorphins all the way to our toes
from laughing so much - soul candy. Katie Cooksley
Thanks again for organising yet another fantastic show. Roll on the next barrel of laughs en anglais .... Elizabeth Sheehan
Thanks Karel - we all had a fantastic evening last night.
Rich Hall was indeed on fantastic form. Christine Burls
Rich was hilarious last night Karel. I'm sooooo glad I didn't take you up on your offer of a front row seat!
The Huguenots will never be the same again. Alexander Summerfield
very much enjoyed the show - thanks for organising it for us people who have chosen to base ourselves in semi-exile by living in Paris......
I hope I didn't put him off his stride with my chocolate remark. Laura Roberts
Karel - thanks again for putting the shows on!
Monday night was brilliant: the combination of act and venue was perfect. Simon Poulter
Well done, Karel. Great show. Richard Hadley

EXCELLENT as usual - please can we make Rich an annual event at least ;-) Jon Noble

And how ! Ian Honeyman

Rich Hall show was fantastic. Lori Thicke

..to Rich, Melissa and you for another excellent night out last night at La Java.
And to be mercilessly publically slayed by Rich for my involvement in wind energy, only to be immortalised by Otis Lee Crenshaw 30 minutes later? What an honour. I was thrilled. Chris Hooley

Thank you SOOOO much for organising such a great time - my friends and my first time at your haunt and we had a great time – laughing and laughing - good for the soul especially in mid February
Please don't stop what you are doing – bringing in such great acts and keeping us in good spirits all year long. Alexandra Kostiv
Laughing Matters in Paris presented
Rich Hall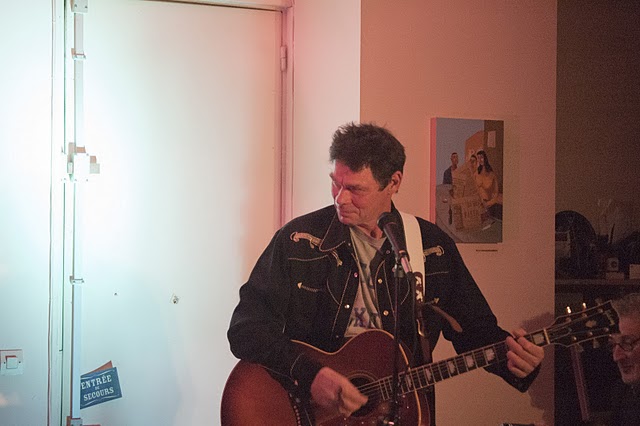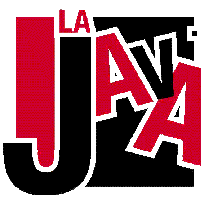 23rd February 2011

abetted by Melissa Cox & George Wolfheart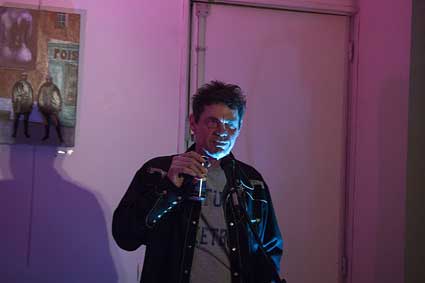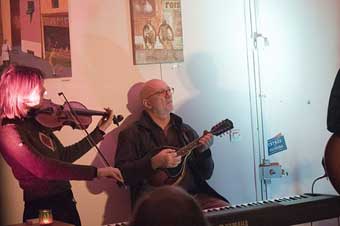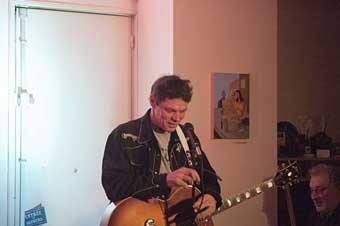 photos Randy Saharuni

"Memorable" Martin Dixon

"An excellent evening! Thanks Karel..." Alex Summerfield

"Hi, Karel. In true British fashion I just want to thank Rich Hall, and of course you, for the best evening we've spent in a long time.
It was non-stop laughter - a class act." Lindsay Lightfoot

"BRILLIANT!!!
Thank you Karel, That was the best show yet!
As I told you, I managed to persuade 5 colleagues to come along and I assure you they were not in the least bit disappointed! " Warren White

" Karel That was an absolutely magic night of comedy by Rich Hall last night. Just wonderful.
Get him back before too long." Richard Hadley
PS I'm only sorry I didn't come Tuesday night too

"That was two "fubits" (units of fun for me)" Justine

"Great night last night Karel. Thanks. Keep 'em coming!!" Darren Ashman
"La Java is better for comedy than the Hotel du Nord" Rich Hall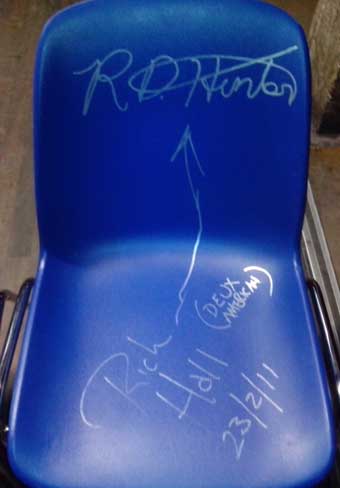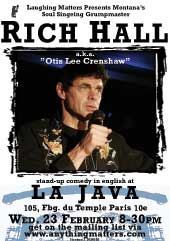 ---
Laughing Matters In Paris Presented for the 5th time
The Mean & Moody Man From Montana
Rich Hall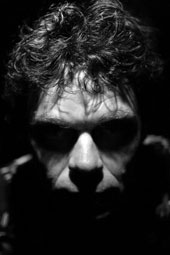 Perrier - Emmy - Time Out - All Round Winner
La Java
Tuesday 21 & Wednesday 22 February 2006
click on the photo below and you can not only hear the sound of the shutter
as the actual snap was being snipped but also Rich serenading Helen from Exeter
it ain't jazz but it sure is funny.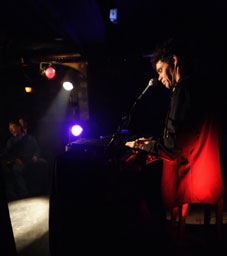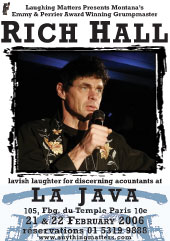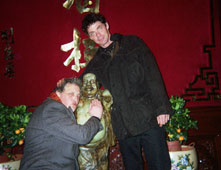 my buddah is rich

rich and reg share a chair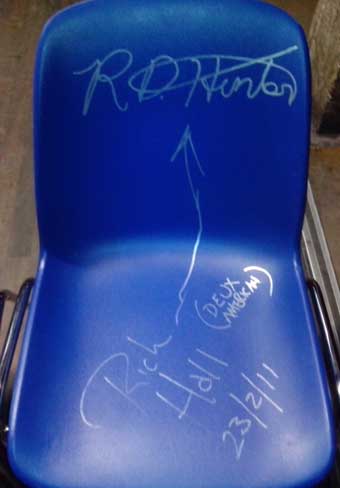 ---
laughing matters presents for the 4th time
from america
perrier, time out & emmy award winner
Rich Hall



tue 17 & wed 18 june 2003
"I (personally) think Rich Hall is the funniest comedian I have seen at Hotel du Nord" Jon Noble