tuesday 5 & wednesday 6 july 2005
La Java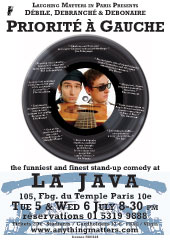 watch priorité break the news about who won the olympic bid on 6th july
click on the chair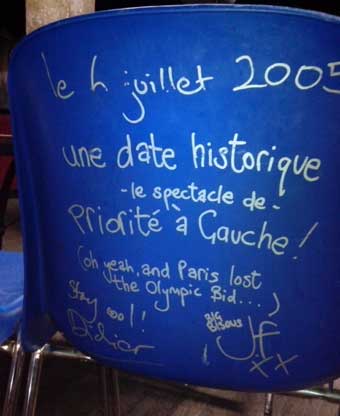 THE TIMES
Bienvenue to the madhouse. The ancient art of franglais gets a new lease of life on Priorité à Gauche, a wry spoof of all things gallic…Taking their cue from all-time greats such as Johnny Hallyday, the pair pose as Jean-François and Didier, two pop celebrities from the other end of the Channel Tunnel. Naturellement, we are not so familiar with their oeuvre, but that does not deter them from serenading us with greatest hits, which include some painfully funny Parisian rap…Jean-François and Didier are, as they like to remind us, very much 'dans la maison'.
THE DAILY TELEGRAPH
... a pair of spoof try-hard Parisians, who delight in linguistic faux pas... It's lovely stuff, yet so much more than just glib Frog-bashing... Add to all this the duo's exceptionally relaxed, good-natured stage presence and you have one of the most engaging, thought-provoking nights out on this year's Fringe. (Mark Monahan) 'Without doubt the find of the Fringe so far, a glorious hour of cod Europop and cross-Channel misunderstandings' (Fiona Mountfield)
THE INDEPENDENT
The act is nicely observed; the whole routine, with its Gallic shrugs, over-pronounced vowels and casual French badinage, is endearingly funny. (Sally Chatterton)
LE MONDE
Vêtu d'un tee-shirt bleu-blanc-rouge, rouleur de mécaniques entêté et dragueur ingrat, porté comme il sied sur le pinard, Didi, le chanteur, se trémousse comme un Johnny Hallyday de pacotille revu par Coluche. Sympa, fleur-bleu, un tantinet timide, Jean-François, le conteur, est gêné par le langage cru et les allusions sexuelles cousues de fil blanc de son compère.
Avec un superbe esprit de dérision et une énergie prodigieuse, le duo casse tout ce qui lui tombe dessus : la bouffe britannique, la maladie de la vache folle, les filles anglaises à la fois délurées et puritaines, les beds and breakfasts, l'arrogance. Bavards, sales, volages, fraudeurs... ainsi apparaissent les deux personnages de Didi et de Jean-François, véritables concentrés des traditionnels préjugés d'Albion envers les « grenouilles » (frogs).
Les jeunes comédiens-auteurs anglais, mènent tambour battant le spectacle Priorité à gauche, dans la maison. «L'une des visites essentielles du programme de comédies du Fringe » (Melody Maker), « rafraîchissant, merveilleusement ridicule » (Daily Express), «amusant et original » (Daily Telegraph) : les critiques, eux, portent aux nues ce qu'ils considèrent comme l'un des meilleurs cabarets du festival Fringe (alternatif) d'Edimbourg. Cette parodie des moeurs franco-britanniques fait salle comble tous les soirs au Pleasance Theatre. Le public applaudit à tout rompre les retapes démago et les apostrophes rieuses de Didi et de Jean-François qui tentent d'expliquer par le rire pourquoi, malgré cet amour de la France, les Anglais vouent une détestation cordiale aux Français. Qui le leur rendent bien...
« Les sketches sont de portée universelle et ne nécessitent aucune connaissance du français. On a surtout voulu éviter les stéréotypes. Les deux personnages parlent l'anglais plutôt bien, mais ils butent sur leurs mots pour l'effet de scène. Le show ne se veut pas une critique des Français, mais de la manière dont les Britanniques voient les Français et vice versa », insistent nos deux comédiens.
---