Karel Beer's Laughing Matters In Paris Presents
Stand- Up Comedy On The First Wednesday Of The Month



The Great Scot
Phil Kay

live and kicking
Chez Georges


11 rue des Canettes Paris 6
metro St Germain des Pres / Mabillon
Wednesday 5th February 2020






Come Join Phil Kay in two-halfs of unstoppable laughs&storys..
The legendary Scottish Storyteller and master of mirth.
"..mesmerising headfuck genius."TimeOut
Come and hear all the best stories from very creative comedian...
eg:'Worst stage dive EVER..'.&..'Nearly Killed By Horses...'
It's A Bawdy stream of comic consciousness.
He's Still wild,anything could Happen.
He has done 29 Edinburgh Fringe Festivals in A Row,
SO He Must Be Good!
' "Top Three Alcolholic Blackouts....','...
Shat Himself at a Music Festival.'

Down in the Dungeone


St Germain de Kay


---

Phil Kay

Monday 4 & Tuesday 5 May 2009

when he was here in 2002 phil came he saw he conkered, he locked me out of my office at 2 a.m.,
lost me a mobile phone, had the bike stolen that I rented for him,
dropped my guitar several times and had six Time Out staff members ejected from the gig !
That's the high priest of brinkmanship... oh and then when he arrived back in England he called to say he'd left his own phone in a shop near the canal...
he was back in 2004 for shows in both Paris and Milano
(from where he had every intention of copulating in a gondola in venice during his sojourn)
be prepared for nothing being prepared 'cause anything can happen and almost always does
when Phil very special Kay comes to town.




ferry tales with phil
Uploaded by anythingmatters

---

Laughing Matters presented
Phil Kay
Lock up your bicycles the lad's back !



Sunday 19, Monday 20 & Tuesday 21 september 2004


The last time Phil was here he lost, mobile phones, a bicycle and various articles of clothing but he made a lot of new friends and even more people crack up with laughter... one of the all time great stand-up unpredictables and the one who started the comedy ball rolling at the HdN seven years ago.
---
Laughing Matters in Paris
he came he saw he conkered,
Phil Kay
Serial hilarity at



Sunday 13, Monday 14 & Tuesday 15 October 2002
---
Phil Kay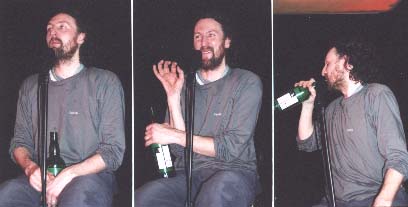 The photos are in colour, the whisky is in Phil


Sunday 4th, Monday 5th & Tuesday 6th February 2001
When Laughing Matters moved to the Hôtel du Nord in 1997 Phil Kay inaugarated the new venue. He not only pulled the old red velvet curtain off the back rail but also one of the biggest crowds we'd seen for comedy in Paris. After his two nights of mind blowing free-form hilarity it was decided that in future we should spread future shows over three nights and get him back for some more high octane nonsense as soon as possible. It has taken three years for one of the finest and most spontaneous comedians, on or off the circuit today, to fit us into his erratic schedule, but it is certain to be worth the wait. For those of you who have never experienced one of his tours de forceps, Kay's comedy is a unique blend of anarchic energy, jokes, improvisation and Olympic leaps of imagination which leaves an audience dazzled and helpless with laughter at the same time. He possesses that rare gift of making an audience feel like they're kids again and an active part of his practical jokes. To go to Phil's shows and expect stand-up would be a big mistake anything can happen and invariably does. Last year on Channel 4's 'Big Snog', Phil was to be found leaping in to the audience on top of a surf board and riding the Mexican Wave to the back of the studio. What other comedian would do that - and get away with it? Plus we've got a new black back curtain since his demolition job.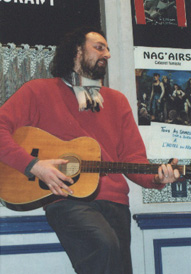 ---
Phil Kay



23 & 24 November 1997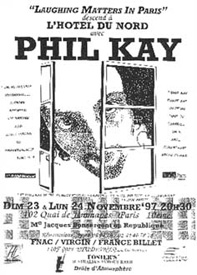 "should we do this again ? "