Laughing Matters in Paris presents the
Perrier Award winning star of Black Books
Dylan Moran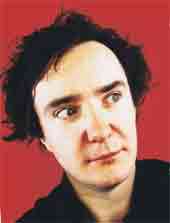 b.1971, Navan, Co Meath



sun 28, mon 29 & tue 30 march 2004
Dylan and Laughing Matters go back a long way. He was one of the pionneers back in 1995 when the shows were staged in the Erotika up in Pigalle. At the time he was unknown and quite brilliant. Few people came to see that inaugral show. By the time he returned to Paris in 1998 he'd won the Perrier award and become very hot property. A lot of people came to see his three night standing room only run at the Hotel du Nord and he was still an incredibly gifted stand-up.
It's been hard to get him back, TV & cinema have made demands on his time but at last we managed to collar him and get dates in on a massive tour that will visit all of the UK, Brussels, Milan and New York.
When it comes to personal details, Dylan Moran is a bit of a man of mystery. He's Irish. He has dark hair. He's very, very funny. In 1993 he won Channel 4's So You Think you're Funny award. Three years later he won the Perrier Award for Comedy at the Edinburgh Fringe Festival.
He proved his worth as a dramatic actor in How Do you Want Me?
He played Rufus The Thief in the 1999 blockbuster romantic comedy Notting Hill and starred with Michael Caine in The Actors, but he is probably most famous for his sit-com Black Books. Moran's unique brand of dry humour and surreal situations bring the setting of an old book store to life in the most unexpected ways.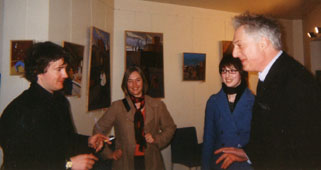 Dylan and Peter Blegvad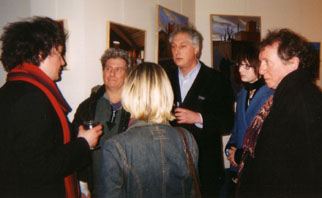 Dylan plus Pip Pyle, John Greaves and Peter Blegvad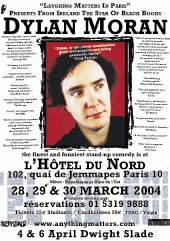 ---
Dylan Moran



22, 23 & 24 February 1998