Laughing Matters in Paris presented
the author of"Only In America"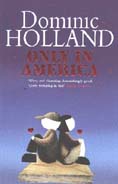 Dominic Holland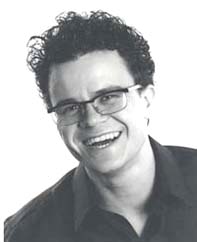 Sunday 14, Monday 15 & Tuesday 16 April 2002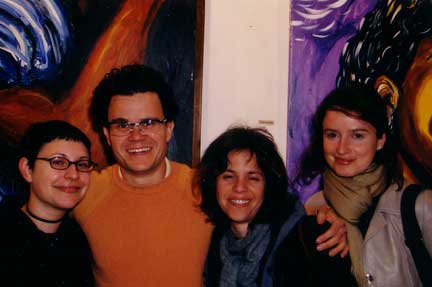 Dominic and the 2002 Charmada
Amber, Chrysoula & Deborah

"One of television's quickest wits" The Daily Telegraph
Dominic Holland is rapidly carving out a brilliant reputation as a professional comedian and hilarious after-dinner speaker. He has performed three highly acclaimed sell out "One Man Shows" at The Edinburgh Festival, winning the Perrier Best Newcomer Award in 1993 and more recently a Perrier Nomination at the 1996 Fringe.
It is Dominic's material that sets him apart, he is never offensive and totally professional, using acute observations, that relate to his audience he is a joy to listen to. He has a very personable stage presence and always makes his shows relaxing, intimate and hugely enjoyable. He is now one of the country's most respected comedians playing regularly at The Comedy Store and Jongleurs and performing full length shows at Theatres all over the country.
More recently Dominic has embarked on a writing career. He has written for Bob Monkhouse, "On the Spot" and the last BBC Clive Anderson series.
In addition, Dominic has made a number of guest appearances on such shows as "Have I got News For You", "The Clive James Show", "The Brian Conley Show", "The Des O'Connor Show", BBC 1's "The Stand Up Show" and Edinburgh Nights, BBC2, "Best of Edinburgh '99".
His acting credits include "Young Person's Guide to Becoming a Rock Star" and the film "Tube Tales". He has also appeared on "Never Mind The Buzzcocks", "Bring Me The Head of Light Entertainment" and "That's So Graham Norton".
The Small World of Dominic Holland show for BBC Radio 4, which was broadcast in August 2000, featured as one of the most popular comedy shows with the listeners of that station.

"Excellent - judged the audience well; delivery was outstanding; material was spot-on. It's not easy to make a room full of accountants laugh! Honest guv! " Arthur Andersen

"A comedian who makes you feel glad to be alive". The Guardian

" Dominic Holland is like an old school friend who you bump into on a train. He appears slightly nervous at first, but soon relaxes and keeps you laughing for more than an hour as he brings you up-to-date on his life. You get the impression almost everything Holland says about his life on stage is actually true. He has no comic persona or set of characters, relying solely on his natural charm. While he might give the impression of not being in the race at all, he will be up with the front-runners for a long time to come. " BBC News Online
"Dominic Holland is a certain comedian who makes you glad to be alive"
The Guardian
---