Sunday 27, Monday 28 & Tuesday 29 April 2003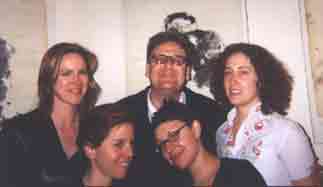 greg, jennifer and the charmarda - missing the ocelot a lot

Greg's good luck charms
I travel a lot on plans and in cars, so I feel I need all the back-up I can get. I carry champagne corks with coins in, little Buddhas, a shark with a pin saying London in it, dice, metal skulls, baseball cards, pictures of Jesus and more. I can't complain, because so far I've been saved. I didn't travel until I was 20 and became a comedian. I hadn't even been to England until I started doing Whose Line is it Anyway? in 1989. It's what I most like to waste money on -- Paris, Scotland and Turkey are my favourite places.
Greg Proops is an American comedian, improviser and actor, who has been a regular cast member on Channel 4's popular long-running improvised comedy show Whose Line is it Anyway? almost since it's inception. An established stand-up comic both in the UK and the States, Greg's sold-out one-man show was nominated for the prestigious Perrier Award at the 1993 Edinburgh Festival. He followed this up with further sell-out seasons at Edinburgh in 1994 through to 1997, and indeed in 1996 he not only performed his stand-up show but also hosted his own chat show. On his trips to London, he is frequently invited to guest with the Comedy Store players. He has also performed at the Kilkenny Comedy Festival and the Melbourne International Comedy Festival.
Greg was born on October 3, 1959 in Phoenix, Arizona. In 1962, his family moved to Lancaster, California, and in 1966, to San Carlos. He studied acting in San Francisco State, and formed the partnership of Proops and Brakeman, a stand up duo with his good friend in 1982. He then joined an improv group (Faultline) with future "Whose Line is it Anyway?" contestant, Mike McShane. Greg has been married to an artist named Jennifer for 12 years now and claims he is unworthy of having her. They don't have any children. Greg has appeared on, and even hosted, several TV shows. He has also been in such movies as "Star Wars, Episode I: The Phantom Menace," and "The Nightmare Before Christmas." Greg has made notable guest appearances on shows like "3rd Rock from the Sun," "Talk Soup," and "Win Ben Stein's Money." What does he want to do entertainment-wise in the future? "I'd like to play a bad guy in a cool movie."