Laughing Matters in Paris presented
some last-minute.comedy with the coherent Canadial
Glenn Wool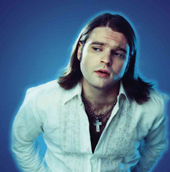 sunday 22 february 2004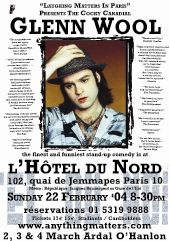 Glenn began his comedy career eight years ago in his home town of Vancouver.
He moved to London four years ago and quickly became one of the rising stars of the London comedy circuit. Glenn also gigs at venues around the country and has recently been touring with Ed Byrne. In 2002 Glenn performed on the prestigious comedy stage at the Glastonbury Festival, the Kilkenny Comedy Festival and the South African Comedy Festival.
Glenn is currently appearing at the Melbourne International Comedy Festival. From Melbourne, Glenn will travel to New Zealand for the International Laugh Festival and he will then return to Australia to start a national tour. Glenn took his first one hour solo show, Bizarre Cocktail to the Edinburgh Festival last year. His edgy and incisive material attracted a great deal of attention and the show sold out and received great critical acclaim.
TV Credits include The BBC Stand Up Show and BBC's Edinburgh Comedy. Glenn appeared as a guest last autumn on BBC Northern Ireland's music show, Elvis Has Left The Building. More recently he has starred on the BBC's Live Floor Show.
"You have to go and see Glenn Wool" The Guardian
" Well worth an hour of your time" The Independent
" Tipped for greatness" The Telegraph
"He is terrific on drugs. I was impressed" The Scotsman
"Lethally funny" Metro.
"Hand-wash Only." Boothby Graffoe