Dave Fulton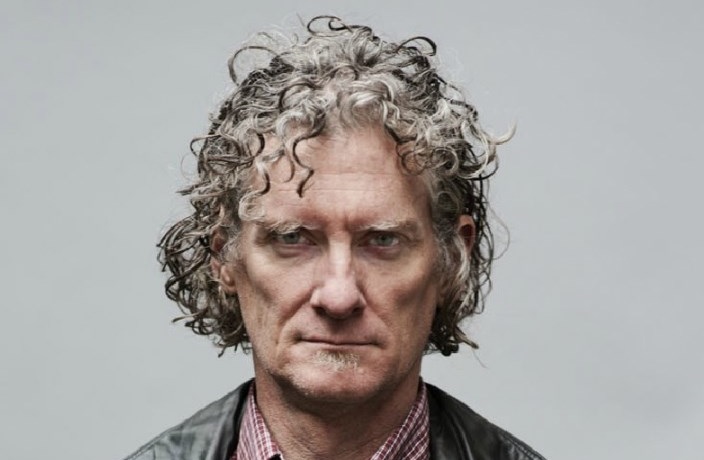 Tuesday 6th June 2017
La Chapelle des Lombards
19 rue de Lappe Paris 11
metro Bastille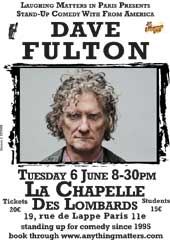 ---
Laughing Matters Presented the ex-ambassador of absinthe
38 in the room and one down the pipe


Dave Fulton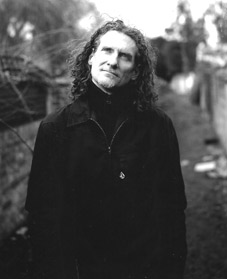 Tuesday 8 May 2007
La Java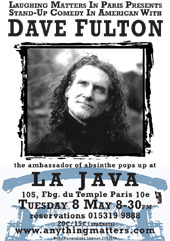 Scraggy US comic Dave Fulton easily demolishes two misplaced national stereotypes: that Americans have no sense of irony, and that they're all a bunch of right-wing gung-ho warmongers. He's laid-back, but it conceals a steely aggression; he's no-nonsense and down-to-earth, but impressively well-read; he's relaxed but arrogant. Don't go looking for clear-cut gags, for example, but instead enjoy the company of a innately funny guy who is a master at rock-climbing and an ace pillion passenger. (The first in a long line of comedians to straddle the peugot). This Paris show will be a preview of his forthcoming west-end run at the Soho Theatre.
---
Seattle's croissant commander extraordinaire
Dave Fulton
+ Chris Duffy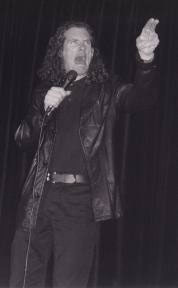 The ambassador of absinthe returned to equal Ross Noble's short lived record for the most appearances* in Paris
Two nights only !



Monday 2nd & Tuesday 3rd April 2001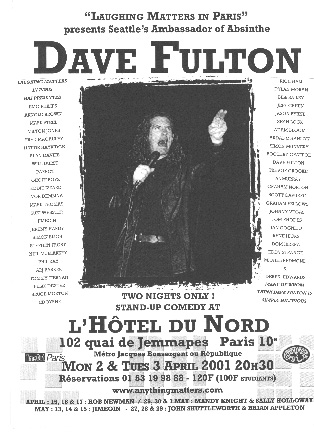 Absinthe makes the laughs last longer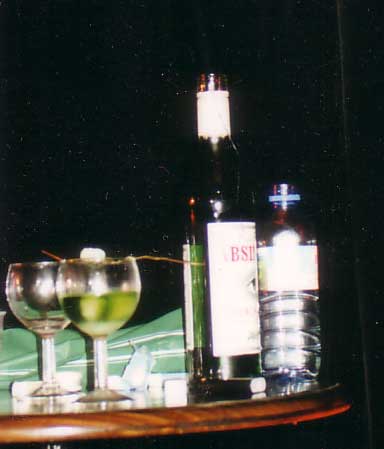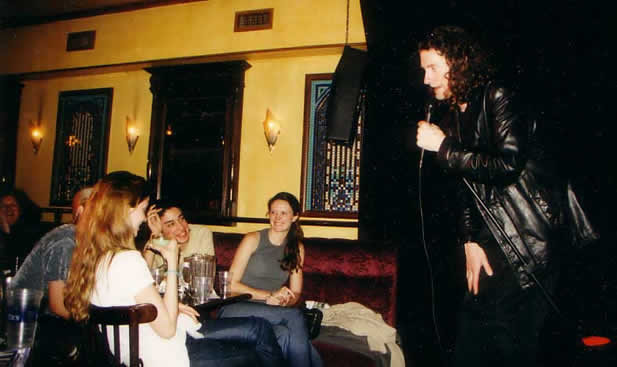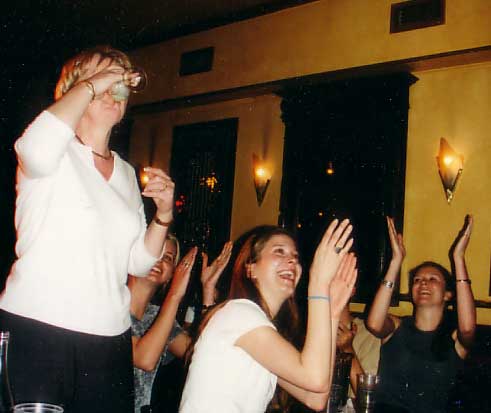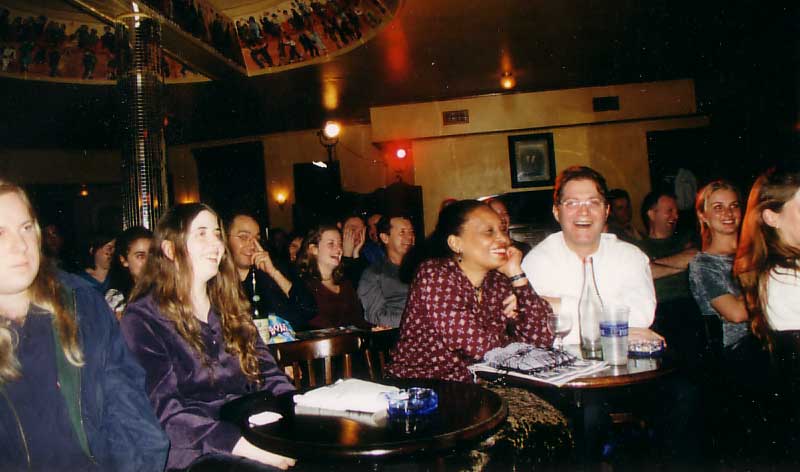 This is the man who has done more for Absinthe than Jimi Hendrix did for lighter fuel. He made history last year when he reintroduced the wee green devil back into the HdN after eighty odd years of absence and abstinence. Anyone who saw the after-math- effects the potent liquid had on Tom Rhodes back in July will have good reason to stay away from the front row. So expect two nights of no nonsense, authentic observations from this Seattle based comedian who pulls no punches and is in my opinion still one the best pillion passengers on the planet. One of the most dynamic and innovative performers on the comedy circuit he socked it to them in Edinburgh in 1999 and is currently making surf-sized waves in the UK.
A comic giant with unmanageable hair, a nose as sharp as his wit he does in fact *hold the record for the number of times he's done shows (four in all) here, even if he only equals Ross for the number of nights played.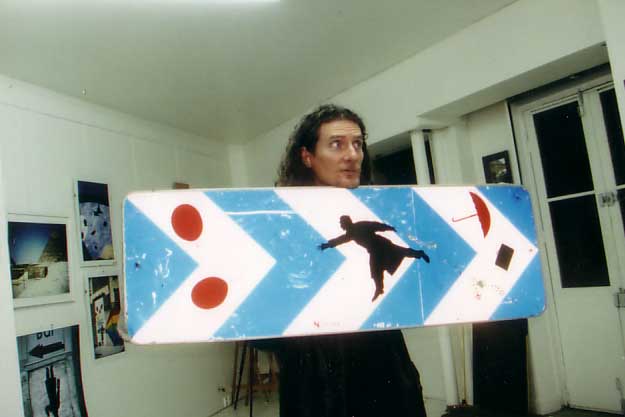 ---
DAVE FULTON


Sunday 9th & Monday 10th April 2000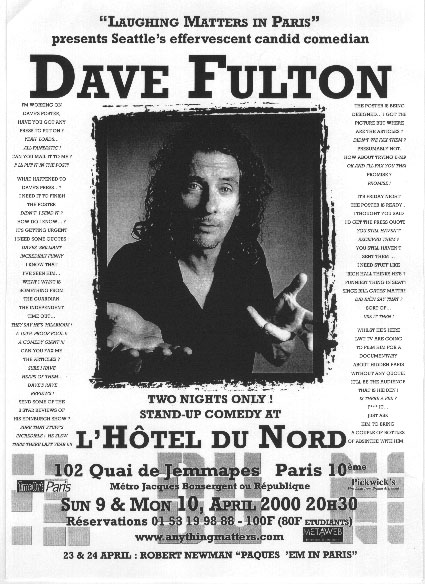 When Dave stopped off in Paris last May for just the one night he reduced us to tears with his bright and brittle humour. Well now we know what he looks like we can put a face to the dude in black. This is the man who not only helped reintroduce absinthe to Paris but is also the coolest pillion passenger I've ever had on the back of my saddle.
Two nights of no nonsense, authentic observations from the funniest thing from Seattle since José Bové went global.
One of the most dynamic and innovative performers on the comedy circuit.
---
Some of the feedback after Dave's first
hastily organised Paris 5-5-99 show in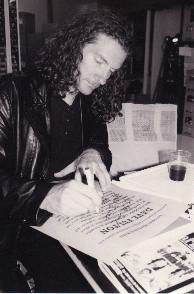 Dave wines & signs in 1999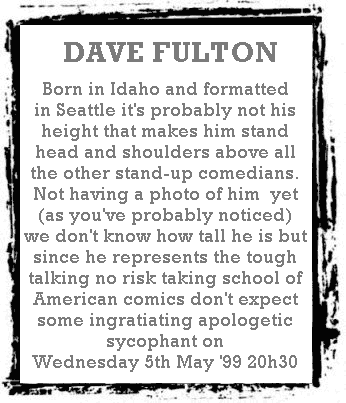 Dear Karel, Thank for the wonderful Dave Fulton's show yesterday. You've did a miracle to gather together this audience in so short time!

Hi , Karel.It turned out to be a really successful fun evening , didn't it? We're glad we went.You certainly have a HUGE crowd of people on your e-mail list!!If they all write to you after this last show, your PC might get jammed! Dave Fulton has a very attractive personality , relaxed, & most entertaining .We liked his style ; not heavy or corny or agressive. It must be the most difficult of all theatrical arts , being funny & talking non-stop for 2-3 hours like that , AND holding the audience's attention .In fact, I lost track as to how long his show did last. He must have had quite a gruelling tour & to boot, a show during his time off .He obviously doesn't know us or anyone from Adam , but please say a big thankyou to him for us , if he's still with you & that we were really uplifted , needing ,a light break!I'll tell my brother in Houston to go & see him if he ever has the opportunity.