Laughing Matters in Paris Presents from Ireland the Incredible
Ed Byrne
+ the bawdy Geordie
John Fothergill
La Java
tuesday 12 & wednesday 13 april 2005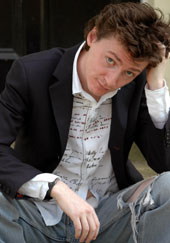 click on the mike to hear Ed back in 2003
if you know who walked into the glass door drop us a line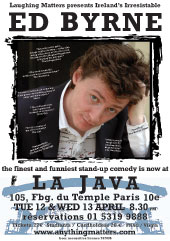 Ed Byrne remains one of the strongest observational comics around.
Instinctively sensing the ridiculous in everything, he dresses sharp social satire in throwaway banter, belying the talent that's gone into the writing.
For beneath the Irish insouciance, the material is crisp and efficient - observations lesser comics might stretch a two-minute routine out of are efficiently despatched with a devastating,
and hilarious, one-line that sums it all up.
His set is based firmly in the everyday. It's about smoking and dentists and mobile phones and affectionate nicknames. True, the things he says might have crossed many a mind before his, but his skill is to expresses it with a wit and eloquence few others can master.
That he comes across as a friendly, honest-to-goodness sound bloke is no hindrance, either.
It all goes to make Byrne a classy, assured stand-up
who continues to lead the field in what he does.
chortle.co.uk
---
Laughing Matters presents from Ireland
Ed Byrne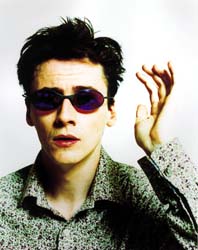 Monday 17* & Tuesday 18 March 2003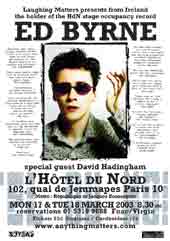 Ed Byrne remains one of the strongest observational comics around.
Instinctively sensing the ridiculous in everything, he dresses sharp social satire in throwaway banter, belying the talent that's gone into the writing.
For beneath the Irish insouciance, the material is crisp and efficient - observations lesser comics might stretch a two-minute routine out of are efficiently despatched with a devastating, and hilarious, one-line that sums it all up.
His set is based firmly in the everyday. It's about smoking and dentists and mobile phones and affectionate nicknames. True, the things he says might have crossed many a mind before his, but his skill is to expresses it with a wit and eloquence few others can master. That he comes across as a friendly, honest-to-goodness sound bloke is no hinderance, either.
It all goes to make Byrne a classy, assured stand-up who continues to lead the field in what he does.
chortle.co.uk
This is the show we've been waiting over five years for, since his record breaking stint in 1998 to be precise. It's been tough to get him back but he owed us a gig ever since he pulled out of Paris in favour of Melbourne two years ago and now he's coming through with the goods, and what goods they are! My only complaint is that he's only able to fit two French nights in on his major UK tour, the early birds will get this worm, so be sure to dip your beaks in the ink-pot and book early.
2002 saw Ed Byrne's live shows go through the roof. He completed a massive 60 date tour which has left promoters and venue managers stunned by the response.
At 1999's Aspen Comedy Festival (US Comedy Arts Festival) the only UK comedians invited to perform were Eddie Izzard and Ed Byrne. By the end of the Edinburgh Festival of the same year the Fringe Box Office announced that Ed Byrne was their biggest selling comedy show. 1999's Edinburgh Festival saw Ed playing in a massive 600-seat room in the Assembly Rooms. He sold out ten days there and had to add further dates because of the demand.
Over the past two years Ed has developed phenomenal success on the international circuit where he ahs performed to capacity audiences in Montreal (Just For Laughs), Dublin, Paris, Singapore, Sydney, Melbourne, and New Zealand. Again, response was such that at both Melbourne and New Zealand extra shows had to be added to cope with the demand, and ensuring that Ed was the biggest selling act at both festivals. Ed's draw is such that in New Zealand only two other international comedians can top his sales - Michael Barrymore and Billy Connolly!
In addition to his stand up work Ed has hosted the GLR Children in Need show at the Shepherd's Bush Empire, showcased at The Melrose Improv in Los Angeles, presented a music show for Channel 4 (Vinyl Tap) and presented the behind the scenes coverage at the MTV Music Awards. With his stand up he has made dazzling appearances on BBC's The Stand Up Show, Late Night With Conan O'Brien (NBC), C5's The Comedy Store, UK Gold's Live at Jongleurs and Des O'Connor Tonight.
Ed is now seriously developing his acting career. He has recently completed filming a feature film, RAT (Universal Films) produced by Alison Owen (Ruby Films) where he plays the role of Rudolph. Previous to this Ed was seen acting in the Chaennl Four Sit-Com Festival in July and also had a principle role in an Absolutely Productions Sit-Com pilot, Jesus Green. Radio includes a new comedy play, The Pig's Back (Radio 4).
Best Live Act Nominee, British Comedy Awards 1999
and in November 1998