Laughing Matters presented from Canada
1995 Vail National Comedy Invitational Award Winner
Derek Edwards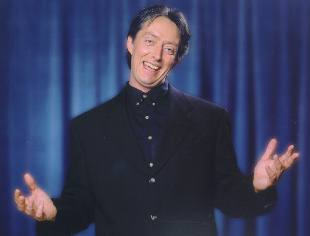 Sunday 18th, Monday 19th & Tuesday 20th March 2001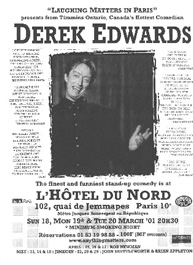 Karel's Comedy Coroner's Report :
There were quite a few firsts associated with Derek's trip to Paris. Apart from being the first Canadian to appear here he was the first comedian to miss Eurostar and arrive at the Gare du Nord a mere ten minutes before he was due to take to the stage. There was a little pre show tension lurking around in his frame as his moment under the spotlight approached. Monday night's show was the first time that we've had more sandwiches on the bar than people in the seats and James had only made 18 ham and cheeses. Another first happened after Tuesday night's show when one member of the audience came into my office cum dressing room next door and tried to give Derek 2000 francs because in the donor's words "The show was worth it, you deserve it and I'm rich anyway." Needless to say we accepted his appreciation but turned down the offering. "Buy tickets fro 20 of your friends for the next show" we suggested. Presuming he has 20 friends. If he doesn't free tickets to a great comedy show could well be a way of making and keeping them.
Well Derek was a delight and even if his shows were poorly attended (or maybe because it was such an intimate crowd - " more like jury than an audience " Derek said) he was a total blast. Very refreshing after the throngs and madness of the stream of consciousness boys of late.
I always get a special buzz putting on a show with comedians I've never heard of, let alone seen perform, but just come with a solid recommendation from their agent or a fellow stand-up. One day I'll book a lame duck I'm sure. But so far so good. When Derek arrived in Paris at 8-40 in the evening he'd just spent the best part of 11 hours raveling to Paris from Liverpool and didn't even know how many nights he was playing for here, nor how long his set was supposed to be. His eyebrows went roof wards when I told him it was not set but sets and that as a rule the acts do a good hour and a half, easy! Well Derek perhaps to his own amazement did over 90 minutes each night and received well deserved cries for an encore. Which on two of the three nights he gave.
Bio.
Derek Edwards, winner of the prestigious 1995 Vail National Comedy Invitation, is a hilarious beer-loving, regular-working-guy, hoser-philosopher, whose rambling rural monologues have more twists than a back country road. Whether he's talking about the line-ups at Tim Horton's, drunk taxi drivers or the fact that Norway has over 100 words for reindeer, his down-home style and impeccable timing make for a keg of laughs.
Timmins' Ontario's second biggest entertainment export (after Shania Twain), Derek Edwards is a favorite at colleges, universities and theaters across North America. His numerous television appearances include A&E's Comedy on the Road and The Comedy Network's Launch-A-Thon. In 1977, he was featured in a gala performance of the Just For Laughs Comedy Festival in Montreal.
---