sunday 19 & monday 20 June 2005
La Java

Daniel is without the shadow of any doubt one of the funniest
& most original stand-ups in the world...
that's why he's won just about every award you can get on your mantel-piece,
has the approval and admiration of the entire comedy community...
and is such a hot ticket that when he came in 2002 we had to add an extra night.
This will be his 5th time in town - book early...

"F.f..f..f..f..f..f..f.uckin' b..b..b..b..rilliant!." Lee Mack

"Daniel Kitson is a contrary, childish, brat...and I love him like a brother.
Go see him. For the love of God just go see him." Adam Hills

the karel the dawg chair

---

Laughing Matters presented for the fourth time
South Yorkshire's windswept award winning champion tea drinker
Daniel Kitson

sun 25, mon 26 & tuesday 27 january 2004




Yes indeedy Daniel's back ! Currently holed up in New York making his US debut he'll be in Paris for the 4th time in 3 years... why ? Because he's that funny and he's one of the girls favorites
and he's not half bad on the back of my scooter.
Karel"

F.f..f..f..f..f..f..f.uckin' b..b..b..b..rilliant!." Lee Mack

"Daniel Kitson is a contrary, childish, brat...and I love him like a brother. Go see him. For the love of God just go see him." Adam Hills


---

Laughing Matters once again had the pleasure
of presenting the irrepressible
Daniel Kitson



Mon 17 & Tue 18 February 2003


---

Laughing Matters in Paris presented from Barnsley
the teacup storming 2002 Perrier Award Winner
Daniel Kitson

back with a chopping board at the



Sunday 24 , Monday 25
& Tuesday 26 November 2002
plus bonus show on Wednesday 27th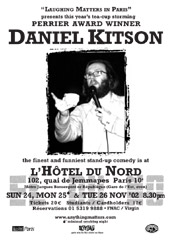 So funny it's hairy !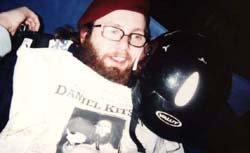 "Daniel Kitson was a highlight of our trip to Paris. Thank you for providing such a fun lively venue. We had a blast. " Amy Scofield
Comedy regular Phil (Raz) Bradbury, wrote the following after Daniel's bonce boggling shows
"Daniel Kitson was dynamite last night. A comedy juggernaut that no French Trucker's barracades could ever hope to contain!
Thanks once again for another outstanding night at the legend that is the HDN."
TTFN, Raz 25/11/02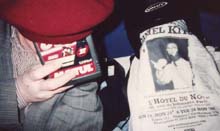 ---
He came, he saw, he coughed a lot
and blew his nose rather loudly !
The Barnsley born and Barnsley bred
2002 Perrier Ward Winner
2001 Perrier Award Nominee,
winner of the Time Out Comedy Award
& also the Chortle award
Daniel Kitson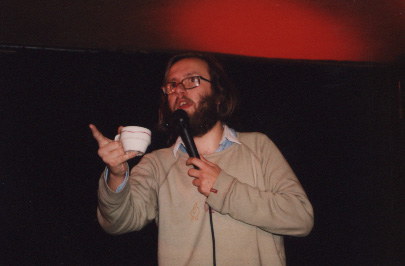 "everyone's cup of tea"



Sunday 24, Monday 25
& Tuesday 26 February 2002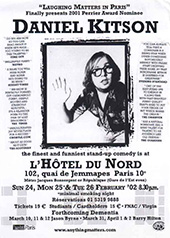 "Thanks for a cracking laugh with Daniel Kitson last night, Karel.
Dan the Man deserves massive plaudits for battling through his gig obviously well under the weather. I have no doubt that he is brilliantly funny and destined for big things.
I truly hope he can come back to Paris again and give us a flu-free performance in the future. All power to his anti-bodies today!!
On behalf of us all, thanks again, Eurocontrolling with a headache but still laughing!"
February 2002
When he wasn't on stage he was sick as a dog in bed back at the hotel and when he wasn't in bed he was on the back of my scooter getting the paparazzi's eye view of Paris in 360 minutes. From the Alma underpass to the tip of the Eiffel Tower Daniel got to see Paris for the first time, took lots of flu removing medicine, drank pots of tea (the) and was incredibly funny. Whether competing in a courgette chopping contest, getting to grips with Britney's roadie or mocking the flock of farmers it was comedy at its very best. He'll be back "fitter and funnier" he says, though it may be hard to be funnier. Catch him in October after his London run.
Karel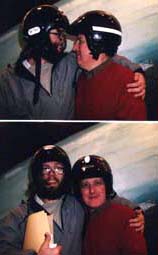 Daniel & Karel get their Kits-on
After his first ever stand up performance at the age of 16 and subsequently winning a place in the grand final of the inaugral 'Open Mic Awards' at the age of 17, not to mention his £45 winning appearance on quiz show Blockbusters, Daniel took time out to finish his degree. Bursting back onto the comedy scene at the end of '98 he fast drew plaudits from critics and comedians alike with his uniquely profane, yet playful, brand of improvisation which moved him into the top clubs at an unprecedented rate.
Daniel has since moved through the ranks of comedians, his unpredictable talent establishing him as a favourite with audiences, bookers and fellow comedians alike. Taking his rude words and jokes not only the length and breadth of the UK but also as far a field as South Africa and Holland, his performance has evolved alongside his status. The scorching improvisation is still there but it is allied with a deceptively intelligent world view.
Currently one of the hottest properties on the circuit, Kitson has eschewed the standard career path favoured by fame hungry acts by refusing myriad offers to bring an objectified and compromised version of his comedy on to the TV screen in favour of taking his stand up to as many live gigs as he can, while earning acting roles in That Peter Kay Thing (Ch 4) and Dog Eat Dog (Tiger Aspect/Film Four).
This August both sides of Daniel Kitson will be appearing at the Edinburgh fringe when his one man show, 'Love Innocence and the Word Cock', debuts at the Pleasance. After conquering the legendary 'late 'n' live' last year and building up a following in the process, he is returning to the lions den to compere the hardest gig with the rowdiest crowds.
"Daniel Kitson must be a comedy genius - he certainly hasn't slept his way to the top!"
Evening Standard

daniels' site