Laughing Matters Presents A Special Burns Night
2 hours and 20 minutes of
Brendon Burns
he liked the audience so much he decided to stay in town for an extra day & night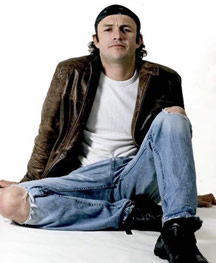 Tuesday 27 March 2006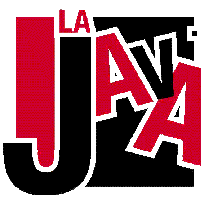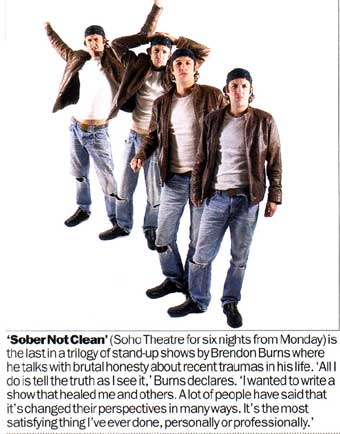 Ed Byrne wrote on Myspace.com
"If you live in London then I'd go and see Brendon Burns do his show
"Sober Not Clean" at the Soho Theatre.
It's on from March 19th to March 24th.... I'm going."
No doubt at the time of writing the other Byrne was not aware that Brendon would be playing Paris
hot on the heels of his London run otherwise he'd have mentioned that too...
I'll be there
Karel
"Fringe legend" (BBC Radio 1) Brendon Burns brings the final part of his critically acclaimed trilogy to Paris. 'Sober Not Clean' has travelled to Stockholm, Zurich, Madrid, Barcelona, Cape Town, and Sydney and this is the last chance to see the show.
After breaking up with his then-fiancé, part one, Burnsy Vs Brendon, saw him pit his cocksure onstage persona against his real-life, more sensitive, self, in a show which was "at once, coarse, touching and very funny" (The Telegraph).

It was a tough show to follow, but Brendon returned in 2005 with an even bigger smash hit, All My Love, All My Rage.
This was the tale of how he procured enough magic mushrooms to get his entire Glastonbury festival audience high
in a vain attempt to reconcile with said ex and somehow prove that God existed.

What happened next? He went mad.

In the final instalment, Brendon once again offers a compelling and brutally honest insight into the life of "the most talked about comic from last year's fringe" (The Herald).
Sober Not Clean is Brendon's story of how he wound up in a mental institution, beat his addictions
and returned from the edge of the insanity brought on by filming, writing, performing and producing this trilogy.
As always, this is a 100% true story, told by a remarkable storyteller.

"Remains undiminished at his blasphemous best" ***** The Herald

"An exceptionally funny performer … an ode to the healing power of human spirit"
**** Edinburgh Evening News

"…you have to hail a comic who exposes his life so willingly, who takes his audience on such an emotional ride without resorting to course manipulation, who has the courage to flirt with conventions of bad taste, who has the power of delivery to overwhelm resistance, revulsion and downright hostility, and, most of all, who makes it all damn funny." ***** Chortle

"Loud brash, rude in your face and fantastically, laugh-out loud funny. This is really something special, a show that makes you howl with laugher, which takes you right up to the emotional edges and which draws its strength from something very deep and pure. Long live Brendon Burns." ***** The Scotsman
"Like Bill Hicks, Sam Kinison and Lenny Bruce it is not hyperbole to place him in such company.
He is that damn good. Don'y you dare miss this man, he is a revelation!' Metro

"Abrasive but hilarious... demented brilliance." Sunday Times

"An hysterically funny stand up with a fantastic skill at dealing with taboos.
We should be grateful that he's too talented for panto... an inspiration to us all" Johnny Vegas
"If stand ups were dogs, Brendon would be a dingo; the kind that eats babies" Rich Hall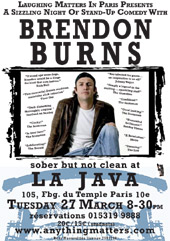 ---
Unexpected TV commitments deprived us of Daniel Kitson
so DK's loss was one very funny Aussie's gain.

Laughing Matters in Paris
presented
Brendan Burns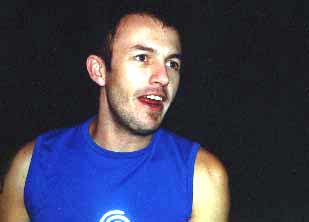 Sunday 28, Monday 29 & Tuesday 30 October 2001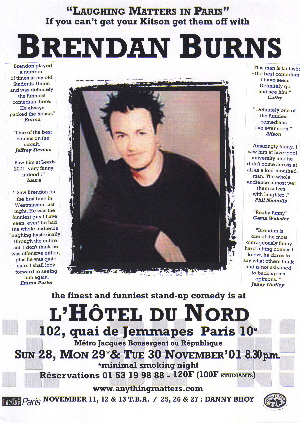 A professional stand up for over 6 years Brendan has worked in New York, LA, San Francisco, England, Scotland, Ireland and all over his native Australia (not recently though as he managed to get himself banned from most of the clubs there on the way up.)
His raucous, free formed rock 'n' roll brand of comedy has wowed audiences, promotors and comedians alike. At only 27 he is an unlikely verteran of the art due to his originality and youthful vigour...... expect the unexpected.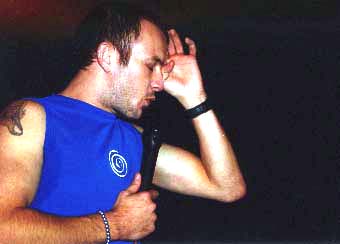 "A young Aussie firecracker.... Burns delivers a relentless stream of manic, edgy material. He effortlessly straddles various comic formats and maintains slick cohesion... Burns is a true fringe find, a disturbing but fascinatingly original talent" SCOTLAND ON SUNDAY

Brendan Burns was at Glastonbury last year, but his name admittedly didn't stick. This year it will. He stormed onto the stage and into the audience singing the Cameo classic 'Wise Up', taking everyone aback. He launched into a number of one liners and stories centred around sex, speaking very candidly. He managed to balance his perspective, insulting both men and women equally, while maintaining audience love of himself! The audience lapped it up, particularly enjoying his virulent attacks on any brave hecklers. He then leapt into a great anti-racism tirade, making the most of his antipodean heritage to highlight the ridiculousness of a racist. It was thoroughly enjoyable stuff, which brought tears to the eyes. His encore consisted of a backtrack to the issue of sex and some sound advice to young love makers.
The Glastonbury crowd laughed, cried, scoffed and cheered: it was the last act, it was a great way to finish a mad weekend.
So, if you don't mind being challenged - even irritated or outraged - while you laugh, Burns is the one for you.
Comments from girls and a boy

Saw Brendon for the first time in Westminster last night. He was the funniest guy I have seen, ever! he had the whole audience laughing hysterically thru the entire act. I don't think he was offensive either, plus he was quite cute. I shall look forward to seeing him again. Emma Porter
Brendan is one of the most outrageously funny hard hitting comics I know, he dares to say what others think and not ashamed to back up his opinions. Janey Godley
This man is fantastic - the best comedian I have seen. Definitely go and see him. Cathy M
Definitely one of the funniest comedians I've ever seen. Alison
Brendon Burns is amazingly funny. I saw him at Liverpool university and he didn't come across at all as a foul-mouthed man. The whole audience almost wet them selves with laughter Phil Nicholls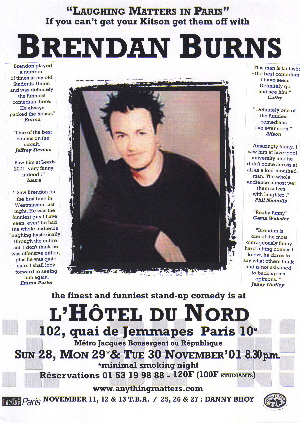 ---