---
Danny Bhoy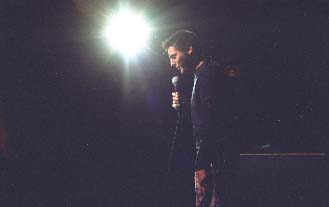 Sunday 25, Monday 26 & Tuesday 27 November 2001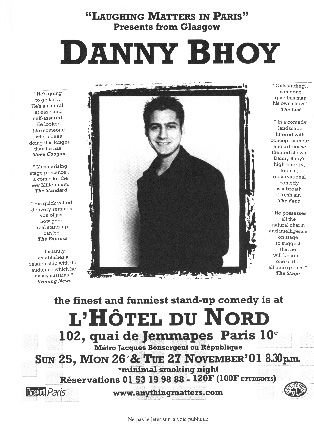 "Solid, gag-strewn stand-up with a mischievous twinkle from Scotland's brightest hope since Billy Connolly. And Bhoy is unlikely to publish a book about his therapy." Sunday Times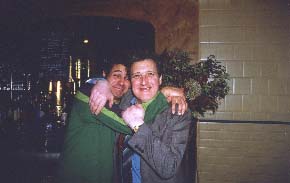 Outrageously likeable Danny Bhoy brought the 2001 season of comedy shows to a standing room only ovational end and proved why he is one of the UK's hottest rising stars. Three rafter packed, cracking nights in his delightful company. We could have added another night even but decided to have a party instead.
His engaging persona fused with a razor sharp mind and stunning off-the-cuff material is nothing short of prolific. Danny's rise to headline status has been nothing short of meteoric. Just one year from his first ever gig (he got pisssed in a Glasgow pub and went for the open mike), he won the 1999 Daily Telegraph Open Mic Award - one of Britain's biggest comedy newcomer prizes. He rapidly built on this success with barn storming appearances at the Melbourne, New York and Montreal "Just for Laughs" Festivals - the latter of which brought forth understandable massive US industry interest.
Absolutely brilliant!!! I was really impressed by Danny Bhoy's quick wit, and his provocative messing with the audience (especially when being heckled!). I'd recommend him to anyone and it's not just me who thought he was good - two Frenchies, a German , an Aussie, an Irishman and a Japanese that came with me all had a great time. Next year's too far away!! Rob T.B.

"Cheers!Had an excellent night (as ever) last night. How do you find them?! Danny Bhoy was just the tonic we all needed as we were all fighting off colds and the winter blues!" Karla
" He's going to go far… He's a natural, at ease and self-assured.
He looked like someone who's been doing this longer than he has." Steve Coogan.
" Mesmerising stage presence... a comic for the new Millennium." The Standard
" His quick witted delivery reminds you of just how good real stand-up can be." The Express
" Instantly establishes a relationship with the audience which he easily sustains." Evening News
" Outstanding… someone give this man his own show." The List
" In a comedy landscape littered with concept humour and art-house themed shows, Danny Bhoy's high-energy, topical, observational comedy is a breath of fresh air." The Face
" He possesses all the natural charm and intelligence on stage to suggest that he
will become one of the all time greats !" The Stage
---