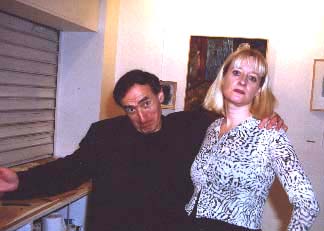 and
Hattie Hayridge


Sunday 30 September
Monday 1 & Tuesday 2 October 2001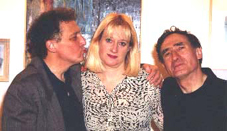 Karel says.
Here we have another tremendous double bill with two of my favorite comedians who both first graced a Paris stage back in the frontier year of 1995.
Hattie came first with Mark Steel and after a memorable Friday night show at the Erotika partook of white wine and oysters at the Baron Rouge. After a liquid and slimey Saturday lunch she lurched back to Hackney full of the charms of Paris.
Arnold came over as part of the 6th or 7 hundredth anniversary of the Auld Alliance. We only did the one and none of us are that old, but I can't remember whether the signing was in 1395 or 1295. Anyway it was a misguided effort on my part that almost resulted in fisticuffs between a Scottish and a French comedian who were bent on impersonating Henry Cooper and Marcel Cerdan. Like his humor, dry as a bone when he arrived, Arnold finished the nights celebration drinking copious quantities of Bordeaux and nibbling Fred McAuley's haggis on the terrace of Le Chat Noire.
So great fun in store with these two serious epicureans.
For those of you unfamiliar with Arnold's career, it all started in 1979, whilst still a full-time chartered accountant, He performed at the opening night of the Comedy Store in London. The following year he is co-founded the Comic Strip alongside Peter Richardson and Alexei Sayle. In 1983, Brown calculated that he could abandon accountancy in favor of full time stand-up comedy.
In 1987, he won the Perrier Award and in 1990, he made a unique breakthrough in alternative comedy by supporting Frank Sinatra at his Ibrox Park gig in Glasgow! On television, he appeared in 'The Young Ones", 'The Comic Strip Presents', 'The Tube", "Club X" and "Saturday Live". He also made appearances in the films 'Comfort and Joy' and 'Personal Services'. Recognised as a founding father of British alternative comedy. A comedian's comedian much admired by Billy Connolly he has a dry, sardonic, carefully paced, slightly acidic and frequently self-mocking style.
A true original who will blow us away with a sigh.
Hattie is a blonde bombshell on a slow fuse. Queen of the downbeat one liner, her timid demeanour and deadpan understated delivery lulls you into a sense of ambient security. Then watch out for the velvet fist in the iron glove. Fans of the Red Dwarf TV series will know that Holly, the sardonic computer was programmed by Hattie.
Three great nights with the king and queen of the one liner!
---