Laughing Matters In Paris Presents
a bloozy woozy night with
the Borghmeister
Addy van der Borgh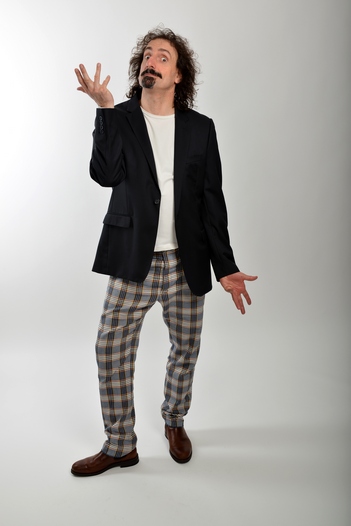 Wednesday 7 September 2016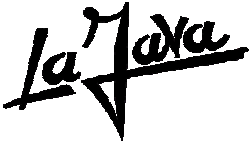 105 faubourg du Temple
75010 Paris
and as
Charlie Harwood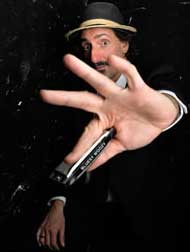 Comedy with the blues - risible recollections of festivals, musicians, stolen instruments
and the influence of morris dancing. Infused with blues harmonica and piano.
Artist, philosopher, visionary? Or eccentric, fool, bumbler?
---
Laughing Matters in Paris presented
Addy van der Borgh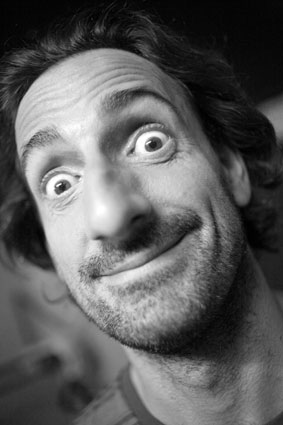 photo Stuart McAlister
La Java
Tuesday 12 September 2006
German Nicole, Nurse Sue, 5 stages of Angela & cold cures for Alison
it was quite a night and he even got to dance with a blonde !
Almost missed his train home too.
'An excellent stand-up with intelligence and wit' The Guardian
Addy Borgh has that rare talent of making people laugh when he walks on stage (helped of course by a large nose and mad eyes). Addy is a great performer of highly acclaimed and original material, an ability noticed immediately by the BBC when he appeared on the 'Stand-up show' (BBC1) after only one year as a comedian. He has subsequently appeared on 'Live at Jongleurs' for Sky TV and will be appearing in the forthcoming BBC3 series from Baby Cow Productions, "Baby Candy"
With brilliant timing and an array of voices and characters which animate and enliven even the most drab subject matter (computers, museums, libraries) Addy has built a following of fans not just in all the major clubs in Britain (Comedy Store, Jongleurs, Comedy Cafe etc) but also worldwide, including Holland, Australia, New Zealand, Dubai, Hong Kong, Singapore, Vietnam and Thailand.
Addy has appeared at the Edinburgh festival in 1998 as part of the Screaming Blue Murder comedy showcase and in 2000 with his own sell-out show '21st century fool'. He returned in 2002 with another hit "Hearing Voices":

"With a potent mix of brilliant mimicry, offbeat character comedy and hilarious observations, Addy takes you on a journey of the mind to the many voices in your head, that come together in a brilliant combination" - Time Out
'Addy's excellent. His flights of fancy and gentle manner are a brilliant combination' Time Out
'Comic genius' The Scotsman
'Addy has a brilliant sense of comic timing' The Independent
'Fantastic. I've seen a lot of comedy and this is the real thing' The Evening Standard
'A revered funny man' The Times
'An unassuming comic genius…' The Metro (Edinburgh)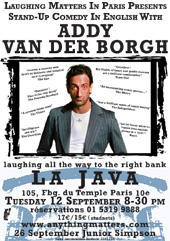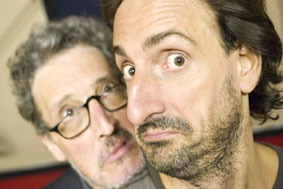 ---
Laughing Matters in Paris presented a clean shaven
Addy Borgh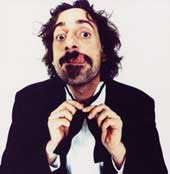 Sunday 10, Monday 11 & Tuesday 12 November 2002

'An excellent stand-up with intelligence and wit' The Guardian
Addy Borgh has that rare talent of making people laugh when he walks on stage (helped of course by a large nose and mad eyes). Addy is a great performer of highly acclaimed and original material, an ability noticed immediately by the BBC when he appeared on the 'Stand-up show' (BBC1) after only one year as a comedian. He has subsequently appeared on 'Live at Jongleurs' for Sky TV and will be appearing in the forthcoming BBC3 series from Baby Cow Productions, "Baby Candy"
With brilliant timing and an array of voices and characters which animate and enliven even the most drab subject matter (computers, museums, libraries) Addy has built a following of fans not just in all the major clubs in Britain (Comedy Store, Jongleurs, Comedy Cafe etc) but also worldwide, including Holland, Australia, New Zealand, Dubai, Hong Kong, Singapore, Vietnam and Thailand.
Addy has appeared at the Edinburgh festival in 1998 as part of the Screaming Blue Murder comedy showcase and in 2000 with his own sell-out show '21st century fool'. He returned in 2002 with another hit "Hearing Voices":

"With a potent mix of brilliant mimicry, offbeat character comedy and hilarious observations, Addy takes you on a journey of the mind to the many voices in your head, that come together in a brilliant combination" - Time Out
'Addy's excellent. His flights of fancy and gentle manner are a brilliant combination' Time Out
'Comic genius' The Scotsman
'Addy has a brilliant sense of comic timing' The Independent
'Fantastic. I've seen a lot of comedy and this is the real thing' The Evening Standard
'A revered funny man' The Times
'An unassuming comic genius…' The Metro (Edinburgh)