Laughing Matters Presents Australia's Master Bonder The Award Winning Apple Eater
Adam Hills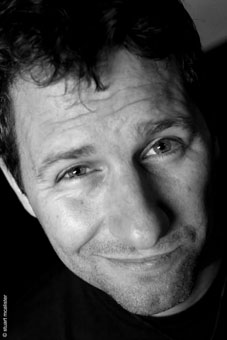 photo stuart mcalister
La Java
tue 8 & wed 9 November 2005
Click on the microphone to hear Adam getting to know you at the HdN two years ago



Adam's unique style of thoughtful, uplifting comedy and rampant spontaneity have won him rave reviews. "so effortlessly brilliant you wonder why some comedians even get out of bed."
says The Guardian or "so life affirming that everyone leaves with a spring in their step" according to London's Evening Standard.
With a shelf of awards and a legion of fans worldwide he has accumulated thousands of air miles through appearance at all the major festivals in Montreal, Adelaide, Melbourne, Kilkenny and Edinburgh, where in 2004 he sold an incredible 10,000 tickets.
Although he now lives in London where he has become the "darling" of the UK comedy he still finds time to make regular appearances in Australia where he hosts the TV music quiz show "Spicks and Specks".
Coming across as one of those people that charms just about everyone he
meets Adam is instantly likeable and genuinely as friendly as he is funny.
Which means he is very, very friendly !!!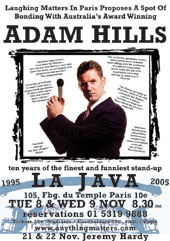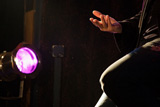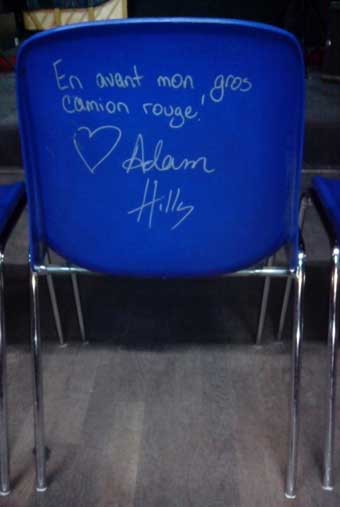 ---
Laughing Matters Presented 3 time Perrier Award Nominee
Adam Hills


tuesday 23 & wednesday 24 september 2003




We were expecting David O'Doherty but Dublin and the publication of a first book prevented his coming. But stepping into the breach is the truly incredible Adam Hills. Nominated for the Perrier in 2001, 2002 & 2003.
He came here in september 2001 just after the events that made us wonder whether we were still capable of laughing. As it turned out, a solid laugh was what everyone was in need of and Adam tip-toed his way though an edgy and uncertain audience that he eased out of their shells with consumate care and consideration.
He did himself proud and all of us a power of good, including the Ambassador of Oz.
I was saving him until next year but as soon as he heard about David's loss he grabbed it as his gain.
Ours too, very much so.




"Hills delivers stand up so effortlessly brilliant you wonder why some comedians even get out of bed."- The Guardian UK

"Comedy so brilliant it could come with a money back guarantee. If you cannot enjoy Adam Hills you cannot have a pulse. *****"
- The Scotsman

"Aw hell, just go see him alright.*****" - Metro UK

"I have gone into Hills' shows deeply depressed (2002), in a seething bad mood (2000) and having just had my wallet nicked (2001). Each time it took him around 1.45 minutes to tickle my grumbly bits till they shrieked with laughter. Hills' comedy has a unique 'whole body' effect. If he were a pill, his street value would be astronomical. " The Scotsman

---
Laughing Matters presented two of Australia's
best comedy ambassador and one genuine article
Adam Hills
2001 Perrier Nominee

&
Kitty Flanagan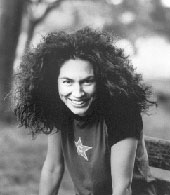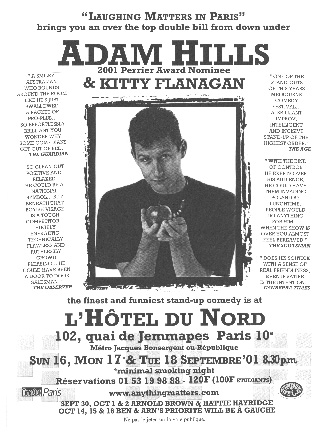 Sunday 16, Monday 17 & Tuesday 18 September 2001

A not so close call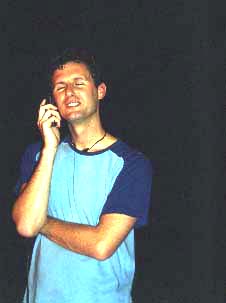 hi mum can you here me down there ?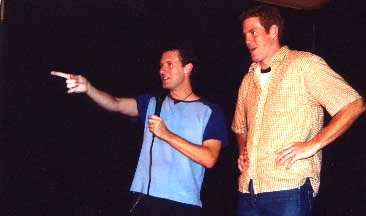 australian embassy body guard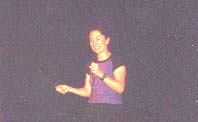 kitty monkeys around
un singe est un singe est un singe

Karel's eye view:
Comedians past and present have been raving to me about Adam for some time as anyone who was with us over the these three nights will have borne witness to. He is tremendous. Difficult times to do a show but the audience needed to laugh and Adam and Kitty gave them good reason. For few hours we could relieve our minds of what was happening in the outside world.
Adam's reviews

Adam Hills, "transcontinental standup extraordinaire," is an Australian born, Dublin based comic.
From his beginnings in 1989 at the Sydney Comedy Store, Adam moved on to radio.
Over five years he went from writing for 2dayFM's breakfast show, to hosting his own show on Adelaide's SAFM.
In 1998 Adam returned to the world of standup with his show 'Life Is Good'. It was his show 'My Own Little World' which earned him a five star review from The Scotsman, and was a sell out at that years Edinburgh Fringe Festival. 2000 saw another five star review for 'Goody Two Shoes'. This year Adam takes 'Go You Big Red Fire Engine' to the world.
His TV credits include Good Morning Australia, IMT, Good News Week, Headliners, The Fat, Rove Live (Australia) and The Stand Up Show, The Bigger Breakfast (UK).
Adam has played to audiences in Sydney, Melbourne, Adelaide, London, Edinburgh, Dublin, Hong Kong, Cape Town, Stockholm and Oslo. He has appeared on stage along side the likes of
Rich Hall, Sean Hughes and Steven Wright.
His boy next door style inadvertently earning him the title: 'The Mr Nice Guy of Comedy'.


As for Kitty she is one of Sydney's busiest and best stand up comedians and has had her face on the telly enough times to turn the occasional head in a suburban Australian McDonalds outlet.
A professional standup since 1994, Kitty headlines regularly at all the major comedy clubs in Sydney, Melbourne and Brisbane. She has also performed in Edinburgh and done a comedian's tour of duty in Singapore.
In 1995, she joined the sketch comedy programme, FULL FRONTAL where, as a writer and performer, she created some of the show's most obscure and popular characters. She has appeared on the ABC's MICALLIFF programme, starred in the recent GOOD NEWS WEEK Comedy Debate Series and was a core cast member of THE FIFTY FOOT SHOW, a popular sketch comedy produced by Artist Services for the Comedy Channel.
Her one woman show "FLANOSSERUS" debuted at the 2000 Melbourne Comedy Festival to excellent reviews. "Flanagan is funny, intelligent and doesn't parade like a desperate monkey." Apparently that's a good thing, the show got Four Stars.
Kitty has just arrived in the UK, and is taking the country by storm, she is playing all the major venues. A paranoid, tall-story-telling comedian with a gift for languages, Kitty is dedicated feminist who promises to burn her wonderbra just as soon as she can afford a boob job.